Dear Bobcat parent and family members,
Though the start to the spring semester has not been without challenges, our preparations over the winter break helped us be more nimble in responding as needed. Today, four weeks into the semester, I'm glad to be able to update you with some good news. There are also several important announcements and reminders below that I'm sharing. We have emailed this information to your student, but it never hurts for you to pass it along to them as a reminder.
Extension of asymptomatic testing for MSU residence hall students
MSU has extended the availability of free asymptomatic COVID-19 testing for students living in the residence halls. This means that any student living in the residence halls this spring--with or without symptoms--can be tested at the Student Testing Center near Bobcat Stadium. Residence hall students who have been previously tested are welcome to sign up for additional tests, and we are encouraging them to get tested regularly. For more information, including how to make an appointment and testing center hours, please visit the MSU Student Testing Center website.
Reminder about the use of marijuana on campus
In November, Montana voters passed two ballot initiatives to decriminalize the recreational use of marijuana for adults over the age of 21. This has led to questions about the use of marijuana on campus. Before the semester started, I sent a letter to all students about the new marijuana laws, updating them about how these new laws interface with current MSU policy. The bottom line is that regardless of these new state laws, MSU policy prohibits students, employees and visitors from possessing, using or distributing marijuana in any form on any of the university's campuses or facilities, including in the residence halls and during any university activities (both on- and off-campus).
MSU 2021-2022 academic calendar
On Jan. 20, MSU released the calendar for the 2021-2022 academic year. The first day of classes for the fall semester will be Wednesday, Aug. 18, and the last day will be Thursday, Dec. 9. There will be an academic recess for Thanksgiving, Nov. 22-26. And I am really excited that we announced Fall 2021 Commencement will be on Friday, Dec. 10.
MSU's inaugural Snowmester was very successful, so we'll be offering Snowmester again during the 2021-2022 academic year, running Monday, Dec. 13, 2021, through Friday, Jan. 7, 2022.
Outdoor Recreation Program
Finally, we're now mid-winter and the snowpack is increasing in the mountains. Many of our students ski and snowboard in the backcountry, and it's a great way for them to get exercise and fresh air while staying relatively safe spending time with friends during the pandemic. I want us to do everything we can to provide our students with the training and equipment they need to further their safety in the backcountry.
MSU's Outdoor Recreation Program is a great resource providing students with access to high-quality and affordable outdoor safety education. During the winter months, these efforts are primarily focused on avalanche education, including a variety of clinics and courses to help students make sound decisions when they choose to venture outside ski area boundaries.
Outdoor Recreation also operates the on-campus Avalanche Beacon Park, where students can hone their rescue skills, and offers free rentals of avalanche safety equipment. If your student enjoys exploring the backcountry, please make sure they're aware of the Outdoor Recreation Program. For more information, visit their website or follow them on Facebook or Instagram.
Warm regards,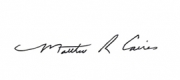 Matthew R. Caires
Dean of Students
P.S. I'll be in touch as the details unfold regarding Spring Commencement 2021, currently planned for Saturday, May 1
P.P.S. This year's Awards for Excellence are being hosted online Tuesday, Feb. 16. If you'd like to attend, please register for the event, which recognizes forty of our top seniors and their mentors from across campus.