Dear Bobcat parent and family members,
As a winter sports enthusiast, I was stoked with Punxsutawney Phil seeing his shadow last week and predicting a late spring and six more weeks of winter. But I also know this winter's La Nina weather pattern has made life challenging for many, and if you've been contending with the dangerously cold temps, ice and snow storms or heavy rain, I hope you're staying safe and enjoying a bit of hygge at home.
This semester on campus, a variety of events, activities and support programs are available to students that we also want you to be aware of. As you know, we believe parental nudging can be a good thing! [winking emoji]
Protecting health & wellness: With rising costs for housing and groceries, we are seeing more students in need of food support. Bounty of the Bridgers' programs look after the health of our MSU and Gallatin College campus communities with food pantries, grab 'n go snacks and meal-plan scholarships.
We want all students to be aware of this support whatever their level of need so they can remind peers that help is available and help remove the stigma often associated with hunger and poverty.
I also want to point out that Marci Torres and her staff in the Office of Health Advancement offer nutrition services, providing educational resources as well as nutrition counseling and coaching.
Encouraging independence: Taking on personal finance responsibilities definitely falls into the realm of nudging young adults. And MSU can help with that, thanks to the Jake Jabs College of Business and Entrepreneurship and its students who take part in the Volunteer Income Tax Assistance (VITA) program.
VITA provides free tax help to people with household incomes under $54,000, including students. Volunteers assist with basic federal and state income tax returns with free electronic filing available for most 1040 forms. The program runs from Feb. 22 through April 3, and appointments are required. Slots fill up quickly as the program is open to people beyond the campus community. The VITA web page helps students prep for the appointment, delineating documents and identification they need to bring.
Making the most of winter in Montana: My colleague Dan Sandberg from ASMSU Outdoor Recreation told me their winter programs are in full swing. The avalanche rescue training park is providing students 24/7 access to practice their avalanche rescue skills, and free avalanche rescue clinics are offered on Mondays and Wednesdays. Clinic participants receive free and discounted rentals on avalanche safety gear, plus unlimited free 2-hour rentals Monday through Thursday to practice at the training park.
Students can also take advantage of our on-campus groomed cross-country ski loop and free XC ski clinics on alternating Mondays and Wednesdays. And upcoming clinics are scheduled for learning to wax and edge skis and boards. Perks are also offered to XC ski clinic participants, including a free weekend ski package rental, discounted registration for a cross-country ski day trip and unlimited free 2-hour rentals Monday through Thursday for students who want to get some exercise between classes.
Every weekend something is happening; students can sign up to go cross-country skiing, backcountry skiing/riding, or drink hot cocoa and snowshoe from the yurt at Crosscut Mountain Sports Center.
Oh, to be a student again, no?!
And for days when temps dip into the single digits and below, indoor pursuits in the North Dome at the Climbing Wall with related clinics that introduce students to bouldering. The Outdoor Recreation Rental Shop is always humming with activity and offers CPR/AED/Basic First Aid classes throughout the semester. There are so many ways to enjoy winter in Montana!
Celebrating student leadership and service: As you may have read in President Cruzado's Blue & Gold News last week, two of the many Founders Day events that will be celebrated next week include a ribbon-cutting ceremony for the new ASMSU Off-Campus Student Life Office on Feb. 14 and the Founders Day Awards for Student Excellence on Feb. 16. I am so excited to have our Off-Campus Life Office centrally located in the SUB, steps away from the food court and so accessible to students.
Lastly, I offer my sincerest congratulations to you, who are parents of the remarkable students who will be recognized for having demonstrated campus leadership and community service during the Founders Day Awards for Student Excellence.
Kind regards,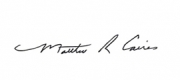 Matthew R. Caires
Dean of Students