Dear Bobcat parent and family members,
I hope you enjoyed the winter break and holidays with your student. The holidays at my house were filled with the joys that come with little girls (Roark, 3, and Avonlee, almost a year old) and Santa and all of the wonder that comes with celebrating Christmas.
As we gear up to welcome students back to Bozeman and to campus, it makes sense to review the university's strategy for guarding the health and wellbeing of our campus community during the pandemic.
At the outset of the fall semester, MSU's strategy for addressing COVID-19 was provided in our Roadmap. This document outlines all aspects of COVID-19 safety on campus, from cleaning protocols and social distancing in classrooms to guidelines for campus housing and our dining halls.
MSU worked closely with the local health department throughout the fall to adjust as needed to the ever-evolving situation, and the health department reports statistics on new, active and cumulative COVID-19 cases associated with MSU weekly.
MSU will continue its proven strategies into the spring semester: Face masks will be required on campus, classrooms will be socially distanced, Clean 'Cat Kits will be provided to all students, free testing will be available for students who show symptoms of the virus, and the university has expanded the number of spaces available for quarantine and isolation housing for on-campus students. Additionally, MSU has been approved to distribute COVID-19 vaccines and is working on plans to make doses available to students when supplies become available.
The university listened to student and family feedback too. Based on what we learned from fall semester, MSU has scheduled more face-to-face instruction. Experience showed that our classrooms, with their supervision, social distancing and mask requirements, were among the safest places for students to be throughout the day. Since transmission of the virus is occurring largely in social settings outside of the classroom, we believe our in-person classroom instruction poses low risks to students and is a better way to structure their days and weeks.
MSU will continue to collaborate with Gallatin City-County Health Department. We will also continue communicating often with students, reminding them to socially distance, wear masks and wash/sanitize their hands and surfaces frequently. Students will be reminded about making good decisions and being responsible during off-campus social situations. Your assistance in reinforcing these messages with your student is greatly appreciated.
Looking ahead to the start of classes on January 11, we could use your help reminding students about upcoming dates and deadlines. Registration is currently ongoing, but the last day to add a class online is January 15 and the last day to add a class or drop a class online is January 25. Ask your student about the number of classes they are registered for, and if they need further help, they should reach out to their academic advisor right away. Additional information on campus deadlines and the campus refund schedule can be found in our Registration Handbook.
MSU will be using the same course delivery modalities used during the fall semester: in-person, online or blended. To help students be prepared and successful in blended courses, the Office of the Register developed this Blended Course Delivery Descriptions website that provides a detailed description of the in-person and online aspects of blended courses. Please make sure your student is aware of this helpful website.
As with last fall, it's going to take village to make it through Spring 2021. I'm so glad to have you along as a partner as your student travels through their journey at MSU.
Many regards,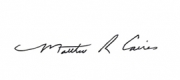 Matthew R. Caires
Dean of Students