Dear Bobcat parent and family members,
Happy spring! We're in the final stretch of the semester, which ends on April 30 with Commencement on May 1. On the COVID-19 front, new cases associated with MSU remain low, according to the Gallatin City-County Health Department's surveillance reports. We've had very few students in our on-campus quarantine/isolation housing during the past week. Every day, when walking through the Strand Union, I see our students doing a terrific job of being careful, wearing masks and following the recommended practices to slow the virus. MSU has also been vaccinating students in accordance with the state's vaccine distribution plan and as vaccine supplies become available to the university from Gallatin County.
Drop/add and priority registration deadlines
There are some important registration deadlines coming up in the next two weeks. The last day to drop a course with a "W" grade is April 6. In order to drop a course, students must receive approval from their advisor and their faculty member. It's important that students reach out to their advisors as soon as possible to ensure that they have time to complete the drop process before the deadline. The Office of the Registrar's website provides more information regarding deadlines and instructions for dropping a course.
I highly recommend students take advantage of priority registration for summer and fall by April 15, when open registration begins. All current students are granted priority registration, allowing them first choice of courses before any new or transfer students may register. By registering during priority registration, students are more likely to get the courses they need and the schedules they want.
Academic resources
With four weeks before finals, we want to ensure that students have the resources they need for academic success. I have previously included information about the many resources available through the Allen Yarnell Center for Student Success. I also want to give you a heads-up about two excellent academic resources for your student that are available this spring.
First, the MSU Writing Center is offering online and in-person tutoring for all students. The Writing Center staff will work with students on any of their writing projects -- lab reports, final research papers or presentations, graduate applications, personal statements, discussion posts, etc. To make an appointment, students should visit the Writing Center's website.
Second, MSU's Math Learning Center (MLC) offers online tutoring to provide students with support in math and statistics courses. The MLC uses the Microsoft Teams platform to provide online tutoring for the eligible mathematics and statistics courses. Your student can see the courses for which tutors are available to help by visiting the Math Learning Center's website.
Many departments, such as the Department of Physics and Department of Chemistry and Biochemistry, offer their own tutoring services. Please encourage your student to check with their home department about the availability of tutoring and student success services.
Regional Virtual Bobcat Student Days
Many of you have told me how pleased you are that your student made the choice to attend Montana State University. Often our parents and family members are our best advocates and recruiters. I'm wondering if you would take a minute to share the love of being a Bobcat by forwarding this email and telling someone you know with a college-bound student about our Regional Virtual Bobcat Student Days.
Representatives from the Office of Admissions have organized this year's Regional Bobcat Student Days virtually for families throughout the country. If you have relatives, friends or neighbors who are considering college, please encourage them to join one of the upcoming sessions to meet and talk with current students from their own region.
Warm regards,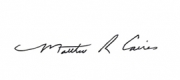 Matthew R. Caires
Dean of Students
P.S. The 45th Annual American Indian Council Powwow was conducted virtually last week. I encourage you to check out the wonderful dance competition videos posted on the Council's Facebook page.