Dear Bobcat parent and family members,
After the intense winter storm last week, more seasonal temps have returned to Bozeman. The change of weather was a blessing, especially for trick or treating with my little girls this year. I went out with a "coven" of young witches this year - it's such fun being a parent with kids this age.
But back to college-aged kids: I want to remind you of an important deadline that is rapidly approaching. Since Sept. 15, students who have dropped a course have received a "W" grade on their transcript. However, the window for dropping a course with a "W" closes on Wednesday, Nov. 17; no class withdrawals are allowed starting Nov. 18.
If your student is struggling in a course, please ask them to speak with their professor and their advisor about options. And remind your student about the various academic help centers and tutoring services. Dropping a course this late into the semester is not uncommon, but keeping the W's to a minimum is the goal.
It's also important to keep in mind that dropping a course can impact your student's financial aid. Students can contact Student Accounts or the Office of Financial Aid Services with questions.
Students need approval from their advisor to withdraw from a course because of the downstream impacts on their course of study. If your student doesn't know who their advisor is, that's a red flag. The Advising Commons has a webpage listing contacts for course drops and withdrawals.
If your student decides to drop a course, detailed information about the process, including deadlines and instructions, can be found on the Office of the Registrar's add or drop a course webpage.
Another convenient way for students to reach out to their advisors is through the navMSU app and online platform. NavMSU is a new addition to campus this year, and the program contains a lot of features. In addition to communicating with their advisor, students can use navMSU to receive alerts about holds on their courses and other notifications, find resources such as tutoring and scholarships, create to-do lists, receive information about events, and see their class schedule. If your student hasn't already, please encourage them to download and use navMSU. It's available in the Apple App Store, Google Play, and online through a web browser.
On a totally different topic, if your student is considering moving off-campus for the 2023-24 academic year, it's never too early to start looking for housing and preparing for off-campus life. The rental housing market in Bozeman is tight, so being proactive is recommended. ASMSU runs the Off-Campus Life website, which has a lot of excellent information, including advice for shopping for a rental and an Off-Campus Housing Marketplace where available rentals are listed. The website also covers topics such as signing a lease, roommates, landlord and tenant issues, transportation, and other health and safety considerations.
Once your student secures off-campus housing, the Off-Campus Life website contains information about being a successful off-campus resident. This includes friendly-neighborly tips, pet regulations, snow removal and parking ordinances, and trash disposal. The Off-Campus Life program manager, Connor Tweet, can assist and advise students.
It's important to MSU that the university is a good neighbor and that students living in the community are, themselves, good neighbors. We have a Community Relations Office that works to promote collaborative, ongoing partnerships between the Bozeman community, its residents, and MSU students, faculty and staff. My office partners with the city of Bozeman, the Good Neighbor Committee and College Pads (our vendor for off-campus properties), to host an off-campus living resource fair. When a date is set for the 2023 fair, we'll promote it on campus and pass along the information to you.
Finally, our recent snowstorm was a great reminder about winter driving conditions. We all need to slow down and take some basic precautions to keep ourselves and others on the road safe. You might share with your student this page on the National Safety Council's website, which has good tips about preparing for winter driving. And the Montana Department of Transportation's website has additional precautions tailored for winter driving in Montana. Please share these resources with your student.
As a closing reminder, campus offices will be closed, and no classes will be held, on Election Day Tuesday, Nov. 8 and Veterans Day, Friday, Nov. 11.
Warm regards,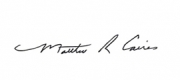 Matthew R. Caires
Dean of Students