Dear Bobcat parent and family members,
I heard back from dozens of you last week asking for information about "Snowmester," our first-ever winter session between Thanksgiving and the start of the spring term. If your student plans to spend time between holidays in Bozeman, it's a perfect opportunity to add a class and get ahead, catch up or try something new. The new Snowmester website gathers all the info and links to courses available, program costs and the registration process."
On the topic of college costs and registering for upcoming semesters, the Office of Financial Aid Services offers some important dates to note on your calendars.
First, the Free Application for Federal Student Aid (FASFA) for the 2021-2022 year opened Oct. 1. The application uses the 2019 taxes, which can be imported with the IRS data retrieval for the easiest path to completion. The FAFSA is not required but is strongly encouraged as it helps the staff in Financial Aid Services advise students and families about their best options and make awards accordingly. The MSU priority deadline of Dec. 1 applies to programs with limited aid, but please complete the FAFSA regardless. If COVID-19 has financially impacted your family, then, after completing the FAFSA, you and your family are encouraged to contact Financial Aid Servicesto discuss options.
Second, the Cat$cholarships application portal opens Nov. 1. This is the single application that students fill out to apply for MSU-based scholarships. Most of our academic and non-academic departments and programs that offer scholarships do so through this portal. The advantage of applying through Cat$cholarhips is that students don't have to search them out; in completing the application, your student will be guided to opportunities they're eligible for. James Broscheit from Financial Aid often uses this analogy to motivate students to apply: "The old saying holds truth: You cannot win if you don't play."
On a final note: Earlier this week, your student was sent an email with information providing clarity on course modalities for the 2021 spring semester. According to MSU Registrar Kandi Gresswell, more than half of all spring courses will be traditional face-to-face classes. For blended courses, the email to students included a resource with specific descriptions of how each blended course will be taught and the number of weekly in-person class sessions that will be offered. We want your student to be making informed decisions as they register for Snowmester and the spring term.
Yours sincerely,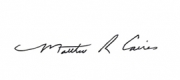 Matthew R. Caires
Dean of Students