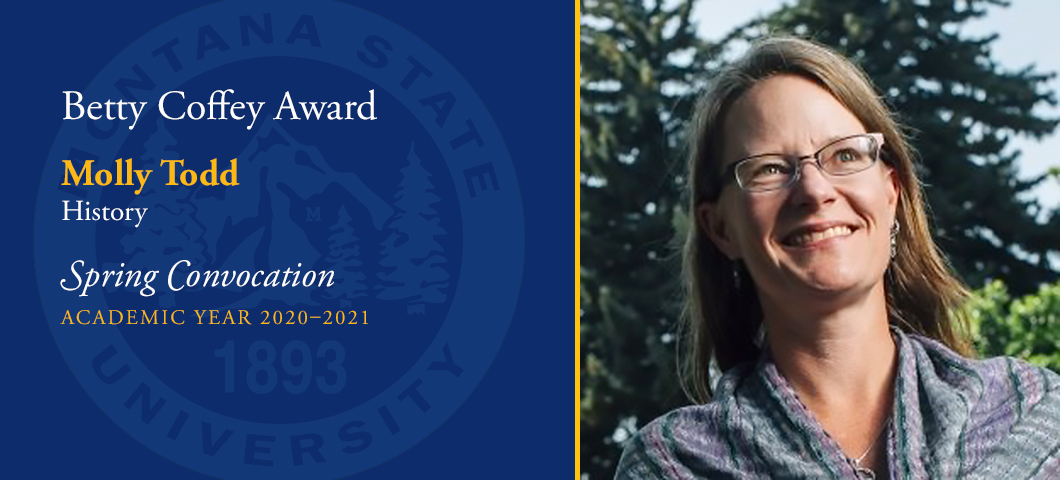 Molly Todd
Molly Todd, an associate professor in history, will receive the Betty Coffey Award honoring a member of the faculty or staff who demonstrates outstanding achievement in incorporating women's perspectives into the curriculum. Given by the Women's, Gender and Sexuality Studies Committee, the award carries a cash prize of $1,000.
Todd is a specialist in modern Latin America and Central America, focusing on issues related to violence, human rights and migration. Her research looks at how sexism, racism and colonialism produce inequalities that manifest in social problems, including violence, refugee migration and limitations on human rights. Through her research and mentoring of MSU undergraduates and graduates, she has helped create professional opportunities for women in public history, law and other professions. And through the courses she has developed and the pedagogical strategies she has used, Todd makes visible women who have historically been marginalized from official historical records: refugee women in Latin and Central America.
Todd is an author whose research examines social justice movements and the roles that women, refugees and others played in them. Her books include "Beyond Displacement: Campesinos, Refugees and Collective Action in the Salvadoran Civil War" and "Long Journey to Justice: El Salvador, The United States, and Struggles against Empire." She has been involved in numerous public history collaborations in El Salvador, leading to the publication of resources for community use, including educational posters and books. She has also published seven peer reviewed journal articles and book chapters.
Todd has served as a member of the Women's, Gender and Sexualities Studies Committee and teaches several courses that contribute to the WGSS minor. During her time at MSU, Todd has created history courses that examine the intersection of race, ethnicity, nationality, gender and sexuality as they relate to migration, violence and social justice movements in Latin and Central America. In 2018, Todd received a Whiting Public Engagement Fellowship, a national award honoring faculty in the humanities who embrace public engagement.
Todd's focus on serving as a mentor of undergraduate and graduate students through projects, independent studies, internships and field research in both the U.S. and El Salvador earned her the 2019 Provost's Award for Undergraduate Research/Creativity Mentoring. The award recognized Todd for spending over 1,000 hours mentoring more than 65 undergraduate students while researching the displacement and migration that resulted from conflict and war in Central America. Additionally, Todd started the Public History Lab at MSU, which has involved many MSU women in transnational research projects. She has placed numerous students in internships in El Salvador and other places, where they have received valuable experience in oral history, nonprofit management and social justice work. Throughout her mentoring, Todd has addressed gender and sexuality in the content of her projects, encouraging students to address these issues in their own careers. Todd's students have been accepted to law and graduate schools, serve as staff and board members with nonprofit organizations, are doing freelance research and publishing work and have received honors including Fulbright fellowships.
Created in 1986, the award honors the memory of Betty Coffey, a faculty member in computer science from 1977 until her death in 1984 who was the first woman ever to achieve tenure in the College of Engineering. The award remembers Coffey's contribution to faculty development, teaching excellence and women's equity at MSU.