Provost's Award for Exemplary Service and Fidelity to the Public Land Grant Mission of MSU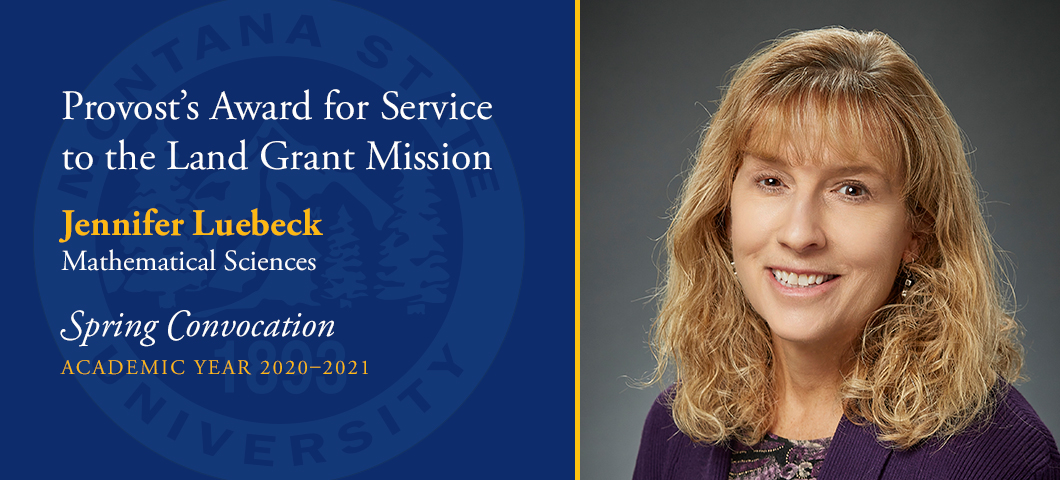 Jennifer Luebeck
Jennifer Luebeck, a professor in the Department of Mathematical Sciences in the College of Letters and Science, received the Provost's Award for Exemplary Service and Fidelity to the Public Land Grant Mission of Montana State University. The award is given to a faculty member whose efforts beyond the MSU campus transform lives and communities in support of the people's interest and includes a $2,000 honorarium.
"In so many ways, Dr. Luebeck's career and research have demonstrated her love and passion for teachers and students across the state of Montana," Megan Wickstrom stated in a letter on behalf of the Department of Mathematical Sciences Award Committee. "Through her research in online learning, teacher professional development and rural education, she has embodied the university's mission and core values to the broader Montana community."
In her nearly two decades at MSU, Luebeck has established herself as a leader in the field of mathematics education. She focuses her research on ways to support and improve preparation and continuing education for teachers in Montana. She has designed more than 20 online modules related to mathematics content and standards through the STREAM (Standards-Based Teaching Renewing Educators Across Montana) Project, helped establish the Master of Arts in Teaching Program to address rural teacher shortages, and pioneered the creation of online learning environments through the Master of Science in Mathematics-Mathematics Education Program.
"Integrating her research with practice, Dr. Luebeck has transformed online learning for educators across the country, establishing herself as a leading scholar who is recognized for her leadership and use of best practices in online instruction," Wickstrom stated.