Provost's Award for Undergraduate Research/Creative Mentoring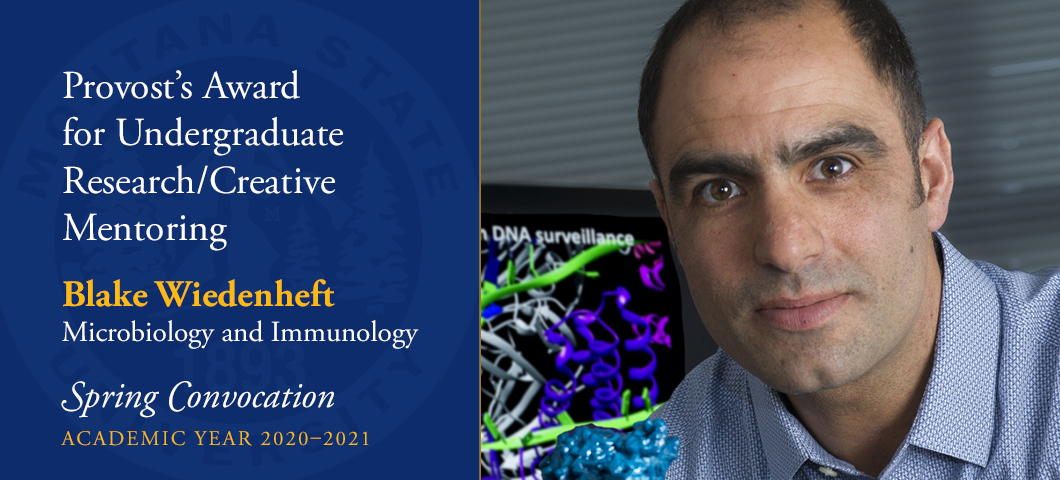 Blake Wiedenheft
Blake Wiedenheft, associate professor in the Department of Microbiology and Immunology in MSU's College of Agriculture, has won the Provost's Award for Undergraduate Research/Creative Mentoring. The award comes with a $2,000 honorarium.
Wiedenheft is an internationally recognized expert on CRISPR, the sophisticated bacterial immune system that has been repurposed as a gene-editing tool capable of curing genetic diseases. His research, focused on the dynamic biomolecular interplay between bacteria and viruses, recently attracted a $2.5 million grant from the National Institutes of Health.
According to Sreekala Bajwa, dean of the agriculture college, what is perhaps more notable is that Wiedenheft's "enormous proficiency and productivity in research has not interfered with, but rather fostered and been matched by, similar proficiency in service, teaching and mentoring." Wiedenheft is "unsurpassed in both his effort put into mentoring and in the success his students have upon graduating," she said.
Wiedenheft, who earned his bachelor's and doctoral degrees at MSU, has mentored more than 27 undergraduates in his lab, immersing them in one of science's hottest fields. One of those students, Josh Carter, approached Wiedenheft as a freshman after reading some of his papers, then went on to co-author nine peer reviewed papers with him before graduating in 2017. The experience was central to Carter earning a Rhodes Scholarship to study at University of Oxford.
According to Bajwa, Wiedenheft's colleagues are "quite proud of his extraordinary dedication to his students, as he puts his heart and soul into undergraduate research and education.
Wiedenheft, who grew up in rural northeastern Montana, also does outreach to high school students in an effort to inspire the next generation of undergraduate researchers, Bajwa noted. His Montana Wild Virus Hunt workshop brings Native American teenagers and their teachers to MSU for hands-on activities about virology.
Wiedenheft won a Presidential Early Career Award for Scientists and Engineers, or PECASE, in 2017, and his research has led to more than eight patents.