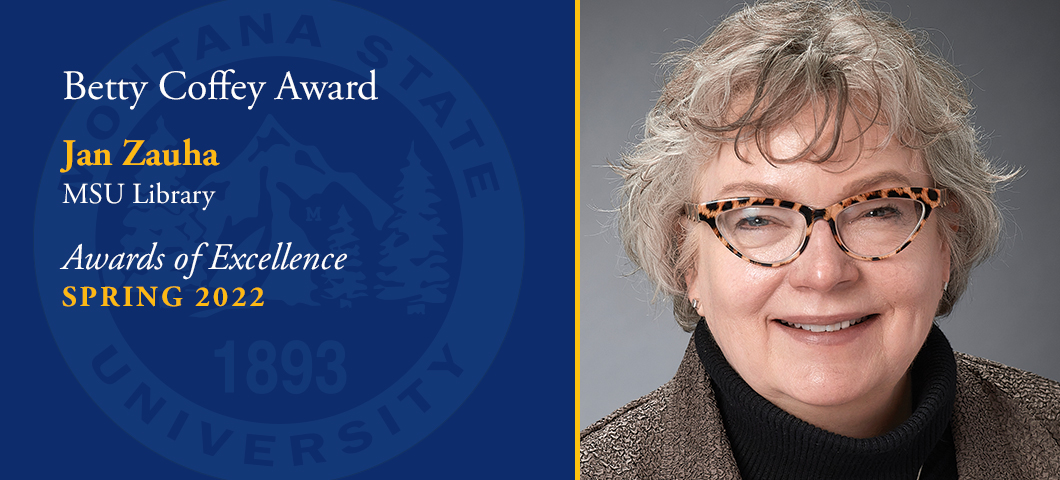 Jan Zauha
Jan Zauha, professor and humanities and outreach librarian for the MSU Library, will receive the  Betty Coffey Award  honoring a member of the faculty or staff who demonstrates outstanding achievement in incorporating women's perspectives into the curriculum. Given by the Women's, Gender and Sexuality Studies Committee, the award carries a cash prize of $1,000.
Zauha is regarded as a vibrant force in making gender visible in courses taught at MSU, as well as in the ways that gender is conveyed to faculty, students, staff and the community through engagement, outreach, exhibitions and resources that make underrepresented voices part of the stories that are shared. Through mentoring on campus and regionally, she has also inspired and helped develop these practices in others.
Zauha is one of the longest-serving members of the Women's, Gender and Sexuality Studies Committee, serving since 2002 and co-chairing the committee from 2012 to 2013. During those years, she has worked tirelessly through her scholarship, mentoring, service and outreach activities to make the stories and voices of women of all races and classes visible, according to her nominators.
Among other efforts, Zauha has worked closely with multiple departments to ensure faculty and student access to the books, articles, films and other media resources that they need to conduct teaching, research and scholarship on gender, race, sexuality and class issues from a variety of perspectives. In addition to helping to build the library's collection of books and journals in these areas, she helped the library to acquire several databases in the field.
In addition, Zauha was a leading force in creating the library's Ivan Doig Archive and making it accessible to diverse communities. She also worked extensively to ensure that gender was represented in the archive's teaching materials, exhibits and book discussions.
Zauha is regarded as an extraordinary mentor, both to students and to her fellow librarians. Her nominators say that she has worked to make the library more approachable to students and also to make them aware of the resources that are available and how to use them.
Nominators say Zauha has also made significant and creative outreach contributions in the community, doing so in ways that engage underserved populations in the joy of reading and with an eye toward making historically marginalized groups and their stories visible. She has coordinated a number of reading groups over the years, where she has encouraged the members to choose books written by diverse authors. In 2012, Humanities Montana recognized Zauha's work in promoting reading in Montana with a Humanities Hero Award.