Cox Faculty Award for Creative Scholarship and Teaching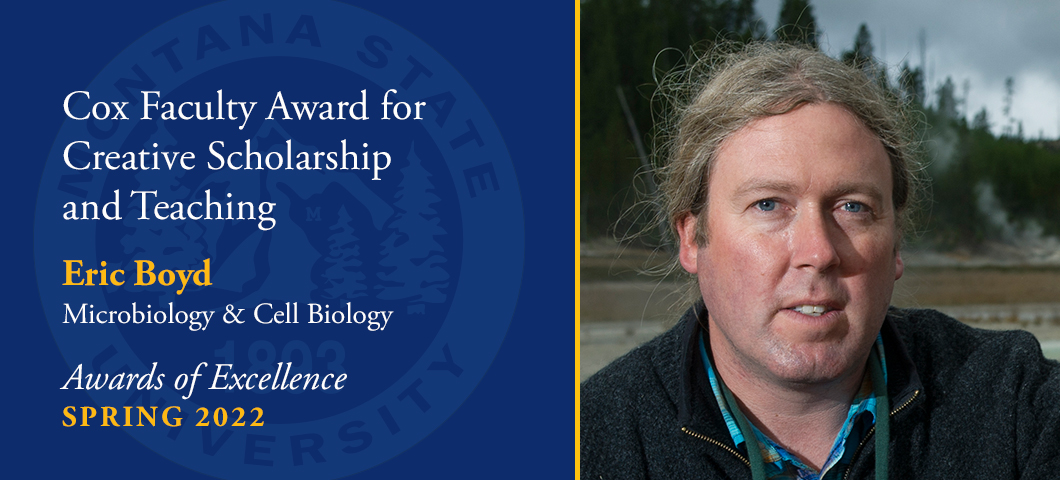 Eric Boyd
Eric Boyd, an associate professor in the Department of Microbiology and Cell Biology, received the Cox Faculty Award for Creative Scholarship and Teaching. The award comes with a $2,000 honorarium.
Boyd's research is focused on understanding the origins and evolution of life on Earth and its impacts on global biochemical cycles. His work concentrates on understanding how nutrients and energy are mobilized from minerals to sustain microbial communities in subsurface environments.
To underscore the importance of his work, Boyd has published 146 peer-reviewed articles, the vast majority as corresponding author.
According to members of his department, Boyd is one of the best instructors and mentors at MSU. He has an outstanding record of teaching both undergraduate and graduate courses. He has mentored or continues to mentor 14 postdoctoral fellows, 18 graduate students and 44 undergraduate students, including students at tribal colleges across the state. Boyd has found numerous ways to involve his undergraduate students in his research program and also promotes graduate student development by providing fieldwork opportunities across the world, and his students' projects and research have appeared in numerous peer-reviewed publications.
"Beyond the numbers in his impressive curriculum vitae, we would be remiss not mentioning that Dr. Boyd is a wonderful colleague who currently serves our department as the director of research," a nomination letter from colleagues reads. "He is committed to outstanding service and is on many departmental and MSU committees, while attending to not only his research but teaching duties. Overall, he is an exceptional scientist, educator, mentor and university citizen who is most deserving of the 2021 Cox Award."