Provost's Award for Exemplary Service and Fidelity to the Public Land Grant Mission of MSU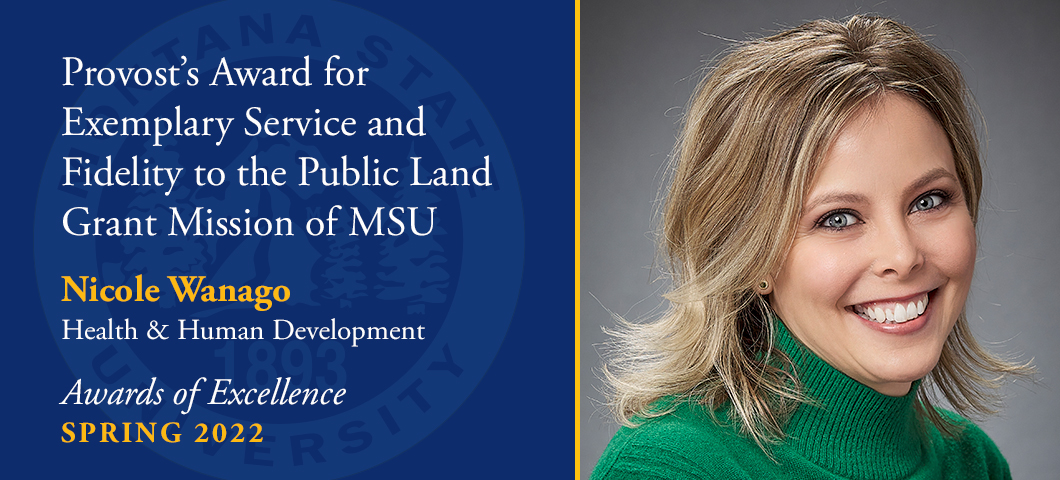 Nicole Wanago
Nicole Wanago, instructor in the Department of Health and Human Development, received the Provost's Award for Exemplary Service and Fidelity to the Public Land Grant Mission of Montana State University. The award is given to a faculty member whose efforts beyond the MSU campus transform lives and communities in support of the people's interest. It includes a $2,000 honorarium.
Wanago is known as a well-respected, hard-working faculty member who exhibits a tireless commitment to innovative teaching, transformational learning experiences and educational access to students across Montana.
Award nominators say that Wanago is passionate about creating transformational learning experiences for her MSU students while simultaneously developing statewide collaborations that ultimately serve the youth and teachers of the state of Montana. For example, for the past several years in her family life education class, Wanago has embedded within the curriculum an opportunity for her students to engage in service learning. As part of the opportunity, community partners identify an educational need for the populations they serve and are then paired with MSU students to create educational and outreach materials to meet the need. The approach contributes to the university's vision of using teaching practices that transform lives and communities in the people's interest, nominators wrote.
Wanago has also developed strong partnerships with the Montana Office of Public Instruction and with a national career and technical student organization for middle school and high school students called the Family, Career, and Community Leaders of America. That organization hosts an annual conference for hundreds of middle school and high school students across the state, and Wanago identified the conference as an opportunity to connect attendees with MSU and introduce them to career possibilities that come with higher education. Accordingly, she worked with the organization, its partners and the university to begin holding the conference at MSU during the university's spring break.
"Nicole exemplifies and has advanced the MSU mission of the public land-grant institution by using innovative approaches to teaching that support students, individuals, agencies and schools," her nominators wrote. "She has made systematic and dedicated collaborative innovation efforts that benefit Montana State University, the state of Montana and the field of family and consumer sciences."