Charles and Nora L. Wiley Award for Meritorious Research and Creativity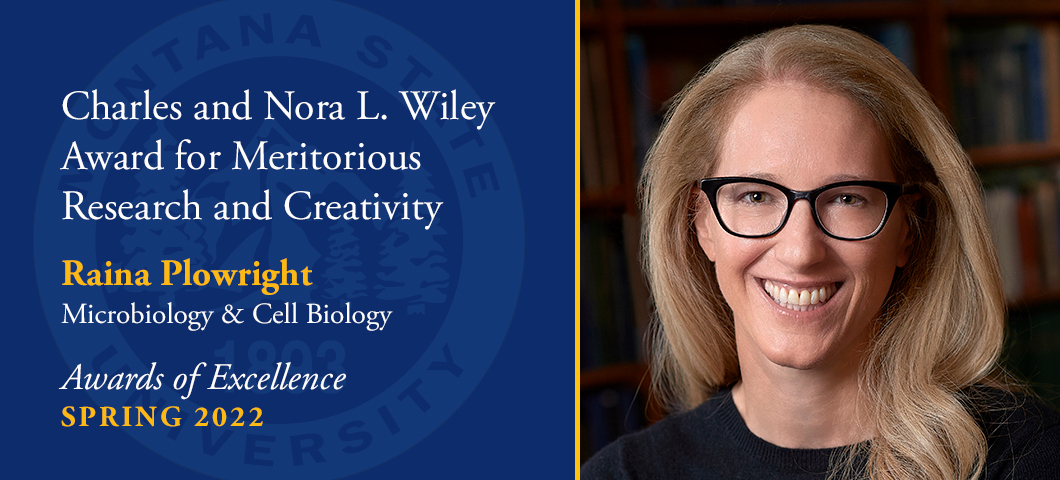 Raina Plowright
Raina Plowright, associate professor in the Department of Microbiology and Cell Biology, has won the Charles and Nora L. Wiley Award for Meritorious Research and Creativity, recognizing her extensive research contributions. She will receive a $2,000 honorarium.
Plowright is an infectious disease ecologist, epidemiologist and wildlife veterinarian who investigates the dynamics of diseases that connect human and animal populations. Much of her research focuses on understanding spillover — the transmission of infectious agents from animals like bats to humans.
"Since joining MSU in 2014, Dr. Plowright has brought international recognition of zoonotic spillover to our institution," department head Jovanka Voyich stated in a nominating letter.
At MSU, Plowright has received more than $20 million in funding as a principal investigator and contributed to nearly 100 peer-reviewed publications. She directs an international cross-disciplinary research program focused on understanding and solving spillover. It is funded by a $12.4 million award through the U.S. Defense Advanced Research Projects Agency Preventing Emerging Pathogenic Threats Program and two major grants from the U.S. National Science Foundation, including a recently awarded Rules of Life grant.
Plowright's reputation in the field has made her a sought-out adviser for programs including the National Science Foundation, the International Union for Conservation of Nature and the U.S. Geological Survey. She was named a fellow of the American Association for the Advancement of Science this month and has also used her expertise to assist MSU with its response to the SARS-CoV-2 pandemic.
Guy Palmer, Regents Professor of Pathology and Infectious Diseases at Washington State University, called Plowright's research both innovative and impactful.
"She is one of the most highly respected scientists worldwide in the interdisciplinary field of ecology and infectious diseases," Palmer wrote in a letter of support. "Dr. Plowright has led the most significant advances in the past decade in the role of land use ecology as a driving force in emerging pathogens — obviously highly relevant to understanding how epidemics start and disseminate locally, regionally and globally."