Tuition Payment Plan Information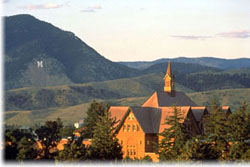 The Tuition Payment Plan is an installment loan available for qualified applicants who are unable to make full payment of current semester tuition, fees, and /or room and board charges on regular fee payment day. This plan is available to all students with the exception of those whose financial aid is ready at fee payment day and is equal to or greater than fees charged, students who are in default on a Perkins/Nursing loan, or students who have a poor repayment history at Montana State University.

General Instructions
Log into the online tuition payment plan forms using NETID and NETID password.

You can also download the form. Please complete the highlighted lines and scan, mail or fax to MSU Student Accounts.

Submit an installment loan application each semester to the Student Accounts Office, P.O. Box 172640, Bozeman, MT 59717-2640. A non-refundable $30 processing fee will be added to the student's fee statement for each approved application ($45 after application deadline). See Registration Handbook for fee payment deadlines.
Montana State University reserves the right to reject or decline any application and to require a guarantor on any deferred installment loan made. If you are under 18 when you submit the application you will also need a guarantor form. A guarantor form is available here.
Pay your first installment according to established fee payment procedures. Your financial aid, loans, grants, scholarships and fee waivers will be deducted from your overall balance and the resulting balance will be divided into four payments. Your payment will be your confirmation.
Loan installments as well as any other outstanding charges due Montana State University are to be made payable to Montana State University at the MSU Student Accounts Office, 121 Montana Hall, P.O. Box 172640, Bozeman, MT 59717-2640. Payments may be made either by web payment, mail, or in person. Any installment payments which are mailed must be received by the Student Accounts Office on or before the due date. A $15 late fee will be assessed for each installment payment which is received after the due date.
Due Dates: Pay your first installment according to established fee payment procedure.
Summer
1st 6 weeks
May 18
June 6
12 week and intersession
May 18
June 13
July 11
2nd 6 weeks
May 29
July 18
| | | |
| --- | --- | --- |
| | Fall | Spring |
| 1st Installment | August 12 | January 13 |
| 2nd Installment | October 1 | February 1 |
| 3rd Installment | November 1 | March 1 |
| 4th Installment | December 1 | April 1 |
---