Facts and Statistics
MSU's Jake Jabs College of Business & Entrepreneurship (JJCBE) has a mission of inspiring creativity, innovation, and growth. Here is a quick look at what makes us unique and why our college is an engaging place to be.
Key Facts
AACSB Accreditation
The JJCBE at MSU is accredited by the Association to Advance Collegiate Schools of Business (AACSB). Only 5% of all business programs worldwide have earned AACSB accreditation, including Stanford, Michigan, MIT, UCLA and all high reputation programs. It is the most rigorous accreditation a business college can earn.
Small Class Size, Learning from the Best
Average undergraduate class size is 30 students and offers an experiential skills-based curriculum. Every class is taught by a faculty member; not a single class is taught by a graduate student. All students have access to advisors to guide them through their college careers.
Faculty serve as great mentors and advisors for students. They have earned Ph.D., Juris Doctor and MBA or masters degrees from the top programs in the country - Stanford, Michigan, Oregon, MIT, Arizona State, University of Utah, and others. Students also learn from faculty who have held senior positions in such companies as FedEx, Saatchi & Saatchi, ESPN, NASDAQ, Booz Allen Hamilton, and several are current business owners.
Bragging Rights
MSU recognized on list of top colleges and universities where alumni are most likely to land jobs
MSU recognized on a list of the best colleges in every state costing less than $20,000/year
MSU recognized among top 3% of higher education institutions worldwide
The College
Total enrollment (Fall 2017): 1,484 undergraduates, 38 graduate students
Faculty: 58
Administration & Staff: 16
Communications Coaches: 8
Number of programs: 12 academic offerings
1 master's degree: Master of Professional Accountancy (MPAc)
1 undergraduate degree with 4 options: Accounting, Finance, Management, Marketing
5 minors: Accounting, Business Administration, Entrepreneurship & Small Business Management, Finance, International Business
2 certificates: Business, Entrepreneurship
---
Your Resources
Centers: The Bracken Center, The Jabs Entrepreneurship Center
Clinics: Bracken Business Communication Clinic (BBCC), Professional Coaching Clinic
Entrepreneurship: Blackstone LaunchPad, 406 Labs, SBDC
Orser Executive Speakers Forum: Recent distinguished guest speakers have included:
Gerald Grinstein, past CEO of Delta Airlines
Tim Solso, former chairman of General Motors and CEO of Cummins

Nicole Jones

'97, senior law enforcement and security counsel at Google
Rich Barton, founder of Expedia, Inc., Zillow, and Glassdoor
Student Clubs & Organizations: 10
Collegiate DECA
LaunchCats (joint club with the MSU Blackstone LaunchPad)
Women in Business
College Recruiting Events: Meet the Business Recruiters, Meet the Accounting Recruiters
Career and Employment Info: http://www.montana.edu/business/prospective-students/career-employment-information.html
---
The JJCBE Network
JJCBE alumni (2015): 10,670
Notable companies founded/co-founded by JJCBE alumni:
---
The Location: Jabs Hall
Square Feet: 50,830
Fireplaces: 2
Classrooms: 11, Computer Classrooms/Labs: 2, Classrooms without windows: 0
Team and Conference Rooms for students: 9
Student Social/Collaboration Spaces: 13
Regularly Occupied Spaces with Daylight Views: 90.6%
Recycling Stations: 4+
LEED Gold designation
---
Go Bobcats! Competing at a National Level
2018: Fourteen business and graphic design students in a year-long advertising class placed first at the regional National Student Advertising Competition in Seattle, Washington.
They advanced to the semifinals where they landed in the Top 8 teams nationally. The students competed at the national competition in Chicago, Illinois where they impressed judges so much that they were given an impromptu award and prize money. http://www.montana.edu/news/17829/
The class also took first place at the regional competition in 2017; second in 2013, 2014 and 2015 and third in 2016.
---
2018: MSU's student chapter of the American Marketing Association (AMA) enjoyed a strong showing at the 40th annual AMA International Collegiate Conference, taking home three major awards. The MSU chapter earned second place for best website and third place in the case competition. The organization was also named one of the Top 20 chapters out of more than 370 student chapters worldwide. The conference was held April 5 through 7 in New Orleans. http://www.montana.edu/news/17672
---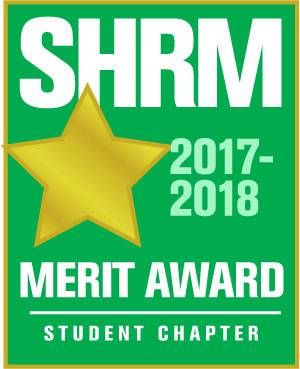 2018: MSU's Management and Human Resources Club received an award recognizing the superior growth and development opportunities the club provides to its members. The 2017-2018 Merit Award was given by The Society for Human Resources Management (SHRM), the world's largest HR association. The professional development for students included participation in a series of events, including meetings with both local and out-of-state businesses and human resource specialty panels, opportunities to practice networking skills and participation in a statewide human resources competition. http://www.montana.edu/news/17795
---
2014-2018: Our graduates have taken jobs with a wide range of national, multi-national and Montana-based organizations. Just in the past five years, our alumni have hired on with well-known businesses including Deloitte & Touche (accounting '14), BlackRock (finance '18), Amazon (management '15), and R/GA Tokyo (marketing '15). To see more examples of our alumni and their careers, please visit: http://www.montana.edu/business/prospective-students/career-employment-information.html
---
2018: The MSU Blackstone LaunchPad (BLP), which is housed under our college, is an entrepreneurial resource for students, alumni and faculty across the university and community. They offer coaching, ideation assistance, and venture creation support. Since its inception in 2013, the LaunchPad and its staff has helped generate more than 90 ventures. With a physical presence in the Strand Union Building (SUB) next to the Union Market, the BLP has assisted hundreds of individuals and teams from across campus and multiple disciplines since its grand opening in 2013. http://www.montana.edu/news/17777/
About Bozeman
Bozeman is a small town with big energy.
Perhaps best known for outdoor recreation, Bozeman also has the cultural amenities of a much larger city including a symphony, opera, and ballet companies, as well as many locally-owned shops, restaurants and galleries that make Downtown vibrant. Skiing, hiking, camping, biking, climbing, and fishing options are endless because Bozeman is surrounded by five mountain ranges including the Bridger, Tobacco Root, Big Belt, Gallatin and Madison ranges; and the Gallatin, Madison and Yellowstone Rivers are all within a half hour of campus. There is plenty of National Forest land to explore, and Yellowstone National Park is just 90 miles away.
---
Two Great Ski Areas Nearby
7,750 Total Acres of Downhill
POWDER magazine has selected MSU as one of the five best colleges for skiers in the Mountain West.
---
A Great Place to Be ... Bozeman, Montana
Bozeman's community, access to trails in town and proximity to world class skiing have been recognized by the likes of National Geographic, Outside and the New York Post.