Welcome to the Jake Jabs College of Business & Entrepreneurship at Montana State University!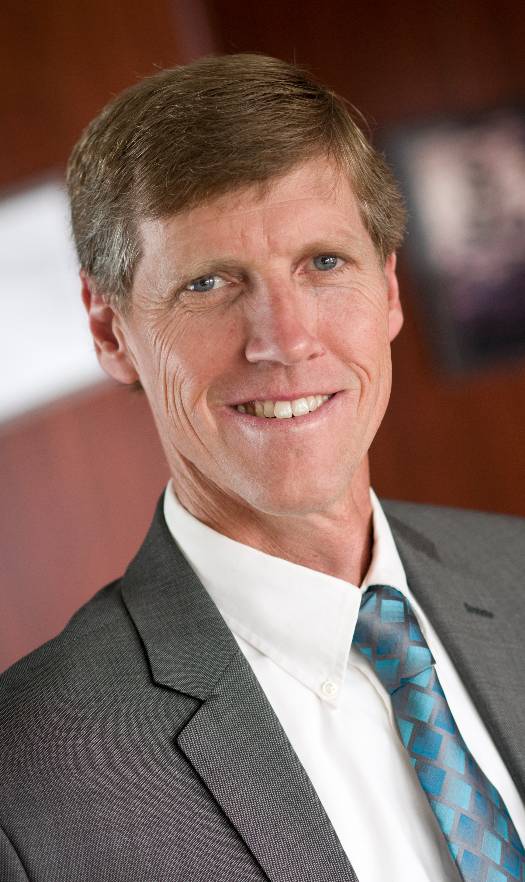 It has been a very eventful couple of years for our College. Perhaps one of the most significant days in the life of our college was marked by the grand opening of Jabs Hall on May 7th, 2015. As the new home for our college, Jabs Hall embodies many of the values that provide our foundation for the future. It is clearly one of the most open, inviting, and collaboration-friendly buildings on campus. It offers inspiring views from the many large windows throughout the building, coupled with intimate seating areas for students to work together or alone.
Our new home in Jabs Hall is the perfect place from which to implement our new mission: To inspire creativity, innovation, and growth. This new mission statement was the result of a series of discussions about how we could really live up to the "entrepreneurship" in our college's name. We realize that not every student wants to start his or hers own venture, and that we still have the responsibility for preparing our students to work in the many large firms that recruit our students. Our discussions led us to what we think is at the core of what makes any business professional, whether an entrepreneur or an employee of a large firm, successful. We want to graduate business professionals that can think creatively and develop innovative solutions and business ideas. We also want those graduates to embrace their own personal and professional growth, while contributing to the economic growth of Montana and the nation. To do all this, we are developing ways to inspire creativity in our curriculum, by making our courses more accessible to students from other colleges on campus. We believe that having our students work alongside engineers, scientists, and artists will broaden their horizons and increase their ability to work across disciplines. In that spirit, we are also introducing new courses, such as our interdisciplinary design course, taught by a faculty team from business, engineering, and graphic design.
On behalf of all of us at the Jake Jabs College of Business & Entrepreneurship, I welcome you to our website and invite you to learn more about us.
Mission
The Mission of the Jake Jabs College of Business & Entrepreneurship (JJCBE) is to provide excellence in undergraduate and select graduate business education. We inspire creativity, innovation, and growth.

To accomplish this, the College
Fosters an integrated, experiential, and personalized learning environment
Encourages critical thinking, quantitative reasoning, effective communication, ethical decision making, social responsibility and life-long learning
The College is committed to the teacher-scholar model in which faculty members are simultaneously engaged in teaching and research. The College provides service and outreach to its stakeholders in keeping with this aspect of the University's land-grant mission.
Vision
The Jake Jabs College of Business & Entrepreneurship at Montana State University will provide a locally revered and nationally recognized business education for undergraduate students and in selected areas of graduate study. The programs of study will be distinguished by the personalized attention accorded to students, an integrated and contemporary curriculum, and the dedication of the faculty to creating an extraordinary classroom environment and facilitating career opportunities for graduates.
Core Values: Code of Excellence
Recruiting and Retaining Exceptional Students - The recruitment and retention of exceptional students is ensured by sustaining high-quality throughout the College and by strategically communicating with all stakeholders. Emphasis is given to our rigorous curriculum, qualified faculty, student services, job placement, student mentoring, and commitment to students in an energizing living and learning environment.
Curriculum Design and Delivery - The JJCBE curriculum is accessible, integrated and experiential combining the breadth of liberal arts education with the depth of business practice. It is designed to prepare students for productive careers while fostering lifelong learning, critical thinking, effective communication, and ethical decision-making.
Mentoring - Faculty, staff and administration initiate and cultivate interactive student mentoring relationships in support of the academic and professional development of students, and engender student commitment to learning, personal responsibility, effective problem- solving, and ethical judgment.
Research and Creative Activity - Faculty members model life-long learning and critical/creative thinking by engaging in research and creative activity that contributes to the inventory of knowledge, strengthens each student's classroom experience, and supports the land-grant mission of MSU.
Balancing Personal, Professional and Societal Responsibilities - The College sets work-load expectations for faculty, staff and administration that promote a balance of personal, professional and societal responsibilities and fosters faculty involvement with university, city, state, nation, and world communities.
Professional Fulfillment - In support of long-term individual growth and college-wide progress, faculty and staff are afforded the opportunity and resources to pursue personal/professional activities linked directly to consistent, identifiable, desired organizational goals.
Organizational Resources and Rewards - The JJCBE values and cultivates members of the faculty, staff and administration by allocating substantive resources to recognize outstanding performance and to invest in the future and enhancement of our mission and core values.
Organizational Culture - As a dynamic learning community of shared vision and goals, the JJCBE culture nurtures the personal and professional growth of faculty, staff and students through trust, openness, good humor, collegiality, accountability, unity, diversity and an enthusiasm for change and individual differences.


Strategic Plan
Redrawing the Boundaries of the JJCBE: The Integration of Knowing, Doing and Reflecting
Key Drivers of Strategic Plan:

• What we are deeply passionate about
• What we can do really well
• What drives our economic engine

Focus on the intersection of three key areas:

• Knowing (Expertise, Business Functional Knowledge)
• Doing (Professional Skill Development)
• Reflecting (Self-awareness, sense of purpose)

Please click here to view our Proposed Strategic Plan (2011-2015).