Developing a Screening Method to Identify Acid-Tolerant Varieties
Lukas Blythe: Undergraduate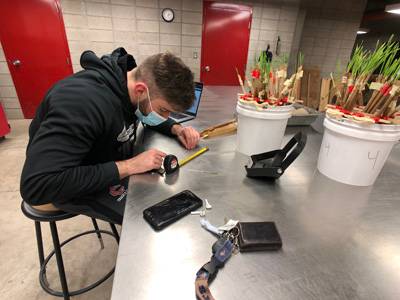 Problem Statement:
Acidic soils in Montana have a major impact on Montana growers, In fact, approximately half of the Earth's arable soils are acidic; some from natural process, some from modern agriculture. Acid-affected soils can deplete barley yield as much as 50% due to reductions in the barley's root systems. There are currently methods to combat acidic soils, but the most cost-efficient is growing acid-resistant varieties.
Purpose:
The purpose of this research is to identify which of our barley lines are acid-tolerant and then to identify genetically why these lines are acid-tolerant. If we were to identify what makes these lines acid-resistant, then we could use this information to further build acid-resistant lines with more desirable traits.
Objectives:
Build a greenhouse method that is able to provide more useful data, we are in the process of finishing this step.
Perform tests on heirloom populations to understand if they are displaying acid-tolerant trait
Attempt to identify the genetic makeup behind acid-tolerance
Hypothesis:
If a newly developed greenhouse method is created, then we will be able to provide more consistent screening and more useful data.