Heirloom Variety Research
Our heirloom research started when Jamie Sherman, our breeder, first came to the program and asked brewers what she should focus on. Tasked with flavor, Jamie collected over 300 lines from 42 different countries representing highly diverse genetics from historical barley lines.
This page represents one of the newest aspects of our website! We have been researching heirloom varieties for several years, and here we hope to start documenting some of this work - check back often as we are getting close to publishing some very interesting findings related to this work!
Take a look at this recent article Hannah Turner wrote on our heirloom work
for Montana Craft Beer Connect!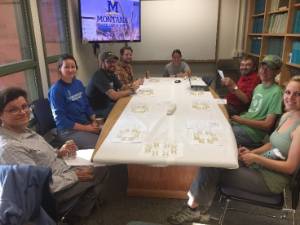 Heirloom Lines Included in This Study
Because this trial is so large it is split into two sets, each have been grown in seperate years
| | | | |
| --- | --- | --- | --- |
| Heirloom LIne (First half of study) | Origin | Barley Growth Type | Notes and interesting factoids |
| Ackzent | NR | 2-Row | |
| Akcent | Czech Republic | 2-Row | |
| Alondra | NR | 2-Row | |
| Amber | NR | 2-Row | |
| Amulet | Czech Republic | 2-Row | |
| Andre | Washington | 2-Row | |
| Annabell | NR | 2-Row | Low haze line |
| Anni | NR | 2-Row | |
| Apex | Netherlands | 2-Row | |
| Aramir | NR | NR | |
| Arrivisio | NR | NR | |
| Astoria | NR | 2-Row | |
| Atlas | NR | NR | |
| Azure | North Dakota | 6-Row | |
| Balder | Scandinavia | 2-Row | |
| Bancroft | Idaho | 2-Row | |
| Bargiers | NR | 2-Row | |
| Beacon | North Dakota | 6-Row | |
| Bearpaw | Montana | 2-Row | |
| Beebe | Montana | 2-Row | Has small round seeds, like bb pellets |
| Beecher | Colorado | NR | |
| Bella | Germany | 2-Row | |
| Bellona | NR | 2-Row | |
| Betzes | Poland | 2-Row | |
| Bianca | NR | 2-Row | |
| Blondie | NR | 2-Row | |
| Bojos | NR | 2-Row | |
| Bomi | Scandinavia | 2-Row | |
| Bonanza | Canada | 6-Row | |
| Bonus | Scandinavia | 2-Row | |
| Boulder | NR | NR | |
| Brage | Scandinavia | 2-Row | |
| Brahm | NR | 2-Row | |
| Brenda | NR | 2-Row | |
| Brewster | NR | 2-Row | |
| Butte | Idaho | 2-Row | |
| Camilot | NR | 2-Row | |
| Caminant | NR | 2-Row | |
| Caravela | NR | 2-Row | |
| Caribou | Idaho | 2-Row | |
| Carina | NR | 2-Row | |
| Carlsberg II | Netherlands | 2-Row | |
| Caruso | NR | 2-Row | |
| Cecilia | NR | 2-Row | |
| Centennial | NR | 6-Row | |
| Century | NR | 2-Row | |
| Chad | NR | 2-Row | |
| Chalice | United Kingdom | 2-Row | Whiskey LIne |
| Chamant | NR | 2-Row | |
| Chariot | NR | 2-Row | |
| Chevalien | Scandinavia | 2-Row | |
| Chevalier 1 | Scandinavia | 2-Row | |
| Chevalier 10 | Scandinavia | 2-Row | |
| Chevalier 11 | Scandinavia | 2-Row | |
| Chevalier 12 | Scandinavia | 2-Row | |
| Chevalier 13 | NR | | |
| Chevalier 2 | NR | | |
| Chevalier 3 | Scandinavia | 2-Row | |
| Chevalier 4 | Scandinavia | 2-Row | |
| Chevalier 6 | Scandinavia | 2-Row | |
| Chevalier 7 | Scandinavia | 2-Row | |
| Chevalier 9 | Scandinavia | 2-Row | |
| Chieftan | NR | 2-Row | |
| Chinook | NR | 2-Row | |
| Chronicle | NR | 2-Row | |
| Clark | Montana | 2-Row | |
| Coast | NR | NR | |
| Colter | Idaho | 6-Row | |
| Compana | MT | 2-Row | *Grown in MT after WWII |
| Conquest | Canada | 6-Row | |
| Conrad | Montana | 6-Row | |
| Cooper | NR | 2-Row | |
| Cork | Great Britain | 2-Row | |
| Cornei | NR | NR | |
| Crystal | NR | 2-Row | |
| Cumhuzivet 50 | NR | NR | |
| Dallas | NR | 2-Row | |
| Decanter | NR | 2-Row | Whiskey line |
| Decor | NR | 2-Row | |
| Dekap | NR | NR | |
| Delibes | Scandinavia | 2-Row | |
| Delita | Scandinavia | 2-Row | |
| Dickson | NR | NR | |
| Ditta | NR | 2-Row | |
| Domen | Scandinavia | 2-Row | |
| Dominique | NR | 2-Row | |
| Donetskii 8 | NR | NR | |
| Ebson | NR | 2-Row | |
| Elgina | NR | 2-Row | |
| Elisa | NR | 2-Row | |
| Ellice | Canada | 2-Row | |
| Elo | NR | 2-Row | |
| Elrose | NR | 2-Row | |
| Erbet | Montana | 2-Row | |
| Faust | NR | 2-Row | |
| Ferment | NR | 6-Row | |
| Firlbecks III | Netherlands | 2-Row | |
| Flynn | NR | 6-Row | |
| Frontier | Wyoming | 2-Row | |
| Galena | NR | 2-Row | |
| Gigas | NR | NR | |
| Glacier | Montana | 6-Row | |
| Galt | NR | 2-Row | |
| Gentle | NR | 2-Row | |
| Georgie | NR | 2-Row | |
| Gladys | NR | 2-Row | |
| Glenn | North Dakota | 6-Row | |
| Gold | NR | NR | |
| Golden Compana | NR | NR | |
| Golden Liberty | NR | 2-Row | |
| Golden Melon | Japan | 2-Row | Has a yellow lemma |
| Goldie | NR | 2-Row | |
| Growler | NR | 2-Row | Modern AB line |
| Halla | NR | 2-Row | |
| Hannchen | Scandinavia | 2-Row | |
| Hazen | North Dakota | 6-Row | |
| Heartland | Canada | 6-Row | |
| Heavyweight | NR | 2-Row | |
| Hector | Canada | 2-Row | |
| Heines Hanna | Netherlands | 2-Row | |
| Helena | NR | 2-Row | |
| Heron | NR | 2-Row | |
| Herta | Montana | 2-Row | |
| Hockett | Montana | 2-Row | |
| Horn | NR | 2-Row | |
| Hypana | Montana | 2-Row | |
| Idagold | NR | 2-Row | |
| Ingrid | Scandinavia | 2-Row | |
| Italian | NR | 2-Row | |
| Jubilant | Slovakia | 2-Row | |
| Juliette | Australia | 2-Row | |
| Juno | NR | 2-Row | |
| Katharina | NR | NR | |
| Kimberly | Idaho | 2-Row | |
| Kompakt | NR | 2-Row | |
| Krona | Germany | 2-Row | |
| Lake Abed | NR | 2-Row | |
| Larbet | NR | 2-Row | |
| Larissa | Germany | 2-Row | |
| Lewis | Montana | 2-Row | |
| Magda | NR | 2-Row | |
| Marie | NR | NR | |
| Maris Mink | Great Britain | 2-Row | Related line to Maris Otter |
| Merit 57 | NR | 2-Row | |
| Metcalfe | Canada | 2-Row | |
| Mojo | NR | NR | |
| Morex | NR | 2-Row | |
| New Zealand | NR | 2-Row | |
| Nordic | NR | NR | |
| Nukap | NR | 2-Row | |
| Odyssey | NR | 2-Row | |
| Olivia | NR | 2-Row | |
| Paulis | NR | NR | |
| Pedant | NR | 6-Row | |
| Piroline | Germany | 2-Row | |
| Robust | NR | 6-Row | |
| Russell | NR | 6-Row | |
| Shabet | NR | 2-Row | |
| Sissy | NR | 2-Row | |
| Stellar | NR | NR | |
| Synergy | NR | 2-Row | |
| Tellas | NR | NR | |
| Traill | NR | NR | |
| Tremois | NR | 2-Row | |
| Triumph (Craig's) | NR | 2-Row | |
| Trophy | NR | 2-Row | |
| Union | NR | 2-Row | |
| Unitan | NR | 2-Row | |
| Vangaurd | NR | 2-Row | |
| Vireo | NR | 2-Row | |
| Wadana | NR | 2-Row | |
| Zephyr | NR | 2-Row | |
| | | | |
| --- | --- | --- | --- |
| Heirloom LIne (Second half of study) | Origin | Barley Growth Type | Notes and interesting factoids |
| ABAVA | Latvia | 2-Row | |
| ABED_MENTOR | Denmark | 2-Row | |
| ABEE | Canada | 2-Row | |
| ACKERMANNS_ISARIA | Germany | 2-Row | |
| ADLIKER | Switzerland | 2-Row | |
| ADORRA | Austria | 2-Row | |
| AGIO|PI328950 | Netherlands | 2-Row | |
| AKHALTESLI_MESTNYI | Georgia | 2-Row | |
| AKME_FUTTER | Slovenia | 2-Row | |
| ALEXIS | Germany | 2-Row | |
| ALLASCH | Germany | 2-Row | |
| AMULET | Czech Republic | 2-Row | |
| ANTARCTICA04 | Brazil | 2-Row | |
| ANTARCTICA05 | Brazil | 2-Row | |
| ARAMIR|PI399482 | Netherlands | 2-Row | |
| ARAMIR|PI467786 | Netherlands | 2-Row | |
| ARAPILES | Australia | 2-Row | |
| ARIEL | France | 2-Row | |
| ASTRID | France | 2-Row | |
| ATLAS | Czech Republic | 2-Row | |
| AURORE1 | Europe | 2-Row | |
| BANBA | Ireland | 2-Row | |
| BEATRICE | France | 2-Row | |
| BOCK | Netherlands | 2-Row | |
| BONUS|PI599659 | Nepal | 2-Row | |
| CENTENNIAL | Canada | 2-Row | |
| CERISE | United Kingdom | 2-Row | |
| CERNIGOVSKIJ7 | Ukraine | 2-Row | |
| CERTA | France | 2-Row | |
| CI15007 | France | 2-Row | |
| CLUJ123 | Romania | 2-Row | |
| CORONET | United Kingdom | 2-Row | |
| CRESCENT | United Kingdom | 2-Row | |
| CRISTAL | Belgium | 2-Row | |
| DA_CAFFE | Czech Republic | 2-Row | |
| DIAMANT | Czechoslovakia | 2-Row | |
| DIVA | Netherlands | 2-Row | |
| DOBROVICKY_KARGYN | Czechoslovakia | 2-Row | |
| DONAN | United Kingdom | 2-Row | |
| DOUBLOON | United kingdom | 2-Row | |
| DROSSEL | Germany | 2-Row | |
| DVORAN | Slovakia | 2-Row | |
| EARLY_CHALLENGER | Australia | 2-Row | |
| ECLAT | Belgium | 2-Row | |
| EGLFINGER_MONACHIA | Germany | 2-Row | |
| ELLIOT | United Kingdom | 2-Row | |
| EUROPA | Germany | 2-Row | |
| FEINER_ORIGINAL | Hungary | 2-Row | |
| FINDHORN | United Kingdom | 2-Row | |
| FM437 | Brazil | 2-Row | |
| FUSILIER | United Kingdom | 2-Row | |
| GERKRA | Netherlands | 2-Row | |
| GLOIRE_DU_VELAY | France | 2-Row | |
| GOBLIN | United Kingdom | 2-Row | |
| GRIMMET | Australia | 2-Row | |
| HAISA|PI197617 | Germany | 2-Row | |
| HAKATA_NO.2 | Japan | 2-Row | |
| HARPOON | United Kingdom | 2-Row | |
| HASSAN | Netherlands | 2-Row | |
| HEIMDAL | Sweden | 2-Row | |
| HERAN | Czech Republic | 2-Row | |
| HERIS | Czech Republic | 2-Row | |
| HORAL | Slovakia | 2-Row | |
| ILINESKIJ43 | Ukraine | 2-Row | |
| IMPALA | Netherlands | 2-Row | |
| JANTAR | Czech Republic | 2-Row | |
| JAREK|PI467834 | Poland | 2-Row | |
| JAREK|PI599633 | Czech Republic | 2-Row | |
| JEM | United Kingdom | 2-Row | |
| JOGEVA | Estonia | 2-Row | |
| JOGEVA1104 | Estonia | 2-Row | |
| KAPUTAR | Australia | 2-Row | |
| KARRI | Finland | 2-Row | |
| KENYA_RESEARCH|PI234846 | Kenya | 2-Row | |
| KORAI_TAK_ARPA | Hungary | 2-Row | |
| KOSMOS | Poland | 2-Row | |
| KRASSI | Bulgaria | 2-Row | |
| KRYSTAL | Czech Republic | 2-Row | |
| KUAKA | New Zealand | 2-Row | |
| KYLE | Zimbabwe | 2-Row | |
| LARA | Australia | 2-Row | |
| LEGIA | Belgium | 2-Row | |
| LUBUSKI | Poland | 2-Row | |
| LUTSKII | Ukraine | 2-Row | |
| MAGNIF105 | Argentina | 2-Row | |
| MAGNIF128 | Argentina | 2-Row | |
| MAGNIF131 | Argentina | 2-Row | |
| MAGNIF132 | Argentina | 2-Row | |
| MAKOMAKO | New Zealand | 2-Row | |
| MALTERIA_HEDA | Argentina | 2-Row | |
| MALVAZ | Czech Republic | 2-Row | |
| MANAPOU | New Zealand | 2-Row | |
| MARTONVASARI50 | Hungary | 2-Row | |
| MARTONVASARI_MK-175 | Hungary | 2-Row | |
| MATA | New Zealand | 2-Row | |
| MENUET|PI467749 | Netherlands | 2-Row | |
| MENUET|PI467789 | Netherlands | 2-Row | |
| MERCHANT | United Kingdom | 2-Row | |
| MFB104 | Hungary | 2-Row | |
| MINSKIJ | Belarus | 2-Row | |
| MIRANDA | Netherlands | 2-Row | |
| MONA | Sweden | 2-Row | |
| MOYJAR | Norway | 2-Row | |
| MULTUM | Austria | 2-Row | |
| ND14701 | United States | 2-Row | |
| NEMCHINOVSKIJ | Russia | 2-Row | |
| NITRANSKY_EXPORTNI | Slovakia | 2-Row | |
| NRPB80-881 | United Kingdom | 2-Row | |
| NUTANS115 | Armenia | 2-Row | |
| OBSKOI | Russia | 2-Row | |
| ODE | Germany | 2-Row | |
| ORGE_DHIVER174 | Belgium | 2-Row | |
| OSIJESKI20 | Croatia | 2-Row | |
| OSK4.3/9 | Croatia | 2-Row | |
| PATRIOT | United Kingdom | 2-Row | |
| PERFEKTA|PI321820 | Austria | 2-Row | |
| PERFEKTA|PI467808 | Austria | 2-Row | |
| PI422233 | Yemen | 2-Row | |
| PI423621 | Israel | 2-Row | |
| PI447054 | Spain | 2-Row | |
| PISARECKY | Czechoslovakia | 2-Row | |
| PREVENETS | Ukraine | 2-Row | |
| PRIKUMSKII22 | Russia | 2-Row | |
| PRIMUS | Czech Republic | 2-Row | |
| PRIVER | France | 2-Row | |
| PROSKOWETZ_HANA_PEDIGREE | Austria | 2-Row | |
| REFLEKS|PI285636 | Poland | 2-Row | |
| REGENT | United kingdom | 2-Row | |
| RESEARCH|PI146663 | Australia | 2-Row | |
| RIGEL | Denmark | 2-Row | |
| RISO6018 | Denmark | 2-Row | |
| RIVALE | France | 2-Row | |
| ROXANE | France | 2-Row | |
| RPB715-69 | United Kingdom | 2-Row | |
| RUBIN | Czech Republic | 2-Row | |
| RUPE | New Zealand | 2-Row | |
| SAFIR | Czech Republic | 2-Row | |
| SANDOMIERSKI|PI467839 | Poland | 2-Row | |
| SANDRA | France | 2-Row | |
| SETA | Denmark | 2-Row | |
| SKRZESZOWICKI|PI467840 | Poland | 2-Row | |
| STALLAR_II | Sweden | 2-Row | |
| STANGE | Norway | 2-Row | |
| STANKAS_FRUHGERSTE | Germany | 2-Row | |
| STEPOVYJ | Ukraine | 2-Row | |
| STUPICKY_HANACKY|PI268176 | Czechoslovakia | 2-Row | |
| STUPICKY_HANACKY|PI467422 | Czechoslovakia | 2-Row | |
| STUPICKY_PLNOZRNNY | Czechoslovakia | 2-Row | |
| SULTAN|PI339814 | Netherlands | 2-Row | |
| SUMMIT | United States | 2-Row | |
| SUNNA | Bulgaria | 2-Row | |
| SUVENIR | Belarus | 2-Row | |
| TAY | United Kingdom | 2-Row | |
| TEO | United Kingdom | 2-Row | |
| TOPAS | Czechoslovakia | 2-Row | |
| TOTEM | United Kingdom | 2-Row | |
| VANKKURI|PI175506 | Finland | 2-Row | |
| VARUNDA | Netherlands | 2-Row | |
| VERBESSERTER_RIED | Germany | 2-Row | |
| VESTNIK | Ukraine | 2-Row | |
| WEKA | New Zealand | 2-Row | |
| WELAM | Sweden | 2-Row | |
| WELGEVALLEN60-A-3-11 | South Africa | 2-Row | |
| WELGEVALLEN62-13-6 | South Africa | 2-Row | |
| WELGEVALLEN65-31-37 | South Africa | 2-Row | |
| WELGEVALLEN65-55-3 | South Africa | 2-Row | |
| WIR25662 | Cameroon | 2-Row | |
| YMER_IDA18SELECTION | United Kingdom | 2-Row | |
| ZAGREB48 | Croatia | 2-Row | |