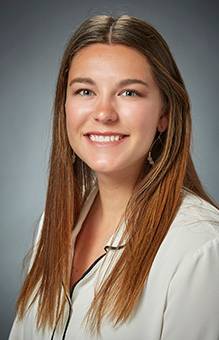 Mariah Stopplecamp
Director of the Bracken Center for Academic & Career Engagement
E-mail Address: [email protected]
Mariah has been with MSU for the past 7 years. She graduated with a B.S in Agricultural Business in 2019 and earned her MBA from the University of Montana in 2021. Mariah's main goal is to facilitate strong relationships between or community employers and our incredible students. She organizesthe semesterly Meet the Business Recruiter events, the Fall Meet the Accounting Recruiter event, organizes the Jabs E-Series speakers and professional development events, and more. After 5pm you canfind Mariah out on the river fly fishing, enjoying one of the many local Bozeman hikes, or at the dog park with her dog, Coco.

Clodagh Shortt
Graduate Assistant
E-mail Address: clodaghs[email protected]
Clodagh moved over here from Ireland back in Fall of 2021. After completing her undergrad in Ireland and working in a homeless charity and then a youth service, she is here to complete her Master's in Counseling with MSU. Clodagh works as our Graduate Assistant here in the Bracken center, which entails many jobs and responsibilities. She helps with the CABLE program, the Women's Circle of Excellence Conference, the recruiting events, data organization and more. Outside of work, most of her time is taken up by her Master program, but she is an avid bookworm (unless its assigned reading). Her family is extremely important to her and her Irish identity.