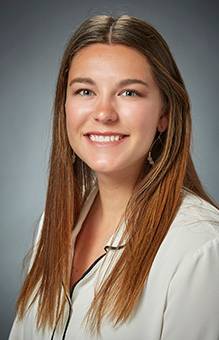 Mariah Stopplecamp
Director of the Bracken Center for Academic & Career Engagement
E-mail Address: [email protected]
Mariah has been with MSU for the past 7 years. She graduated with a B.S in Agricultural Business in 2019 and earned her MBA from the University of Montana in 2021. Mariah's main goal is to facilitate strong relationships between or community employers and our incredible students. She organizes thesemesterly Meet the Business Recruiter events, the Fall Meet the Accounting Recruiter event, organizes the Jabs E-Series speakers and professional development events, and more. After 5pm you can findMariah out on the river fly fishing, enjoying one of the many local Bozeman hikes, or at the dog park with her dog, Coco.

Casey Wolfe
Retention & Engagement Program Coordinator
E-mail Address: [email protected]
Originally from Colorado Springs, CO, Casey has been at MSU since 2016. She has graduated from Jabs in 2019 with a B.S. in Business - Marketing and from EHHD in 2021 with her M.Ed. in Adult & Higher Education - Student Affairs. As the Retention & Engagement Program Coordinator,she helps with the CABLE program, recruiting events, the Women's Circle of Excellence Conference, the Annual Jabs Golf Tournament, and more! Outside of Jabs, Casey coaches high school and middle school volleyball, volunteers for her sorority, Alpha Omicron Pi at four different chapters, goes to spin class, and fulfills her main love language of quality time with her friends and loved ones. And, as always, GO CATS!