COB grad recognized in the Forty Under 40 list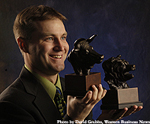 Chad Lippert recognized in the "40 Under Forty" list
Chad Lippert, a Montana State University, College of Business alumnus ('99), was recently named in Western Business News' 40 Under Forty a list of 40 Billings business professionals under the age of 40 who are already recognized in the community for their business drive and accomplishments.
Lippert is a Certified Financial Planner for D.A. Davidson, a regional brokerage firm based in Great Falls. As the largest brokerage firm headquartered in the northwest, D.A. Davidson is now one of the oldest, celebrating 70 years of service this past year.
Brian Brown, adjunct faculty of finance at MSU, College of Business, and Vice President-Financial Consultant for D.A. Davidson said, "Chad is a high-energy person with outstanding people skills and people naturally gravitate toward him. He has a can-do attitude and truly makes a difference in helping others achieve their goals."
During his junior year at MSU, Lippert participated in D.A. Davidson's summer internship program, which launched his career following his graduation. "It was a fantastic program and I would highly recommend it to students who are interested in the brokerage industry," he said of the internship. He continued, "To my knowledge I was one of the first interns that D.A. Davidson hired right out of college."
Brown said, "Chad had actually approached me about interning at D.A. Davidson to get some experience. He shared a passion for the investment business and was a perfect fit because of his unparalleled work ethic and his strong character. He is a true representative of Montana's small-town values."
Lippert's recognition came from far more than the brokerage services he provides at D.A. Davidson. He and his wife, Christina, co-own Colos Styling Salon, LLC, located on the second floor of the Sheraton Hotel in downtown Billings. He said, "The thing I admire about my wife is that she is the true embodiment of an entrepreneur. She graduated from cosmetology school and immediately leased a chair at a local salon rather than going to a place where she would earn a salary to cut hair. She took a risk, worked hard, and built up a large clientele and then a little over two years ago we opened our own salon."
In addition to his business aspirations, Lippert is involved on a volunteer level with several different organizations. He is serving his second year as President of the MSU Friends of the Libraries Board of Directors and serves on the board of directors for the Billings Petroleum Club, a private dining venue in Billings. Additionally, he is a deacon on the council of Hope Evangelical Church and also serves as the Church's director of finance. His list of service continues, including his involvement with the Billings Chamber of Commerce and his volunteer work presenting information on financial literacy to students ranging in age from 3rd grade to university-level. When asked why he participates in so many other activities, Lippert replied, "I believe it is our responsibility to give back to our community. This is the true definition of community; giving of our time and resources to other people to make where we live a better place for everyone."
Through his work with D.A. Davidson, owning his own business, and his community involvement, Lippert has discovered how important the impact of his education has had on his career. "I feel the education that I got at the College of Business provided me with the opportunities to be successful. While I was at the COB, I was fortunate to have Tim Alzheimer as my student advisor. Tim met with me each semester and discussed what classes I should be taking and what career opportunities could be available." He continued, "Tim is a perfect example of what sets our College of Business apart and that is a faculty that truly cares about the success of their students."
Chad's advisor, Tim Alzheimer, adjunct professor of finance said, "Chad is a successful business leader for a number of reasons. First of all, he has a great personality and positive attitude. Chad always has a 'genuine' smile on his face, and sees the best in every person, regardless of their social or financial status. Secondly, Chad is focused. He knows what is expected of him, and goes above and beyond those expectations. In addition, he wants to do the best he can for his clients, not what may be the best for him. Finally, Chad knows how to listen, and has a true concern for the welfare of others. He is not quick to give answers or offer advice, but waits until he knows enough of the situation to give an intelligent and thought-out answer. He is compassionate with his clients and gives as much of himself to those less financially fortunate as he does to those of significant financial means."
Lippert's plans for the future are ambitious, to say the least. He wants to be the "very best he can be" in his industry. He said, "I am in a very competitive industry and you must set yourself apart through outstanding service and advice. I have had the opportunity to learn from some great people such as Brian Brown in Bozeman. Someday I hope to be a part of one of the largest financial planning practices in the state of Montana." He then said, "I recognize this is a very lofty goal, but the key is to continue to be surrounded by great people. I have the opportunity to learn from the experience of my business partners on a daily basis and I believe this will strengthen my ability to help others during the course of my career."
Any success that Lippert attains, he says will be directly related to his family, friends, teachers and co-workers. He said, "I have been blessed with a wonderful wife, parents, and co-workers and they are the people who deserve all of the recognition."
To view Lippert's 40 Under Forty Profile, visit: http://westernbusinessnews.com/40under40/?chadalippert
Photo reprinted with permission of Western Business News