"The Main Event" Introduces Students to the World of Event Planning
"The Main Event" Introduces Students to the World of Event Planning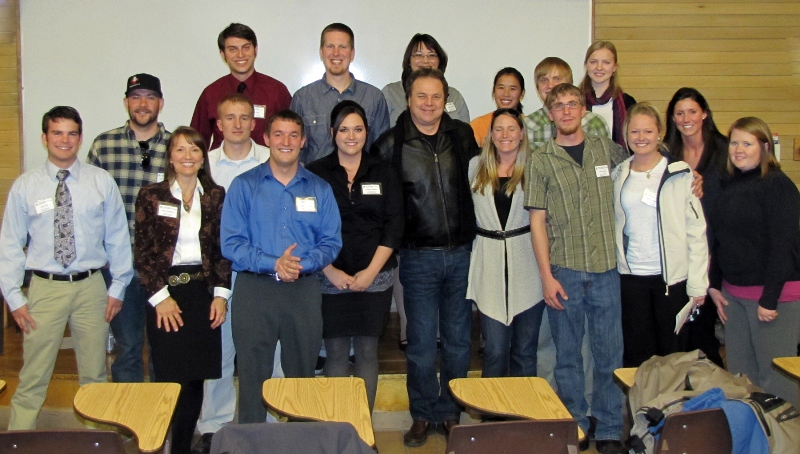 On March 23, the College of Business' (CoB) Human Resources Management Club (HRMC) hosted "The Main Event," a panel session with four expert event organizers. HRMC put on this event due to an increased interest in this particular subject.
Panelists included Tate Chamberlin, founder of Chamberlin Productions; JoAnn Brekhus, executive director of the Sweet Pea Festival; Ellie Staley, program director for the Downtown Bozeman Partnership and Stephen Michael, founder of SRO Live.
The panelists began by introducing themselves and talked about how they got into the event management business before jumping into a Q & A session. One person asked how funding for projects worked for each of their businesses. Another person wanted to know how they could get into event management. Others wanted to know the best and worst things about being in event planning.
The session was interactive and the panelists also directed questions back at the audience. Brekhus asked how many people in the audience had been to the Sweet Pea Festival and then followed up with how many people had volunteered at the Sweet Pea Festival. She then talked about how volunteering with a group or organization is a great way to "get your foot in the door" and start managing a portion of the event, and then work your way up to becoming the overall event organizer.
Each of the panelists gave the audience many great take away thoughts and advice. "It's one of the most unforgiving industries out there," Chamberlin warned. Staley agreed, "It is hard work. Be willing to get your hands dirty. You can't stop half way. You must follow through."
Brekhus emphasized relationships with people. "Make a plan and make it work. Network!" she offered. "It's about mentorship! Who's got what you want?" Michaels agreed. "Surround yourself with key people." He also talked about believing in yourself and your events. "Learn every part of the business and then make sure you follow the 5 foot rule. Make sure you tell everyone within 5 feet of you what you are doing. Tell people and be excited!"
Avram Pitter, a member of the HRMC, learned a lot from the panelists. "I learned that great communication, exceptional resource management, and excellent planning are essential to events management."
The HRMC students learned the benefits and challenges of event planning, as well as took away advice from the "Main Event" panelists. Throughout the semester, many of the CoB's student business clubs host guest speakers, who bring their expertise into the classroom. This face-to-face contact with industry professionals allows students to ask tough questions and learn from experts.