Our mission is to improve the well-being of individuals, families, and communities using research-based programs that educate and build community. For generations, professionals within the community development program of MSU Extension have worked across the spectrum of community needs.
We provide information in the areas of local governance, strategic planning, leadership development, publis officials training, citizen board workshops, community foundation education, conflict management, community health, and grant writing. We look forward to serving you and making community development more relevant and viable for all Montanans.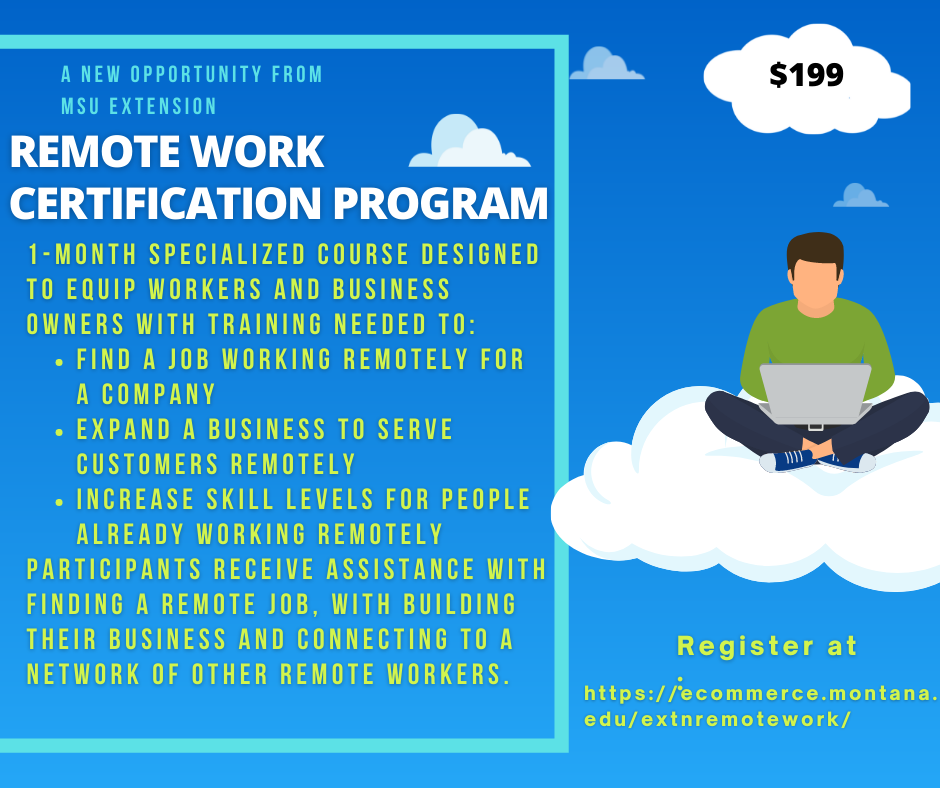 Montana State University Extension has partnered with Utah State University Extension to offer the Remote Work Professional certificate program, a 1-month specialized course designed to equip workers and business owners with training needed to:
Find a job working remotely for a company
Expand a business to serve customers remotely
Increase skill levels for people already working remotely
Participants receive assistance with finding a remote job, with building their business and connecting to a network of other remote workers.
Please follow all instructions.
Cost
The cost to take the course is $199.
Course format
The program consists of nine core modules, delivered in a self-paced, online format plus a weekly interactive video-conference workshop with instructors and other course participants. Montana State University Extension field faculty will help guide participants through the course.
After completing the course, graduates work with specialists to help them find a remote job. People interested in expanding their business into a remote work format will have access to assistance from the Accelerate Montana Rural Innovation Initiative (AMRII) or their local economic development professional.
Courses start at the beginning of each month (except no class offered in July and December). Review the course syllabus here.
Time commitment
This professional certificate requires approximately 30 hours to complete or about 6-8 hours per week over the 4-week course. Most of the time is independent work except for one hour per week for the workshop (held Thursdays at 1 or 6 p.m.) and a group project.
Requirements to participate
To take the course, participants must have the following:
Reliable Access to Broadband Internet

A stable internet connection is needed to participate in the course and the workshops.

Web camera and microphone

A working laptop or desktop computer with a web camera and microphone is needed to participate in all aspects of the program. Tablets and smartphones will not provide the access to the course content that is needed.

Basic computer skills

The course is designed for people with some comfort and skill using computers and software. While we do teach the use of new tools, a basic ability with the following is required for success in the course:
Send an email, with an attachment
Download or upload a file to your desktop
Do basic tasks in a word processing and spreadsheet program
Next steps
Follow the steps below to enroll in the program.
Complete the purchase

Purchase

the course through this link. There is a limit of seats per class granted on a first come, first serve basis. You will be added to a waiting list in case this limit is reached.

Apply the code

Once you have paid, MSU Extension will send you a registration code and link via email to complete the registration process.

Begin the course

After you complete the application process, you will receive an email with links to begin the course. You can start exploring the course content right away. One of our MSU Extension faculty will reach out to you to introduce themselves.
Course schedule
After you register, you will receive an email with access to the course modules and links to the workshops. See the calendar below for class dates and times.
2022 Remote Work Professional (MRWP) Calendar

Start Date

End Date

Application Deadline

(12:00 pm MDT)

Workshop Days
(Thursdays)

Workshop Times
(1 hour)

January 4
January 28
closed
January 6,13, 20, 27
1:00 or 6:00 p.m. MT
February 7
March 4
closed
Feb 10, 17, 24, Mar 3
1:00 or 6:00 p.m. MT
March 7
April 1
3/2/2022
March 10, 17, 24, 31
1:00 or 6:00 p.m. MT
April 4
April 29
3/30/2022
April 7, 14, 21, 28
1:00 or 6:00 p.m. MT
May 2
May 27
4/27/2022
May 5, 12, 19, 26
1:00 or 6:00 p.m. MT
June 6
July 1
6/1/2022
June 9,16, 23, 30
1:00 or 6:00 p.m. MT
August 1
August 26
7/27/2022
August 4, 11, 18, 25
1:00 or 6:00 p.m. MT
September 6
September 30
8/31/2022
Sept 8, 15, 22, 29
1:00 or 6:00 p.m. MT
October 3
October 28
9/28/2022
Oct 6, 13, 20, 27
1:00 or 6:00 p.m. MT
November 7
December 9
11/2/2022
Nov 10, 17 Dec 1, 8
1:00 or 6:00 p.m. MT
Continuing education
The Remote Work Certificate Course is approved for four renewal units through the Montana Office of Public Instruction.