International Graduate Admissions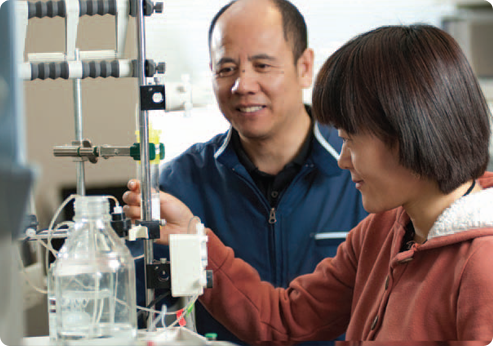 Montana State University offers more than 60 Master's degree options, 28 doctoral degree options, and many certificate options.
When you join MSU, you will become part of a dynamic academic community that integrates learning and the discovery of knowledge. You will study with world-class faculty that encourage students to develop creative solutions to today's and tomorrow's challenges.
MSU receives over $120 million in grants annually to conduct research activities. MSU is ranked in the top 3% of research institutions in the United States, across a range of academic subjects.
Graduate education is decentralized at MSU. Interested applicants must contact the department they are interested in studying with directly. A list of Graduate programs can be found at the Graduate School's website.
The Graduate Admission Process
Before applying, inquire to the

department

in which you are interested regarding all requirements and deadlines. Requirements and deadlines vary from department to department.

Apply online

(paper applications can be furnished upon request)

After the graduate admissions committee of the department reviews your application, The Graduate School will inform you of the admission decision.

If you are denied, you will receive a letter by email.

If you are admitted, the admission packet will be routed to the Office of International Programs (OIP). OIP prepares the Certificate of Visa Eligibility (I-20 form) and sends your complete admissions packet by Global Priory Mail. It includes: your official Letter of Acceptance, the I-20, and information about International Student Orientation, housing, student clubs and health insurance.

Upon receiving the official admissions packet, you should make arrangements for housing, confirm your attendance with the department and the Office of International Programs (especially if you have been offered a Research or Teaching Assistantship), apply for your student visa at the nearest US Consulate, and make your travel plans to Bozeman, Montana.
Admissions Criteria
Each graduate academic program has its own admission criteria, requirements and processes. It is important that you review department websites and contact the department you are interested in for specific details about admission requirements, department standards, test scores, supplemental materials and deadlines. To find contact information for a program, search for the name of the academic program you are interested in on list of Graduate Areas of Study on the Graduate School's website. While grade point averages and test scores are important, most programs consider a number of factors for admission. Each department on campus has its own requirements. In general, most graduate programs require:

A Bachelor degree (or higher) or the equivalent from an accredited/government-recognized university. These degrees are generally four-year-long programs.
B average or higher from your undergraduate study - 3.0/4.0 GPA
Most departments require that you take the

GRE

. Study and preparation before taking the GRE is recommended.
3 letters of recommendation, a personal statement, and undergraduate transcripts.
Evidence of

financial support

.
Forms and Information for Graduate Applicants