MSSE Nepal Trip Blog 2023
MSSE hosted its first international field trip in Nepal. View trekking details, pictures, and insights from the trip, October 1-12, 2023 in the link below.
MSSE Featured in the News
We're excited to share that MSSE was recently featured in a MSU News article following our 25th Anniversary Celebration! Check out the story below.
Montana State's master's degree program for science educators celebrates a quarter century of success
MSSE's 25th Anniversary Celebration Recap
MSSE's 25th Anniversary Celebration was held July 8, 2023.
Enjoy the video recap of the celebration
New STEM Certificate Option
We are now offering a Graduate Certificate in STEM Teaching! Interested students may apply to start in Fall 2023. For more information regarding approved coursework, please visit the MSSE Graduate Certificates page below.
STEM Teaching Certificate Curriculum
MSSE Graduate, Jamie Morton, Published Article
We'd like to congratulate Jamie Morton, MSSE Alum, on their recent published paper in InvasivesNet Journal! You can read their paper titled, Classroom citizen scientists discover red swamp crayfish Procambarus clarkii (Girard, 1852) from northern Idaho, United States, here.
These achievements were highlighted in a local news story, which can be viewed on the KLEW TV News webpage.
MSSE Ranked as One of the Best Online Master's Degrees in Science Education
Montana State University has been recognized as one of the best schools for online learning at the master's level by OnlineMastersDegrees.org (OMD). MSSE has ranked 7th overall and earned top honors for overall quality, affordability and commitment to student success.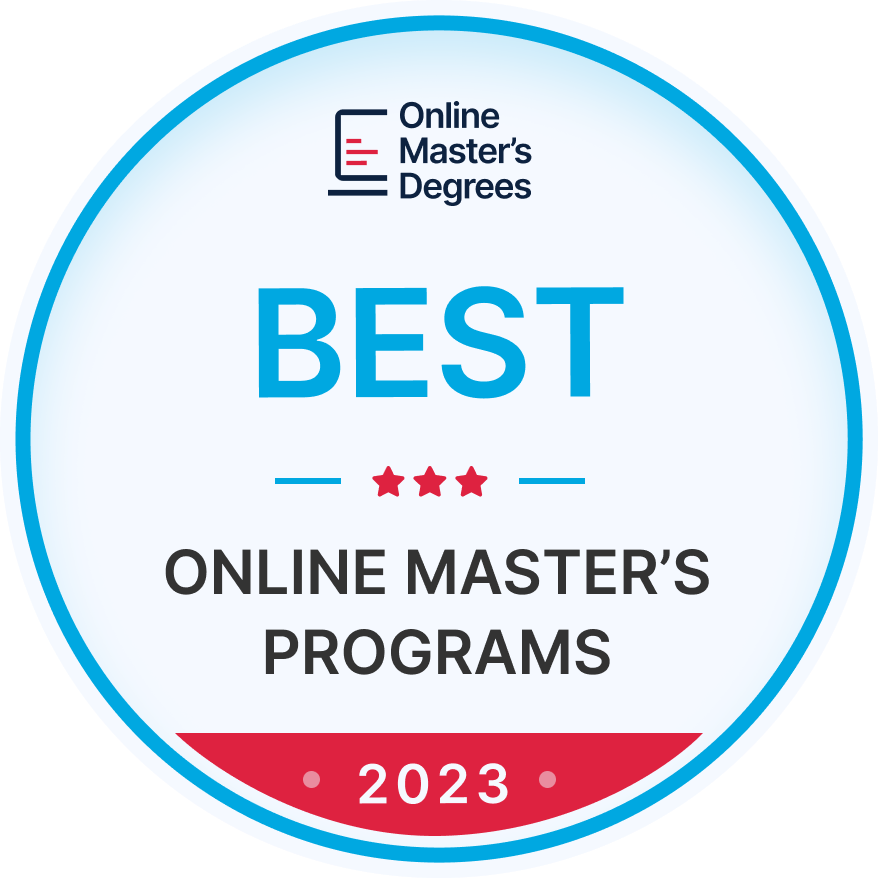 MSSE Graduate, Allan Dinglasan, Published Article
MSSE is proud to announce Allan Dinglasan's latest published article, The Impact of Inquiry-Based Practices on the 2019 NAEP Twelfth Grade Science Assessment. Check out his article in the International Journal of Management Studies and Social Science Research.

MSSE Faculty, Dr. Zoe Pratte, receives the Central Caribbean Marine Institute's 2022 Women in Ocean Sciences Award
We'd like to congratulate Dr. Zoe Pratte for receiving the Central Caribbean Marine Institute's 2022 Women in Ocean Sciences Award! Dr. Pratte will be teaching our MB 536: Exploring Microbiology course in Spring 2023. Check out the MSU News Article recognizing her accomplishments.
MSSE Graduate,
Dorcella Plain Bull, presents at the School Science & Mathematics Association Conference
We'd like to give a big congratulations to Dorcella Plain Bull, a MSSE alum, who presented at the School Science & Mathematics Association Conference in Missoula, MT last week! Dorcella's presentation was titled "Leveraging rural and Indigenous students' funds of knowledge through place-based engineering." Their presentation was part of the Looks Like Me Project from the Department of Education at MSU-Bozeman. Congratulations, Dorcella!
MSSE Graduate,
Sara Kobilka, collaborates with The Link at the Alan Alda Center for Communicating Science
Congratulations to MSSE graduate, Sara Kobilka, on her collaboration with The Link at the Alan Alda Center for Communicating Science at Stony Brook University. Check out her video,
Cloudy with a 20% Chance of Uncertainty
, and keep an eye out for more in the future. Congratulations, Sara!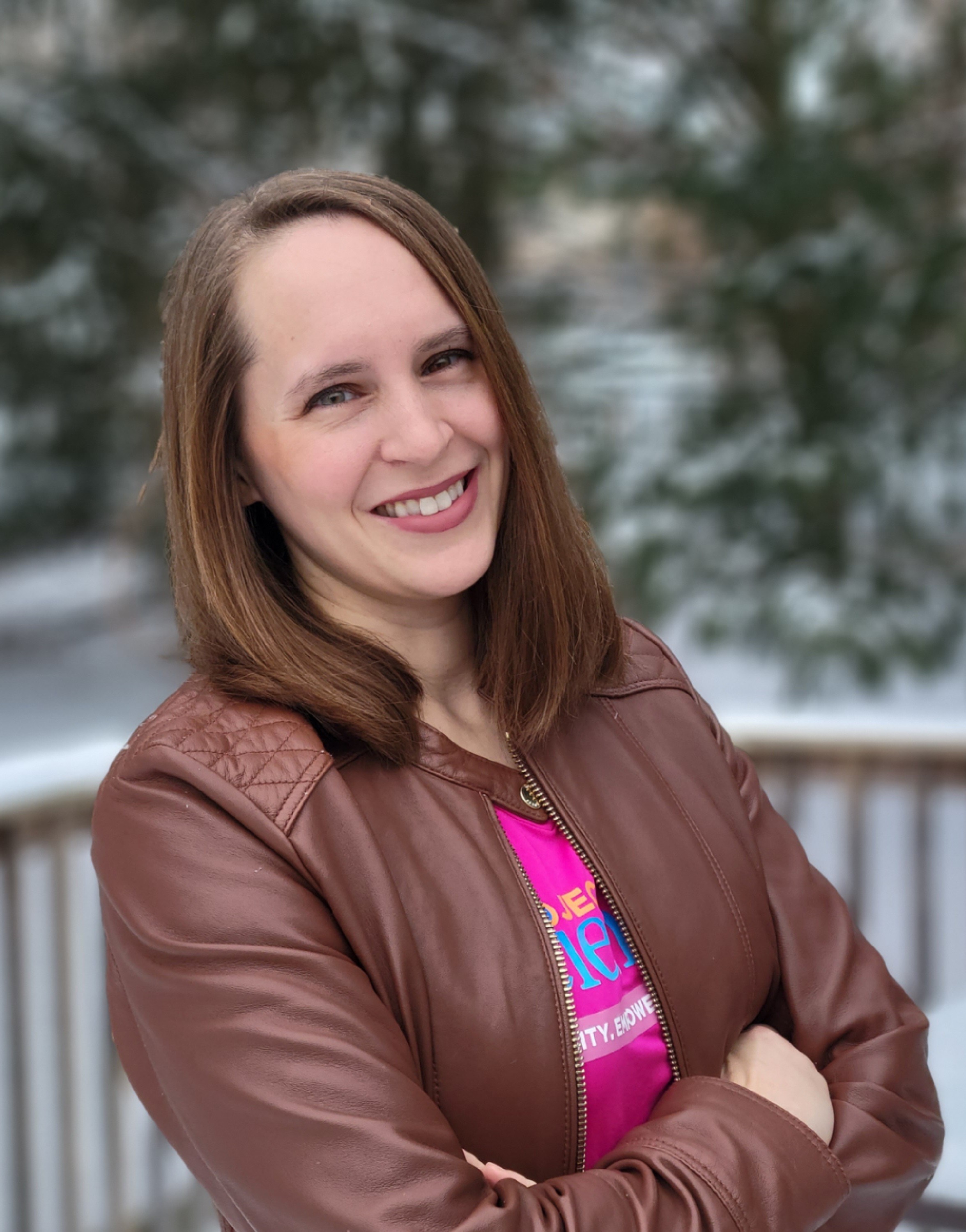 MSSE Graduate and Instructor, Ben Spicer, PhysTEC Local Teacher Award
Ben Spicer, aMSSE instructor and alum, was recently recognized by the Physics Teacher Education Coalition (PhysTEC) as one of the Local Teachers of the Year. Congratulations, Ben!
MSSE Graduate, Vincente Lorenz, Teacher of Distinction Award
2020 MSSE Grad, Vincente Lorenz, was the recipient of Indiana University Kokomo School of Education Teacher of Distinction Award. Congratulations, Vincente! School of Education celebrates alumni as Teachers of Distinction: Indiana University Kokomo (iuk.edu)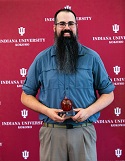 MSSE Graduate, Allan Dinglasan, Published Article
MSSE is proud to announce Allan Dinglasan's latest published article, Beyond F2F Labs: Enhancing the laboratory experience through virtual simulation.
Dinglasan, A. & Weible, J. (2022). Beyond F2F Labs: Enhancing the laboratory experience through virtual simulation. In E. Langran (Ed.), Proceedings of Society for Information Technology & Teacher Education International Conference (pp. 917-922). San Diego, CA, United States: Association for the Advancement of Computing in Education (AACE). Retrieved April 28, 2022 from https://www.learntechlib.org/primary/p/220846/
Beyond F2F Labs: Enhancing the laboratory experience through virtual simulation
The uncertainty that the pandemic-induced pivot to remote learning brought last year has pushed educational institutions to seek more stability in the way laboratory courses are delivered. One such innovation that emerged is the implementation of online or virtual laboratories. A virtual lab is not only more economically feasible for institutions but also a highly effective means to reach out to large audiences, especially for lower-level undergraduate students in STEM disciplines. Digital technology can not only allow for the hybridizing of the laboratory experience to integrate the...
MSSE Instructor, Robyn Gotz, Outstanding Teaching Award
We are pleased to announce that Robyn Gotz won the Outstanding Teaching Award for Excellence in Teaching that Speaks to MSU's Land Grant Mission. Here's the press release! https://www.montana.edu/news/21995/college-of-letters-and-science-awards-on-april-19-honor-top-faculty-staff-and-students
MSSE Graduate, Adam Kahan, Published Article
MSSE is pround to annouce Adam Kahan's latest article about his renewable energy physics project. The article, How can STEM teachers prepare students for the challenge of climate change? Adam Kahn reports on his successful gamble embedding the theme of renewable energy in his AP and Conceptual Physics class, can be found on the International Schools Network website.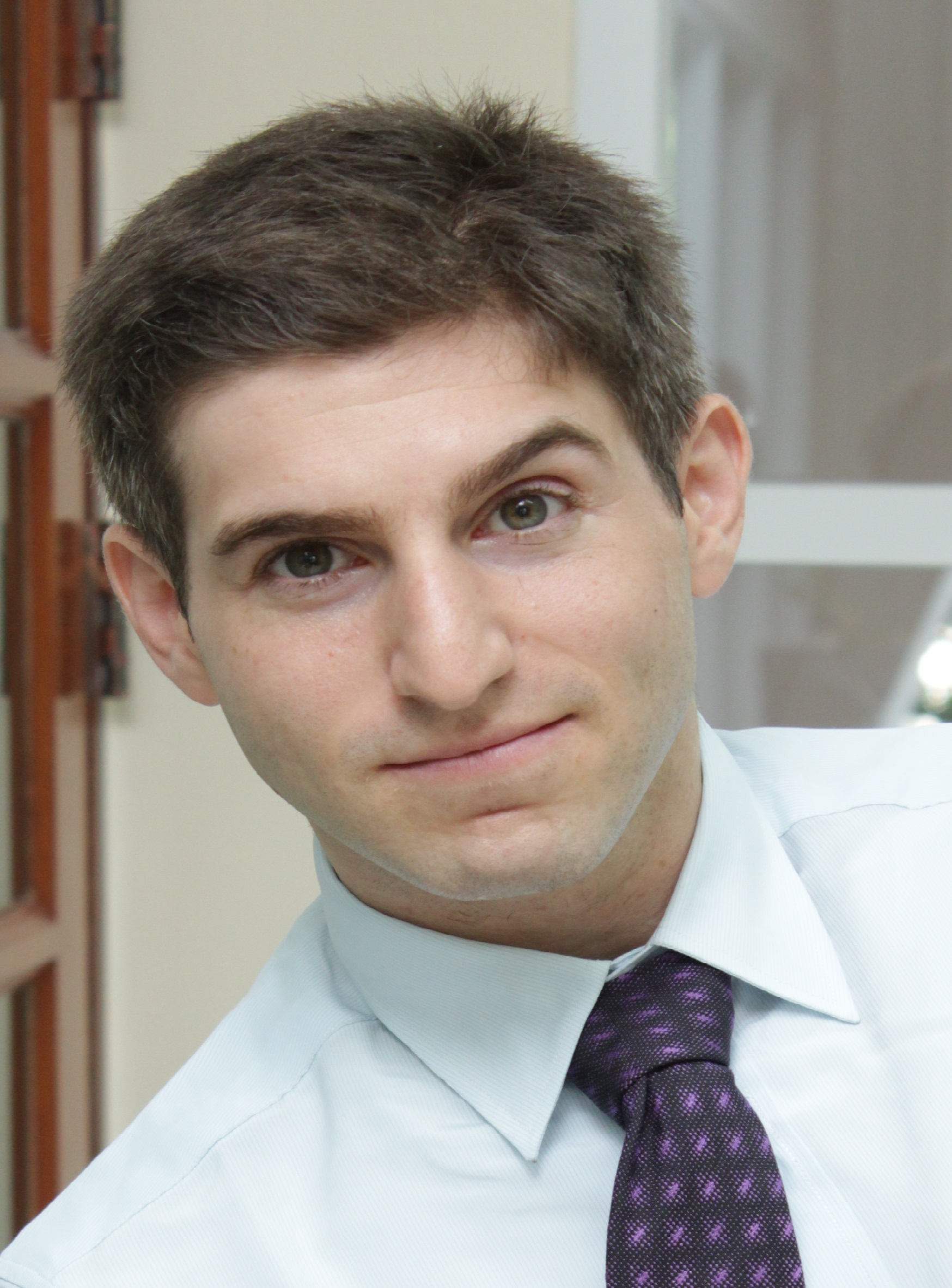 MSSE Instructor Remembered
MSSE is very sad to relay the news that Ron Hellings, a long-time MSSE instructor, has passed away. Ron has been a central figure in the gravitational-wave community for many years, working on early GW detection techniques using Doppler-ranging to spacecraft, designs for space-based gravitational-wave observatories (notably SAGITTARIUS and OMEGA), LISA data analysis, TDI, and in pulsar-timing detection (where he is perhaps most famously known for the Hellings-Downs Curve). He also worked extensively in tests of gravity. He had a long career at JPL, worked at NASA Headquarters, and was a professor at Harvey Mudd and Montana State University.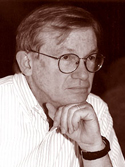 MSSE Graduate Recieves Prime Minister's Award
Joe Muise, 2015 MSSE Grad, was the recipient of a Prime Minister's Award for Excellence in Teaching STEM. Congratulations Joe!
Dr. Gregory Francis awarded Millikan Medal for physics teaching
In recognition for his contributions to the teaching of physics, Greg Francis, MSU Physics professor,
will be awarded the 2021
Robert A. Millikan Medal
at this year's meeting of the American Association of Physics Teachers.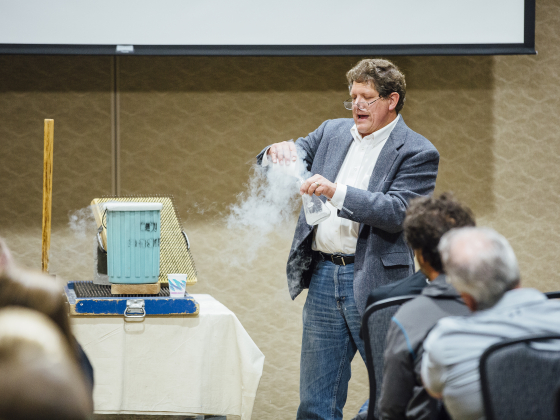 MSSE Graduate Receives Prestigious Fellowship
Jennifer Owen, a 2019 MSSE graduate, is the recipient of the Kohl Teacher Fellowship which recognizes and supports teaching excellent and innovation in Wisconsin. Jennifer was selected because of her skills as a leader and agent for positive change and superior ability to inspire love of learning. She currently resides in the rural town of Keil, WI and teaches chemistry, advanced chemistry and advanced biology at Kiel High School as well as nine science classes for the Kiel eSchool.
Jennifer states, "The MSSE program was instrumental in helping me qualify for this recognition. I appreciate the opportunities given to me by the program to continuously grow and reflect on my teaching practices. I was able to site my capstone in my application materials and I continue to carry out the important work of blending my science classes."
Congratulations, Jennifer!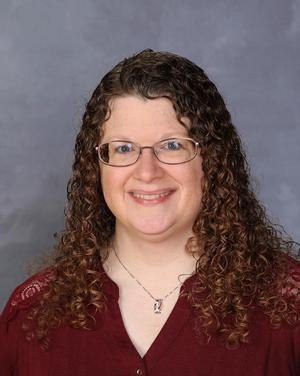 MSSE Recognized as Top Program for 2021
MSU's Master of Science in Science Education (MSSE) programwas recognized by Intelligent.com as 2021's "best public institution" in theBest Master's in Science Education Degree Programs category, and ranked sixth overall.
MSSE Instructor, Nick Lux, MSU Online Teaching Award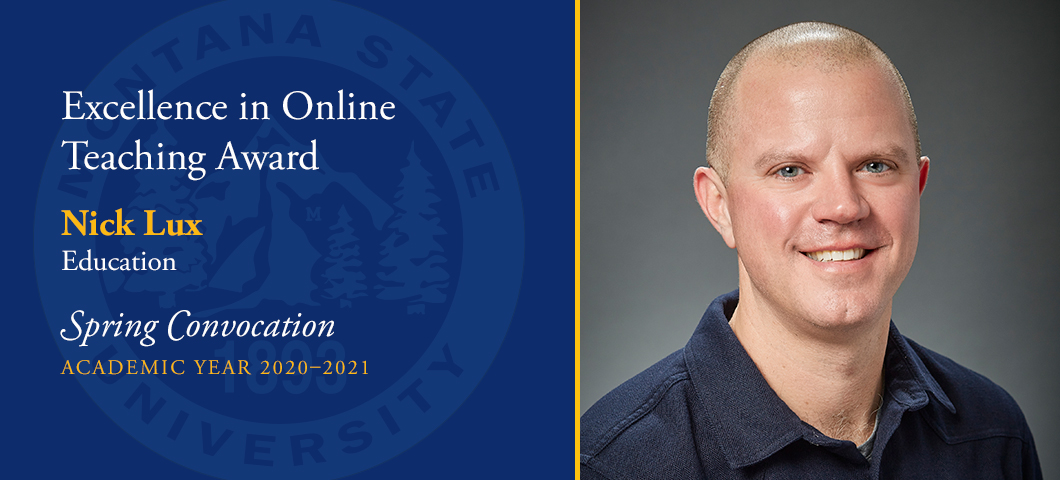 MSSE Instructor, Candace Goodman, Pure Gold Award
Candace Goodman, you are PURE GOLD!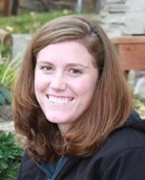 Candace Goodman is a MSSE instructor and faculty member in the Chemistry and Biochemistry Department on the MSU Bozeman campus. The following is her Pure Gold Award nomination submitted by her colleagues Shadmani M. Amin, Bill McLaughlin, Molly O'Hagan and Robert DesEnfants.
Dr. Candace Goodman is an exceptionally dedicated teacher. She consistently goes above and beyond to prepare engaging presentations to hundreds of general chemistry students each semester. Her students know her as an enthusiastic teacher committed to providing a quality education, and also a patient mentor who will give them individual attention. Her number of office visits are way above most others. Her enthusiastic, caring personality transcends to her interactions with fellow faculty and staff as well.
In her typical fashion of excellence, she has also brought unique insights to her role as Director of General Chemistry. Here, in cooperation with our lab manager, she coordinates the training, supervision, and teaching of our hands-on laboratory program for thousands of chemistry students every year. In chemistry, we analyze, refine, and purify many types of samples. We can certify that Dr. Goodman deserves an MSU "Pure Gold" designation. Though COVID-19 brought new challenges to teaching general chemistry labs, Dr. Goodman quickly rose to the cause and worked tirelessly to ensure that our students receive the maximum amount of hands-on experience possible. She inspires everyone to go above and beyond to excel in their endeavors.
Congratulations, Candace!
2012 MSSE Grad, Erin Colfax, Published Article
MSSE is pround to annouce Erin Colfax's latest article that was published in the Earth Scientist Journal, Teaching Earth and environmental science using Model-Evidence Link Diagrams.
Colfax, E., Matewos, A., & Bailey, J. M. (2020). Teaching Earth and environmental science using Model-Evidence Link Diagrams. The Earth Scientist, 36 (3), 31–35. Available online at https://www.nestanet.org/cms/sites/default/files/journal/Fall20.pdf
MSU to offer free 'Dialogues in Online Teaching' recordings to assist online educators
Meet our panel of experts of online teaching as they discuss community, opportunities and challenges in the remote learning environment.
MSSE Grad, Joe Muise, receives Excellence in Teaching Award!
Congratulations to 2015 MSSE graduate Joe Muise! Joe was presented with the 2020 Robert E. Yager Foundation Excellence in Teaching Award from NSTA, honoring his outstanding work and achievement in science education.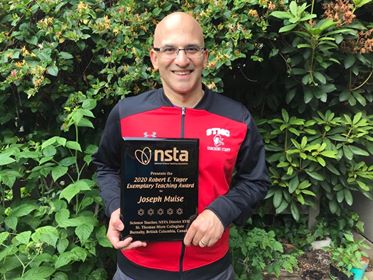 MSSE Graduates earn Doctoral Degrees
We are proud to announce that MSSE graduates Jessica Anderson (2012) and Catherine Stierman (2009) have completed thier doctorates!
Jessi recently earned her PhD in Science. Cathy has earned her Ed.D.
Congratulations to them both for their exceptional achievements!
2018 MSSE Graduate, Dava Butler, Article Publication
MSSE graduate, Dava Butler, recently had her capstone paper published as a journal article in Palaeontologia Electrica. MSSE instructor, Dan Lawver, is also recognized as a contributor to the article.
https://palaeo-electronica.org/content/2020/3010-analysis-of-fossil-id-guides
MSSE Graduate Nominated National Science Teacher of the Year
Linda Rost, a 2018 MSSE Graduate, was named a finalist for National Teacher of the Year for 2020!
https://billingsgazette.com/news/local/eastern-montana-teacher-tabbed-as-finalist-for-national-teacher-of/article_8bf578cc-8be1-5223-a830-61b925b4982b.html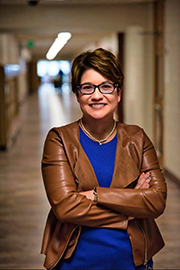 MSSE Top Program Recognition for 2020
The MSSE program was recently recognized by Intelligent.com as one of the top 35 online master's in science education degree programs for 2020!
https://www.montana.edu/news/19474/two-msu-graduate-programs-offered-online-are-recognized-by-higher-ed-website
MSSE Graduate Katie Capp named Outstanding Biology Teacher
Congratulations to MSSE Graduate Katie Capp for being named Outstanding Biology Teacher in Montana by the National Association of Biology Teachers!
http://www.belgrade-news.com/news/education/bhs-teacher-recognized/article_6c58f178-87ea-11e9-8ed4-43fbd179a02a.html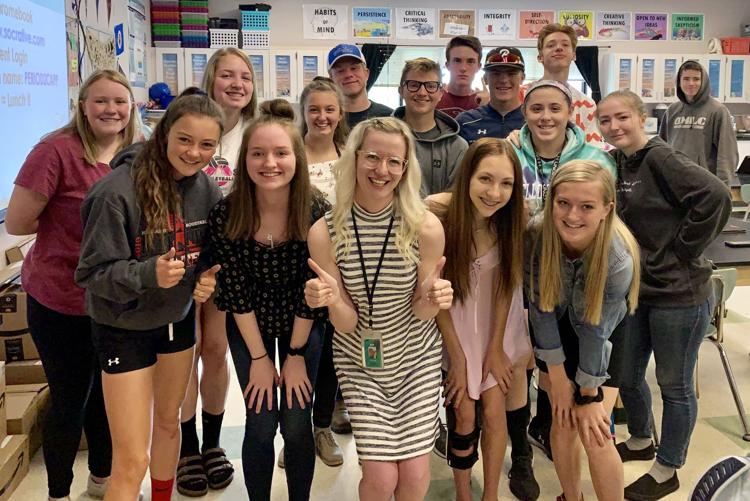 MSSE Graduate Linda Rost, 2020 Montana Teacher of the Year!
Congratulations to MSSE Graduate Linda Rost for being selected as 2020 Montana Teacher of the Year!
https://www.greatfallstribune.com/story/news/2019/09/05/montana-names-teacher-year/2213645001/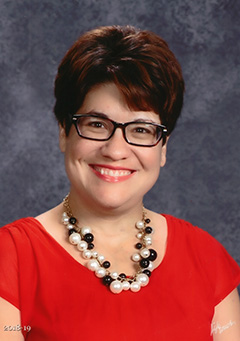 MSSE's Diana Paterson Retires
After many years with the MSSE program, Diana Paterson has retired from her position as Assistant Director. Diana's contributions to the students, staff and MSU were unparalleled. We wish her the best in her new chapter.
MSSE's Diana Paterson receives Employee Excellence Award!
We are pleased to announce that our own Diana Paterson has been selected to receive the 2019 Kathy Griffith Employee Excellence Award in the College of Letters and Science at MSU.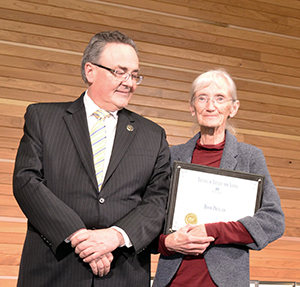 The College and the University are recognizing what we have always known – Diana Paterson is the very best advisor, colleague, employee, and friend that has ever worked at MSU. We are delighted that her contributions are being honored!
2018 Graduate Linda Rost recognized for outstanding teacher!
Linda Rost was honored as a 2019 Montana Teacher of the Year Finalist. Congratulations Linda!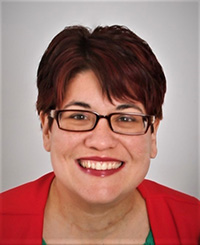 MSSE Graduate Lily Apedaile presented with an award!
Kim Popham presented Lily Apedaile the award for Montana's Outstanding Biology Teacher 2018. Both MSSE graduates. Congratulations Lily!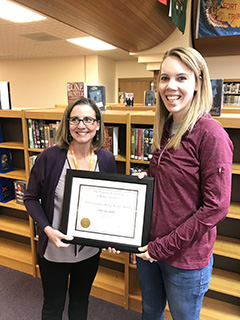 2016 Graduate, Matthew Fisher, Article & Texbook Publication
MSSE Graduate, Matthew Fisher, had an 'action research' project published in the August 2018 issue of The American Biology Teacher. https://nabt.org/files/galleries/ABT_Online_August_2018.pdf.
The open textbook Matthew assembled for the study, Environmental Biology, has been adopted by instructors all over the US and Canada. https://openoregon.pressbooks.pub/envirobiology/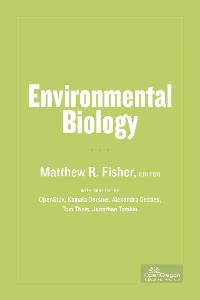 2015 MSSE Graduate, Jodie Hood, Featured Teacher
MSSE Graduate, Jodie Hood, has been featured on the front page of her school district's webpage https://public.muscogee.k12.ga.us/News/Article/1120/Job_Spotlight_Jodie_Hood_Teacher_of_the_Hearing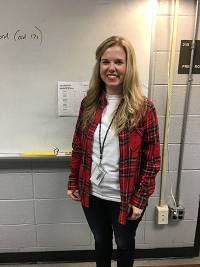 MSSE Associate Director, Diana Paterson, Prestigious Award
The MSSE Program is thrilled to announce that our own Diana Paterson, Associate Director of MSSE, has just received the prestigious Montana State University 2018 Employee of the Year Award! Only two awards were given out in each of four categories. Diana received the award in the category of "Service Excellence – Courtesy." We are very proud of Diana, and grateful for all of her kind and thoughtful service over the years. The students and instructors in the MSSE Program are very lucky to be associated with her.
MSSE Director's Textbook Publication
MSSE Director, Greg Francis, along with his colleagues Ron Hellings and Jeff Adams recently published the textbook, College Physics – Putting it all Together.
Textbook features include:
- New Textbook for the Trig-based Introductory Sequence
- Informed by extensive research in Physics Education
- End of chapter problems are more challenging conceptually than in the traditional text
- Treats all topic covered in a three-semester sequence
2016 MSSE Graduate Bill Sparks received a grant
MSSE graduate, Bill Sparks, received a grant from NC Beautiful for experiential learning. Bill will be working with Trout Unlimited to raise trout in his classroom. Congratulations Bill!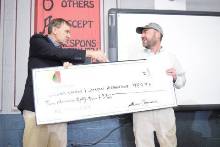 http://ncbeautiful.org/
http://www.troutintheclassroom.org/
MSSE Program featured in the news!
MSSE was recognized on a
list
of the country's top 10 most affordable online programs leading to a master's degree in science education by AffordableColleges.com.
http://www.montana.edu/news/17274/msu-program-leading-to-a-master-s-degree-in-science-education-recognized-as-affordable-online-option
2016 MSSE Graduate Sarah Bauer Featured Publication
http://abt.ucpress.edu/content/79/2/120?%3chttp://abt.ucpress.edu/content/79/2/120
Award Winning MSSE Instructor Todd Kaiser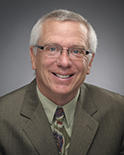 Todd Kaiser, associate professor in the Department of Electrical and Computer Engineering, has won the Phi Kappa Phi honorary's Anna K. Fridley Award, MSU's oldest award for distinguished teaching. The award carries a $1,000 honorarium.
Kaiser is recognized for teaching a "popular and impactful" elective course on microfabrication, a process underlying the production of nearly all electronics and digital devices. By introducing students to a real-world cleanroom laboratory setting and teaching practical, hand-on skills, Kaiser has opened doors for numerous students who have graduated into jobs with Micron and other major electronics manufacturers. To develop the series of courses, Kaiser initially secured a prestigious, $160,000 grant from the National Science Foundation, which ultimately led to a unique summer course about solar cells created specifically for science teachers. Since joining the MSU faculty in 2000, Kaiser has developed a reputation for teaching at all levels with excellence, and he is noted for his accessibility to students. He has won six prior MSU teaching awards and has received more than $12 million for cleanroom facility development and research, which includes a recent project to test a radiation-resistant computing system on the International Space Station.
MSSE Graduate's Jessie Anderson, Jason George, Roby Johnson , and Jeff Wehr win Presidential Awards
MSSE graduate's Jessie Anderson of Montana, Jason George of Idaho, Roby Johnson of South Dakota, and Jeff Wehr of Washington state were awardees for the 2016 Presidential Award for Excellence in Science!
http://www.montana.edu/news/16574/four-msu-graduates-win-prestigious-presidential-awards-for-excellence-in-teaching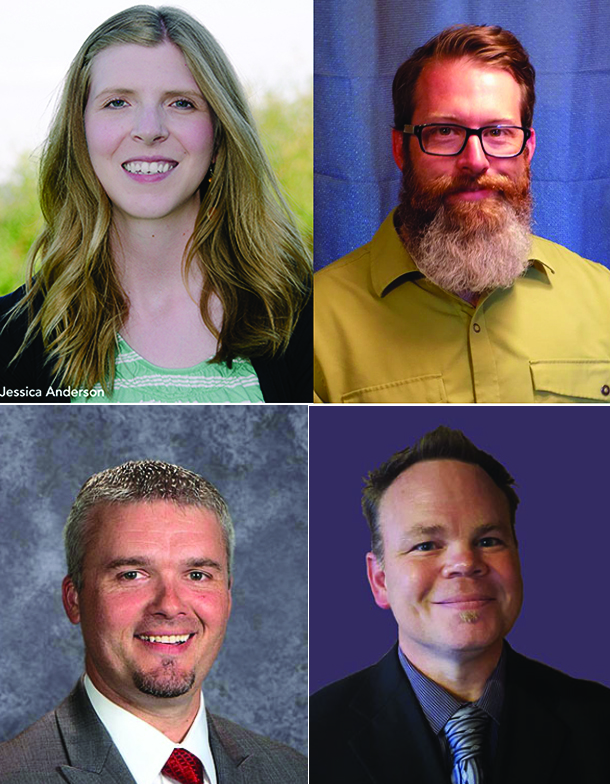 Joe Levitt 2016 MSSE Graduate in the News
USGS Science News
https://www.usgs.gov/news/buoy-popular-new-england-lake-helps-determine-when-stay-out-water-0
Dale Glass - MSSE Graduate published an article
MSSE Graduate Dale Glass had an article published in "The Earth Scientist," the journal of the National Earth Science Teachers Assn. The following is a link provided by NOAA.
Jessica Anderson 2016 Montana Teacher of the Year
Congratulations to MSSE Graduate Jessica Anderson for being selected for 2016 Montana Teacher of the Year!
http://mea-mft.org/Articles/jessica_anderson
Graduates David McDonald and Chris Monsour Win Presidential Awards
President Obama Honors Outstanding Mathematics and Science Teachers
MSSE graduates David McDonald and Chris Monsour have been selected as winners of the Presidential Award for Excellence in Science and Math Teaching!
Irene Catlin Summer 2014 Graduate
Irene Catlin's research with her students at the Mount St. Helens National Volcanic Monument was highlighted in an article by The Columbian.
http://www.columbian.com/news/2014/oct/25/living-lab-at-st-helens/
Jennifer Edwards Graduating Summer 2015
Influences of Ungulate Browse on Aspen Stand Structure and the Diversity of Birds Within the Stands, National Elk Refuge, Jackson Hole, Wyoming
Jennifer Edwards, MSSE student; Eric Cole, National Elk Refuge; Dr. John Winnie, MSU Ecology Department
National Elk Refuge Website, June 25, 3014
Jackson Hole News and Guide, Thursday, July 10, 2014
Paula Wang Summer 2012 Graduate Featured Publication
Nest taphonomy of common terns (Sterna hirundo) on Poplar Island, Chesapeake Bay, Maryland
Paula L. Wang , Frankie D. Jackson & David J. Varricchio
Published online: 01 Jul 2013
Historical Biology: An International Journal of Paleobiology, DOI: 10.1080/08912963.2013.798317
Dr. Steven Holmgren wins the MSU Academic Advising Award Spring 2013
Steven Holmgren has won the MSU Academic Advising Award. As a part of the teaching faculty in the Department of Chemistry and Biochemistry, Holmgren teaches a variety of courses at MSU, ranging from an introductory seminar to CHMY 500 Science Lab Safety and Risk Management (taught on the MSU campus the first week of July). A large part of his work is taking an active role in mentoring students as an advisor for undergraduate chemistry majors, as well as for MSSE graduate students. For more information, check out the article at: http://www.montana.edu/cpa/news/nwview.php?article=11668
Dr. Bill McLaughlin wins the MSU Teaching Innovation Award Spring 2013
Charles "Bill" McLaughlin of the Department of Chemistry and Biochemistry, and a faculty member of the MSSE program, has won a Teaching Innovation Award! McLaughlin often demonstrates the latest technologies both in the classroom and online, making his approach to chemistry and technology available to students from virtually anywhere. For more information, check out the article at: http://www.montana.edu/cpa/news/nwview.php?article=11668
Dr. Dave Lageson wins the MSU Provost's Excellence in Outreach Award and the Excellence in Teaching Award Spring 2013
Dave Lageson, an instructor for MSSE and the Department of Earth Sciences, has won both the 2013 MSU's Provost's Excellence in Outreach Award and the 2013 Excellence in Teaching Award! With his experiences on the 2012 Mount Everest expedition and his enthusiasm for geology, Lageson has been inspiring students far and wide. Lageson has been involved in organizing youth programs, writing about Mount Everest, innovative curricular development, and a sustained commitment to outreach and education. For more information, check out the article at: http://www.montana.edu/cpa/news/nwview.php?article=11668
Jennifer Bernstein Summer 2001 Graduate Featured Publication
Environmental Connections & Concept Mapping: Implementing a New Learning Technology at Lewis&Clark College
James D Proctor, Jennifer Bernstein
Published online: 01 Jul 2013
Journal of Environmental Studies & Sciences, v3 n1, Mar 2013
Erin Colfax presents at the New Jersey Science Teachers Convention Oct 9-10, 2012
Erin Colfax, MSSE Summer 2012 graduate, presented "Infusing Poetry into Biology and Life Sciences Classes" at the New Jersey Science Teachers Convention in Princeton, New Jersey October 9-10, 2012. This presentation focused on infusing poetry into science classes to inform, engage, and enhance student's understanding of abstract and complex scientific theories.
MSSE Featured!
Confluence, the magazine produced by MSU's College of Letters and Science, published an article in their latest volume which features the MSSE program! The article highlights some of the many opportunities afforded by the summer field courses. Check out the full article!
Leanne Yenny has been awarded a fellowship in the Endeavor Science Teacher Certificate Project (ESTCP)-February 2012
The ESTCP, a program created for teachers in memory of the Space Shuttle Challenger mission, awards over 50 fellowships a year to teachers who contribute to the development of science, technology, engineering, and mathematics (STEM for short). When she finishes in 18 months, she will receive a STEM Teaching Certificate from NASA and Columbia University Teachers College. She will also meet amazing educators from across the country and have great internship opportunities at NASA! Congratulations, Leanne!
MSSE Teachers Participate in Biodiversity Study of Yellowstone Lake
"Fire & Brimstone Continues to Shape Yellowstone Lake: Connecting Geology & Past Climates with Today's Biodiversity"
MSSE Instructors: Susan Kelly, Lisa Morgan, Stephanie McGinnis
Participants in the 2010 and 2011 field course LRES 591: Yellowstone Lake Ecology, took part in an ongoing scientific investigation studying the biodiversity of Yellowstone Lake. Teachers taxonomically identified organisms in the field prior to performing genetic analysis; the results of their work contributed to the Molecular All-Taxa Biodiversity Inventory (MATBI) of Yellowstone Lake, a long-term project that seeks to characterize the diversity of eukaryotic lake species and their relationship to the hydrothermal features of the lake. More information can be found in The Earth Scientist, Volume 27, Issue 3.
Paul Andersen - January 2011
Congratulations to Paul Anderson, MSSE 1999 Graduate. He was named the 2011 Montana Teacher of the Year. Andersen embraces the technology that is part of students' lives. Rather than disciplining his students for using cell phones in class, Andersen encourages cell phone usage by having students text answers to questions that are then projected for the whole class to see and discuss. He has also created a virtual classroom on line where students can interact outside of class and view video lectures Andersen posts to prepare them for the next day's class. This award wins Andersen a trip to the White House. His classroom innovations have attracted national attention as well. The National School Boards Association has named Andersen one of its "20 to watch" technology teachers.
Dora Hugs - December 2010
Dora Hugs, a 2010 MSSE graduate, was recently named Outstanding Nontraditional Student in the Western United States at the "University Professional & Continuing Education Association (UPCEA) Region West Conference" in Seattle, Washington. As a result of her experience with MSSE and the BSSP Program (MSU's Big Sky Science Partnership), a program funded by the National Science Foundation whose main goal is to strengthen K-8 science instruction in Montana communities that teach American Indian students, Dora is now her school's Crow Language and Science Teacher.
As the winner of the UPCEA award, Dora is now eligible to become the top nontraditional student in the United States, an honor that will be announced at the national UPCEA conference in April.
Genevieve Chabot - October 2010
Genevieve Chabot graduated from MSSE in 2006 while working as a high school teacher through The Traveling School, a girls' high school program that takes semesters abroad to South America and Southern Africa. After graduating, she began working for the Central Asia Institute and began doctoral... work in the CLTW (Center for Learning in the West) program at MSU. Her dissertation research focused on the process of working within a school community in Azad Kashmir, Pakistan, to help foster community involvement while improving the quality of education in the schools. She graduated with an Ed.D. in 2009 and currently works at MSU as an adjunct faculty while working closely with an organization she helped co-found, Global Midwife Education Foundation.
Jeff Wehr - October 2010
Jeff Wehr is a 2003 MSSE graduate and a recipient of the 2011 Washington State Regional Teacher of the Year Award! Jeff is the science teacher at Odessa High School and teaches his students to live their education and connect what they are learning to the world about them. He created an Advanced Scientific Research course at his school that allows students to work on a year-long independent study in any scientific discipline. Outside of his regular classroom duties, Jeff also works with elementary teachers to strengthen their science skills and increase their use of inquiry-based science and the scientific method. He also hosts a Bi-Country Science Challenge for students across the region. As one student wrote: "His energy and enthusiasm help him connect with students to make learning fun. He has given unlimited help, support, time and dedication to all of his classes, which, in turn, has created very successful scientists and individuals."