MSU American Fisheries Society Mentor Program
About the Program
Navigating the ins and outs of succeeding in your undergraduate studies in the fisheries field can be daunting and sometimes flat out confusing. Luckily, as a part of the MSU American Fisheries Society Subunit, you don't have to do it alone!
The Mentor Program connects undergraduate students with graduate mentors. Throughout the course of the semester, mentors and mentees schedule meetings. These meetings are a great chance for the mentor to catch up on your (as an undergraduate) progress, and answer any questions you may have. Are you interested in graduate school, but not sure where to start? Do you want to make sure your resume showcases your accomplishments and caters to what employers look for? Are you curious where you can find seasonal positions, and how to apply for them? Do you need advice regarding course registration of your coursework itself? These are all great questions for your graduate student mentor, as they were once an undergraduate student in your shoes! Even if you need advice that is not directly fish related, your mentor is still an awesome resource.
An important note; graduate student mentors may not directly be able to provide opportunities to gain field/lab experience, but rather, have the expertise to be able to direct you to the best opportunities that fit your interests and give you the best chance at obtaining them.
How to Apply
If you have more questions about the program, or would like to apply to become a mentor or mentee, please come to the next on- campus meeting, or send an e-mail to [email protected].
Current Mentors
I received my B.S. in Biology from the University of Southern California. While completing my undergraduate degree, I worked for USGS and the Lower Elwha Klallam Tribe in Port Angeles, WA studying the effects of the Elwha River dam removals. After finishing my undergraduate degree, I worked for a non-profit organization studying salmon habitat in south-central Alaska and then moved to Yellowstone National Park where my work focused in native trout restoration and monitoring. I completed my M.S. at Montana State University with Dr. Lindsey Alberston. My research investigated how efforts to suppress non-native lake trout embryos in Yellowstone Lake affect benthic invertebrates, which are an important component of the lake food web. My current research is focused on the population dynamics of Yellowstone cutthroat trout in Yellowstone Lake and how Yellowstone cutthroat trout are responding to ongoing suppression of non-native lake trout.

Kadie Heinle || Ph.D. Fish and Wildlife Biology
Advisors: Dr. Christine Verhille & Dr. Robert Al-Chokhachy (USGS)
Kadie got her start in fisheries through the AFS Hutton Scholar program working with prairie fishes in eastern Montana. In the summers between her undergraduate studies at the University of Montana where she majored in wildlife biology (aquatics) and minored in climate change studies and mathematics, she worked a variety of fisheries and research positions across the country. Her fieldwork experience includes sampling native fishes on the lower Yellowstone river, snorkel surveys in Idaho, hatchery work with rainbow trout, field and hatchery work with lake sturgeon in Michigan, stream flow monitoring work for Trout Unlimited in Nevada and California, and Chinook salmon carcass surveys in western Oregon. In 2017, Kadie completed a National Science Foundation (NSF) Research Experience for Undergraduates (REU) at Mote Marine Laboratory, where she tested the efficacy of a passive bioacoustics sampling technique for spawning marine fishes. For her senior thesis, she created a species distribution model for westslope cutthroat trout in headwater streams of the North Fork Flathead River basin to predict future distributions under warming stream temperatures. Currently, Kadie is researching the influence of non-native brown trout and drought conditions on Yellowstone cutthroat trout survival, growth, and habitat use in a tributary system in the Crazy Mountains, MT.

Robert Eckelbecker || Ph.D. Fish and Wildlife Management
Advisor: Dr. Christopher Guy
Rob received his B.S. in Aquaculture and Fisheries from Unity College in Maine. After obtaining his undergraduate degree, Rob worked with the United States Forest Service conducting stream surveys in John Day, Oregon. He then moved on to Florida Fish and Wildlife Conservation Commission to work as a biologist as part of a long-term monitoring program. After working as a biologist for 4 years, Rob pursued a M.S. at Auburn University. His Master's research was focused on the utilization of game cameras to obtain indices of angler effort from time-lapse trailer images. Here at MSU, Rob is pursuing a Ph.D. under Dr. Christopher Guy. His research investigates the predatory impacts of non-native trout species on a native burbot population, aiming to provide a management solution to comanage the species within the Torrey Creek drainage, Wyoming. His research interests are conservation of native fish species, fisheries management, and statistical modeling.
Katie Furey |
|

M.S. Fish and Wildife Management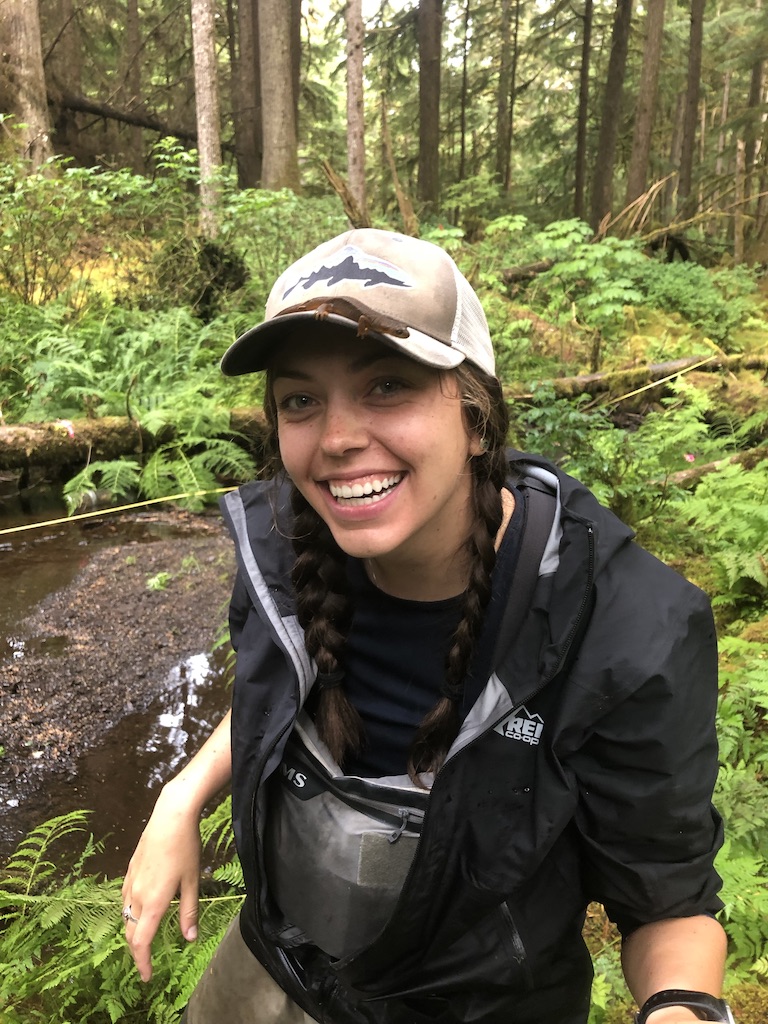 Advisor: Dr. Christopher Guy
Katie's research investigates the feeding ecology of salmonids in Georgetown Lake, MT. This project aims to determine if and to what extent predation of kokanee is occurring, which will inform future management actions. Katie has worked seasonally for the National Park Service, US Forest Service, and California Department of Fish and Wildlife.
Cody Vender || M.S. Fish and Wildife Management
Advisor: Dr. Christopher Guy
I graduated from Western Kentucky University with a B.S. in Biology in 2019. The previous summer I worked as a SCA (Student Conservation Association Intern) in Yellowstone National Park with their Lake Trout Removal program. After graduating I returned to Yellowstone National Park where my work has involved the suppression netting of non-native Lake Trout, alternative suppression methods, and writing assessment reports of various lakes within Yellowstone. My current research involves the analyzation of otoliths and scales of Yellowstone Cutthroat Trout in Yellowstone Lake. The goal of this project is to assess the health of the Yellowstone Cutthroat Trout population before, during, and after peak Lake Trout abundance. This data will aid the National Park Service by helping assess how Yellowstone Cutthroat Trout are responding to the ongoing suppression of non-native Lake Trout.
Tori Ogolin || M.S. Fish and Wildife Management
Advisor: Dr. Christopher Guy
Tori Ogolin is a graduate student at MSU where her project focuses on pallid sturgeon diets on the Missouri River in Montana. Tori has seasonal and full-time experience working fisheries positions with Montana Fish, Wildlife and Parks as well as U.S. Geological Survey. She received her B.Sc. in Fish and Wildlife Management from MSU in 2021. She spends her free time outdoors hiking, hunting, and fishing with her golden retriever pup Trout.