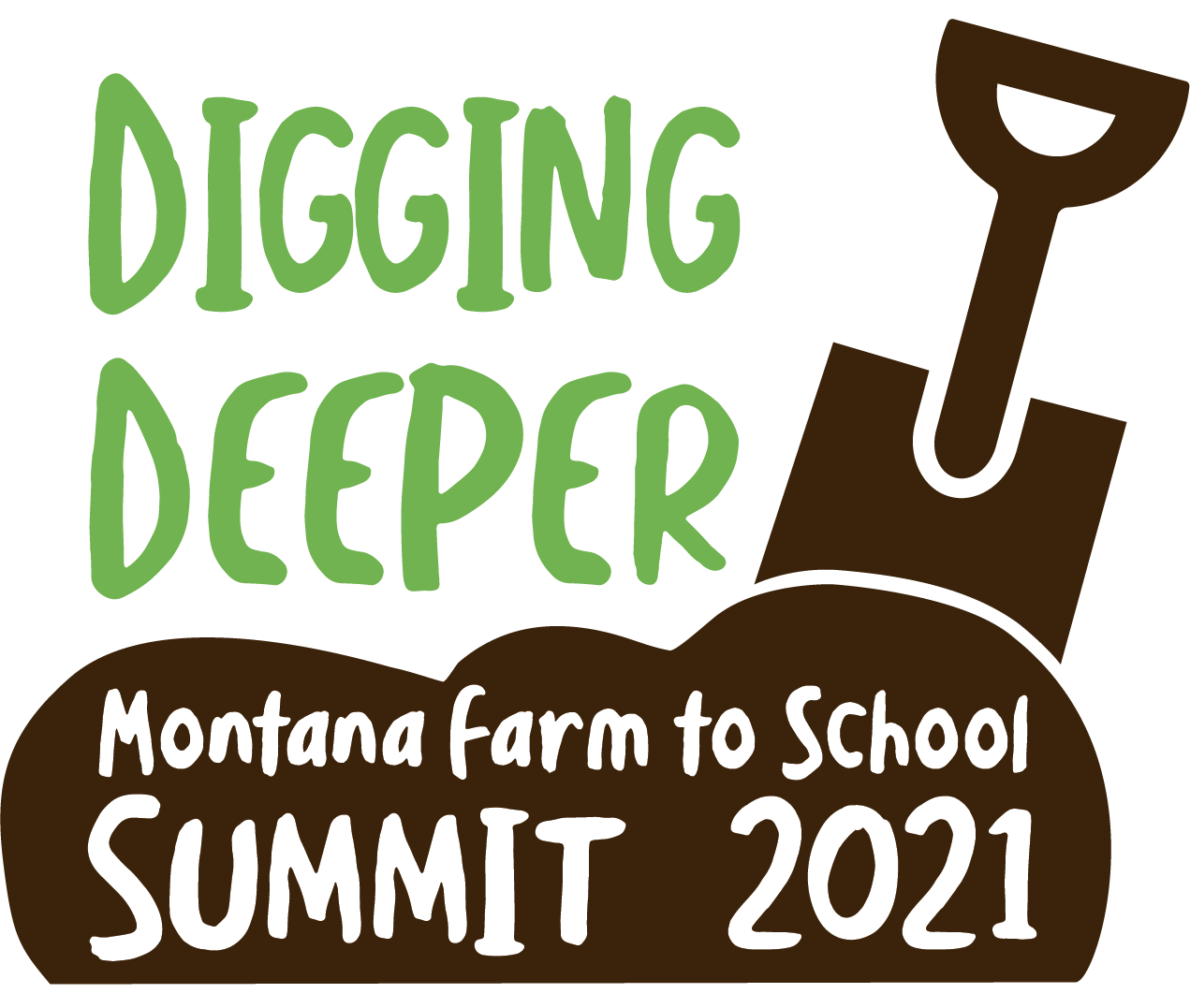 The Montana Farm to School Summit: Digging Deeper will be held August 11-12, 2021 in Helena, Montana.

Important Dates
Questions?
Contact:
Aubree Roth
Montana Farm to School Coordinator
(406) 994-5996
Purpose
Learn and share how Montana schools and programs are cultivating success through the core elements of farm to school--serving local foods, school gardens, and nutrition, agriculture, and food education. Workshops, field trips, and networking opportunities will provide inspiration and skill building. The conference will feature national and Montana farm to school champions who will share their stories and experiences. The summit will feature Montana Harvest of the Month successes and resources.
Target Audience
The target audience includes all stakeholders involved and interested in farm to school. This includes school and summer food service personnel, teachers, school administration, childcare providers, parents, students, food producers and vendors, farm to school practitioners including FoodCorps service members, groups that support farm to school efforts, and more.
Agenda
Registration
Registration is open!
Early Bird (March 18 - May 31st): $65.00
Regular (June 1 - July 27): $85.00
Late Registration (July 28 - August 4): $100.00
Student (March 18 - August 4): $30.00
Your registration fee includes lunch on both days, dinner on Wednesday, and snacks. Your ticket is fully refundable until July 10, 2021. Should the conference need to be cancelled or changed, your registration fee will be refunded.
Scholarships
Scholarship applications are now open for the Montana Farm to School Summit, held on August 11 – 12, 2021 in Helena, Montana.
In an effort to address historical oppression and racial inequality we strongly encourage Black, Indigenous, and people of color to apply for a scholarship. The Digging Deeper Montana Farm to School Summit Scholarship 2021 will cover registration fees and can include lodging and/or travel. Applications must be submitted before May 6th at 11:59PM MST. The reviewing committee will inform all applicants of their scholarship status before May 15th.
Contact Lizzie Gill at (406) 494-8672 or [email protected], with any questions or concerns.
Conference Accomodations
Coming soon!
Partners
This conference is hosted by our partners.
Sponsors
We are seeking sponsorships! Please contact Aubree Roth at (406) 994-5996 or [email protected] for more information.
This material is based upon work that is supported by the Food and Nutrition Service, U.S. Department of Agriculture. USDA is an equal opportunity provider, employer, and lender.