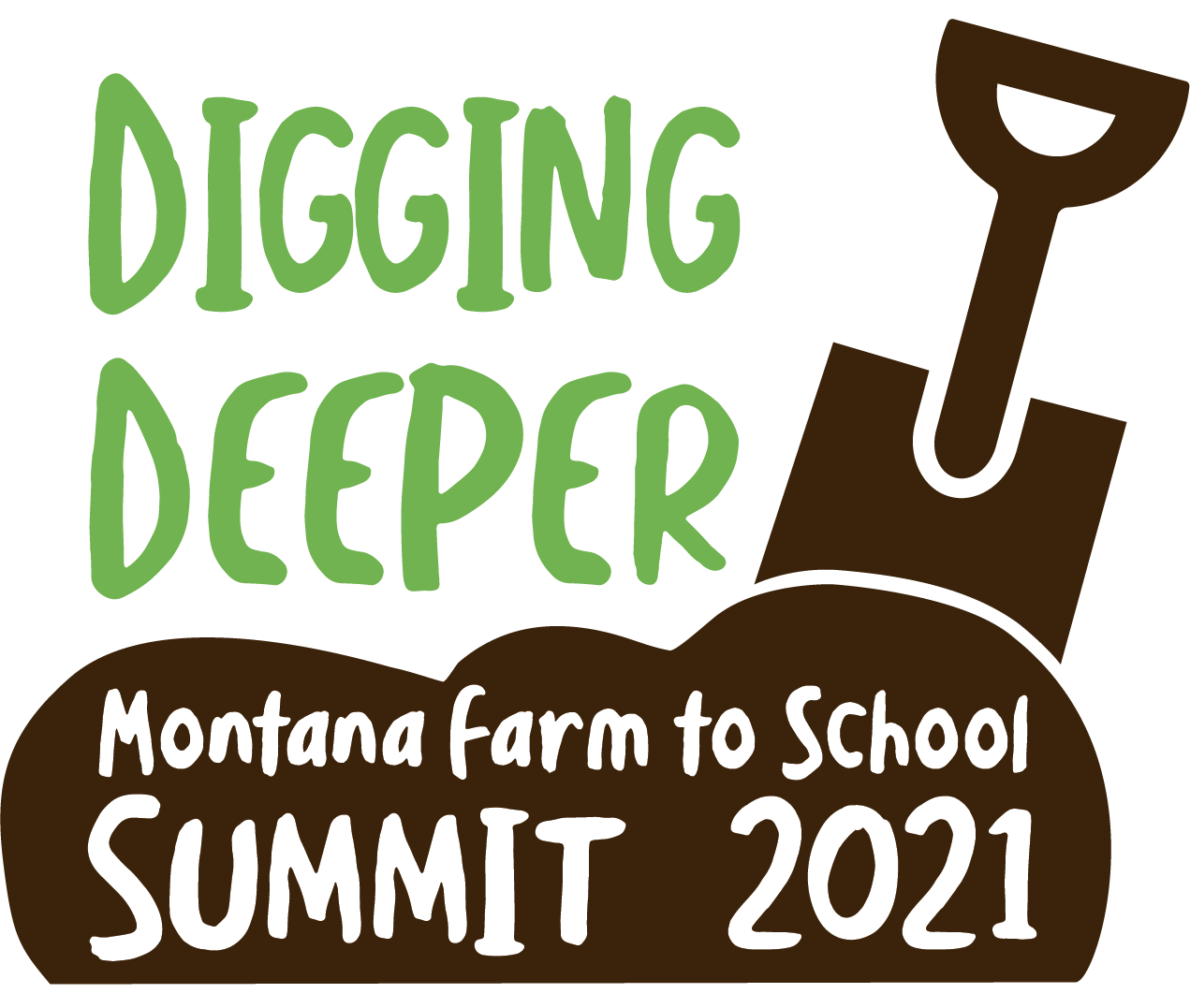 Due to the uncertainty surrounding COVID-19, the 2020 Montana Farm to School Summit: Digging Deeper has been postponed until August 11-12, 2021. The Summit will still be held at the Best Western Great Northern in Helena, and registration will open next year.
Important Dates

The Montana Farm to School Summit will take place August 11-12, 2021.
The Montana Farm to School Institute will be held August 10-12, 2021.
Share the 2021

Montana Farm to School Summit

flyer between now and August 2021 to promote the statewide conference!
Workshop proposals are now being accepted until December 31, 2020, see Agenda section below.
Questions?
Contact:
Aubree Roth
Montana Farm to School Coordinator
(406) 994-5996
Purpose
Learn and share how Montana schools and programs are cultivating success through the core elements of farm to school--serving local foods, school gardens, and nutrition, agriculture, and food education. Workshops, field trips, and networking opportunities will provide inspiration and skill building. The conference will feature national and Montana farm to school champions who will share their stories and experiences. The summit will feature Montana Harvest of the Month successes and resources.
Target Audience
The target audience includes all stakeholders involved and interested in farm to school. This includes school and summer food service personnel, teachers, school administration, childcare providers, parents, students, food producers and vendors, farm to school practitioners including FoodCorps service members, groups that support farm to school efforts, and more.
Agenda
Now accepting proposals for one and two hour workshops! Proposals are due by 11:59pm MST on December 31, 2020.
Note: Individuals who submitted workshop proposals before the Summit was postponed will be contacted via email and provided an opportunity to edit their proposal or remove it for consideration.
Registration
Coming soon!
Institute
The first-ever Montana Farm to School Institute, held in conjunction with the 2021 Montana Farm to School Summit: Digging Deeper, will reopen applications January 2021! Up to three school/district teams will be selected to work with specialized coaches, develop goals, and implement farm to school plans for the 2021-2022 school year. The Institute objectives include:
Build strong district/school farm to school teams.
Help schools/districts create an action plan for the school year that's rooted in buy-in during Institute.
Connect schools/districts with information, ideas, resources, programs, and people they need to successfully implement action plans.
Printable Application – Learn more about the Institute and prepare your application using this document. Please note: this event has been postponed until August 2021. Applications will be accepted started January 2021. You can use this application to prepare with your teams.
Conference Accomodations
Coming soon!
Partners
This conference is hosted by our partners.
Sponsors
We are seeking sponsorships! Please contact Aubree Roth at (406) 994-5996 or aubree.roth@montana.edu for more information.