Dear Bobcat parent and family members,
As we approach the end of the semester, a critical registration deadline is coming up: The last day to drop a course with a "W" grade is April 19. Students must reach out to their advisor as soon as possible to ensure they have time to complete the withdrawal process before the deadline. Once the DocuSign form has all required signatures, withdrawals can take 3-5 business days to process. The Office of the Registrar's website provides more information regarding deadlines and instructions for dropping a course.
We've had a record-breaking winter in Bozeman in terms of cold and snow, and right now, it's hard to imagine that we'll ever have summer-like weather. But it will happen! Is your student considering staying in Bozeman for the summer and taking a few classes?
Summer Session at MSU is an excellent way for students to catch up or leap ahead in pursuing their degrees, explore a new area of knowledge, or dig deeper into subjects with smaller class sizes. A wide array of online offerings is also available, so a student can work their summer internship or job from almost anywhere and still make progress toward their degree over the summer.
MSU offers online and in-person summer classes in several formats, including six-week and 12-week courses. Summer Session also offers the Bobcat 4x4, which has classes that meet four days a week for four weeks. This fast-paced format immerses students in course content and provides flexibility with sessions scheduled for May, June and July.
For Summer Session 2023, MSU is again offering the MSU Summer Edge program, which extends non-resident students a tuition discount of over $1,000 for a three-credit course. The discount is available for both graduate and undergraduate students.
To see a list of courses available to your student during Summer Session, check out the online Schedule of Classes. The column on the far right, "Dates and Weeks," indicates the course's format in the course listings. More information about summer school registration is on the Summer Session Course Registration webpage.
Your student can find information about financial aid options for the summer at montana.edu/summer/finaid.html.
If your student needs on-campus housing during Summer Session, they can visit University Student Housing's webpage to see the available accommodations. To be eligible to reside in the residence halls, a student must be enrolled and take at least three credits. Housing is available on a first-come, first-served basis.
Speaking of housing, most students will move off-campus at some point in their college careers. If your student is considering moving off-campus for the next school year, we recommend they check out the Off-Campus Student Life website or stop into their office in SUB 268.
The Off-Campus Student Life program offers resources to help your student successfully transition into the Bozeman community. The website's resources include information about what to look for when choosing a place to live, what to know before signing a rental agreement, things to consider in deciding on roommates and more.
In addition, the Off-Campus Student Life program offers food support with supplemental and emergency food assistance through the Bounty of the Bridgers Campus Food Pantry. This partnership also supports the Grab' N Go Snack Program, which provides snacks in offices around campus. The goal is for a student in need to have easy access to a free emergency food source, as well as information about food security scholarships, a meal-plan scholarship program offered by MSU's nine colleges to students who are food insecure.
Finally, students can access low-cost legal services through the Off-Campus Student Life program. ASMSU has partnered with local law firm Cromwell Law, PLLC, to offer legal advice for various issues, including alcohol and drug-related criminal charges, landlord-tenant, business and nonprofit, family law and immigration matters.
Take care,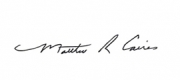 Matthew R. Caires
Dean of Students