Dear Bobcat parent and family members,
We've made it to finals week! Your student has persevered through a challenging school year and is chalking up credits towards a college degree. I commend the determination of our students and look forward to seeing them in the fall. I also want to acknowledge our students for their continued commitment to slow the spread of COVID-19 through wearing face masks and social distancing. The vast majority of students have been very respectful of efforts to maintain the health and well-being of everyone on campus this spring.
Thank you for reading my updates, responding with your questions and concerns and for staying engaged with your student's education here at MSU.
Looking forward to Fall 2021, to the greatest extent possible, MSU will offer in-person, traditionally formatted instruction, campus activities, non-remote campus operations, and cultural and athletic events in a manner closer to "normal" than has been seen since the start of the pandemic. There is reason to be optimistic about the public health situation this coming fall, particularly with the steady increase in vaccine availability across the country. MSU will continue to consult with local and state health offices to monitor the situation and adapt as needed.
Though the semester is coming to a close, I continue to be concerned for our students' well-being. Please remind your student that MSU University Health Partners (UHP) will continue to offer vaccine clinics and encourage them to get vaccinated on campus or locally if they are staying in Bozeman this summer. If your student is leaving the area, they should consider getting the first dose in Bozeman and a second dose in their home community. (Check with the local health department to make sure they will administer a stand-alone second dose.) Information is available at montana.edu/coronavirus or on the UHP Medical Services homepage.
As the semester ends, we recognize student budgets may be getting tight. If your student is struggling with food insecurity, please remind them that they have access to the Bounty of the Bridgers food pantry. The pantry is a student-driven initiative offering supplemental and emergency food assistance to any student, faculty member or staff member in need. For more information, please visit the Bounty of the Bridgers website.
Finally, as a reminder, Spring 2021 Commencement ceremonies are scheduled for Saturday, May 1, at 9 a.m. and 1:30 p.m. MDT. If you want to watch or share the livestream link of the ceremonies, please visit montana.edu/commencement. Please join me in congratulating all of our graduates and their families. Tweet your best wishes @MontanaState on Saturday. #CatGrad21
Have a great summer! We'll be in touch again in August.
Take care,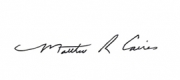 Matthew R. Caires
Dean of Students