Dear Bobcat parent and family members,
What an incredible Homecoming weekend! It's always so neat to see the alums back on campus reconnecting with old friends and classmates. And there was not a rain cloud in sight -- it was perfect autumn weather in Bozeman all weekend! My compliments to our colleagues at the Alumni Foundation and the crew in our Office of Student Engagement for a job well done.
Looking forward with an eye to your student's future at MSU, I want to make sure that you're aware that the Free Application for Federal Student Aid (FAFSA) application period opened Oct. 1 for the 2023-24 academic year. Many of you are already familiar with the FAFSA, the form completed annually by current and prospective college students to determine their eligibility for student financial aid, including loans and grants from the U.S. Department of Education. If your student is still a dependent and plans to apply for financial aid, then your 2021 federal income tax information must also be submitted to complete the FAFSA. Take advantage of the IRS Data Retrieval Tool option if eligible.
The FAFSA is not required but is strongly encouraged, especially for MSU students who plan to apply for scholarships. It helps the Office of Financial Aid Services advise students and families about their best options and make awards accordingly. Please note also that MSU's Cat Scholarship application will open Nov. 1.
Filing the FAFSA by MSU's priority date of Dec. 1 ensures that your student will receive the best possible aid offers from limited funding sources, such as supplemental grants and work-study awards.
Changing gears, as we approach the halfway point of the fall semester, midterm assignment deadlines and exams are drawing near. This is a busy time of the year on campus with fun events and activities. However, when combined with schoolwork, many students will be stressed and could find themselves struggling. Robert Mokwa, the Provost and Executive Vice President of Academic Affairs, sent this email to the faculty last week encouraging them to be on the lookout for at-risk students and to be proactive in helping them succeed.
It's also a good time for you to check in with your student. If they could use some support, please refer them to the resources listed in Dr. Mokwa's communication. In addition, you can find a comprehensive list of MSU's academic and non-academic support services on the Office of the Provost website.
I also want to draw your attention to two vital academic support services: The Math and Stat Center and the Writing Center.
The Math and Stat Center is open for face-to-face, drop-in tutoring from 9 a.m. to 6 p.m. Mondays through Thursdays and 9 a.m. to 5 p.m. on Fridays. Located in the newly renovated Romney Hall, peer tutors and faculty staff are ready to answer student questions about mathematics and statistics coursework and help students through potential stumbling blocks. If your student struggles with math, do everything in your power to get them into the MSC this next week.
The Writing Center supports students with online and face-to-face appointments and walk-in tutoring. Students can get help with lab reports, final research papers or presentations, graduate school applications, personal statements, creative work and other types of writing. The Writing Center operates across three campus locations, with services available every day except Saturdays. Students can visit the Writing Center's website for more information about locations and schedules or to book appointments.
As always, the Allen Yarnell Center for Student Success (AYCSS) also offers a wide range of academic support services, including SmartyCats Tutoring and Success Advising.
You might be interested to learn that the AYCSS also has Career Education Coaches available to help students explore majors and consider the value of a degree. Whether a student has picked a major or is still exploring their options, a Career Education Coach can help shape the decision-making process based on their interests, values, skills and life goals. Students can assess their interests and how they relate to occupations by taking the Strong Interest Inventory and discussing their results with a Career Education Coach.
If any of these services offered by the AYCSS would be helpful for your student, please encourage them to make an appointment by calling 406-994-7627.
Lastly, it's not too early to start thinking about your student's return home at the end of the fall semester. Many parents ask me when the semester ends, and my answer is always, "It depends." Ask your student to determine the timing of each of their finals before purchasing plane flights. Professors will not reschedule final exams for a student to catch a flight home. See the Office of the Provost's webpage for details: Schedule of Finals Week Exams.
Phew! That's a lot of information. As always, please reach out to me with questions, comments and suggestions.
Warm regards,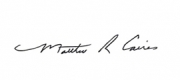 Matthew R. Caires
Dean of Students