Harassing and Obscene Phone Calls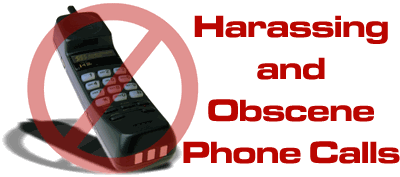 ---
General
Montana State University's Police Department and Telephone Services Manager are very concerned any time you receive a malicious telephone call. Your stay at MSU should be as pleasant as possible, and abusive, annoying, harassing, obscene, or threatening telephone calls are an unwarranted invasion of your privacy. In some instances, they may also be unlawful.
If you are off campus, check with your local telephone company and local police agency about their specific procedures and local/state laws which may be involved. The procedures listed below are specific to the Montana State University-Bozeman Campus, but may be very similar to your local community policies and laws.
Most malicious telephone calls at the university are made by a small group of immature people who consider it funny or smart to interfere with your peace of mind. These calls do not usually constitute a threat to your personal safety; however, you should contact the Telephone Services Manager or the University Police Department any time you receive a telephone call of questionable intent or origin. There is usually a way to stop the calls, and we will be happy to assist you.
---
Sales or Survey Calls
Telephone sales solicitations or surveys conducted by telephone are not regulated by Montana State University-Bozeman. They can be valuable and interesting in cases where the companies placing the calls have screened their prospects and know that you may be interested.
Other groups, however, are not particular about whom they call. Using automatic devices that dial every number in a prefix group, these calls are frequently accomplished without human supervision, and you may find yourself talking to a computer. Some persons are annoyed or offended by such calls.
Telephone services are available to anyone for legitimate use, but no one likes thoughtless or indiscriminate sales or survey calls. If you choose not to respond, simply say so and hang up. Be sure to leave the handset hung up for at least 30 seconds to ensure the caller is disconnected.
If you are interested but are skeptical about the offer, state that you will return the call or ask the caller to try again later after you've had a chance to check the organization with the Better Business Bureau. Or ask the caller to send you information on the product or service so you can look it over before making a decision.
If you would like to remove your name and telephone number from calling lists for national advertisers, write to Telephone Preference Service, Direct Marketing Association, 6 East 43rd Street, New York, NY 10017. Include your name, address, and telephone number in your letter. Or, contact the National Do Not Call Registry.
There is no charge for this service, which can reduce calls from national advertisers but is unlikely to affect sales calls from local businesses.
---
Harassing Telephone Calls
Anyone can be the victim of harassing, annoying, obscene, or threatening telephone calls. These may include random calls by pranksters, calls late at night, frequent pointless calls, calls where nothing is said, obscene calls, calls from former romantic interests, or threatening phone calls.
These calls are intended to upset you, either for revenge or to gratify the caller's personal urges. Most can be prevented or avoided by learning and using some simple techniques to decrease your potential for victimization.
Your telephone is for your use and service; always use it on your own terms. If the caller doesn't speak or if you simply don't feel comfortable talking to the caller, hang up. Remember that the telephone is under your control and you are not obligated to speak to anyone.
Ask for the caller's identity or affiliation. If the caller makes an improper response or does not respond immediately, hang up. Some "silent" callers are looking for a response and may want you to become scared or angry. Don't give them the satisfaction. If the caller asks, "Who is this?" or "What number have I reached?" don't give an answer.
Instead ask, "To whom do you wish to speak?" or "What number did you dial?" If the call is not legitimate, that will probably end it.
Don't give out any information to anyone you don't positively recognize or who fails to give satisfactory identification or affiliation. If the caller asks for your roommate or another member of your family, simply say that you'll be glad to take a message and have the call returned as promptly as possible.
Under no circumstances should you give the names of others living with you to someone who doesn't already know them.
If you have children, instruct them not to talk to strangers on the telephone. Burglars or other criminals will sometimes attempt to obtain useful information from unsuspecting children. Teach your children to ask for the caller's name and number so someone can return the call later.
If a caller persists after you've made it clear you do not wish to talk, the simplest response is to hang up. Other techniques that may be useful in some circumstances include blowing a police whistle into the phone or tapping the disconnect button and stating "Operator, this is the call I wanted traced."
Remember, don't speak unless you want to, don't give out any information, and don't respond to questions.
---
Telephone Trace Policy
MSU's Telephone Services Manager may place a telephone trap/trace on university telephones in situations where harassing/threatening calls are received by customers.

Harassing Calls
Law enforcement or other university officials should refer a student complaining of receiving harassing calls on a residence hall telephone to the Director of Residence Life.
The complainant has the option of changing the telephone number. Call trace procedures will only be initiated if several harassing calls have occurred over several days, and the customer elects not to select a telephone number change.
Persons receiving harassing calls on other university telephones should contact their supervisors. If the supervisor determines that a telephone number change or a call trace procedure is required, the supervisor will contact ITC's Telephone Services at extension 5050.
The availability of call trace facilities may depend upon the number of complainants already being served and the workload of the ITC telephone services personnel.
Threatening Calls
Upon report of a life-threatening situation, the customer should be referred to the University Police at 911 or 994-2121. The police will either seek a court order for placement of a telephone trace procedure or, if determined not to be a life-threatening situation, law enforcement may refer the customer to the appropriate university office for a voluntary telephone number change or voluntary customer initiated trace procedure as outlined above for harassing calls.

Procedures
Because of statutory restrictions, the customer must request MSU to place a trap on his/her telephone line. A court order is required when law enforcement or another governmental entity places a trap on a telephone line without the customer's permission.
Written permission from the authorized party on the account must be provided to establish call trace procedures and release information to university officials. Once the call trace procedure has been placed and the customer reports the date and time of a call that needs to be identified, MSU will search for that call in the system.
Trace information is not furnished directly to the customer. If the calls of a harassing nature are determined to have been generated from a telephone in the residence halls, the call trace information will be released to the Dean of Students and the Residence Hall Director. If a student is the perpetrator of harassing phone calls, he or she may be charged under the Student Conduct Code, the Residence Life rules, and/or under the criminal statutes as appropriate.
If the calls are determined to have been generated off campus, the call trace information will be submitted to MSU Legal Counsel. If the harassing calls are found to have been generated by someone other than faculty, staff, or students, the University Legal Counsel may, upon request of the customer, send a deterrent letter to the person to whom the calling phone is listed. Published and non-published information can be released if it relates to telephone harassment.
Call trace information is generally not released based on a single trace. Exceptions are for life-threatening situations or if the law enforcement agency is acting based on a single call. Normally, three or more traces from the same number, occurring over a period of several days, are required.
MSU normally sets traps for a period of 14 days for harassment or threatening type calls. The trap can remain in place for a limited period of time but traps cannot be set on a permanent basis.
---
If you should become a Victim
In spite of your best efforts, it is still possible that you could be the victim of a series of malicious telephone calls. If this should happen, it is important that you do several things to assist the Telephone Services Manager and the University Police in resolving the problem.
Notify the Telephone Services Manager (Resident Assistant if you live in a dormitory) immediately. Although subsequent actions may be coordinated with the University Police, your initial point of contact is the Telephone Services Manager in the Information Technology Center, at 994-5050. If you are a victim of a threat to the safety of your person, then contact the University Police immediately. If you are off-campus, notify either your telephone company or the local police department depending on the seriousness of the calls.
Write information down. Using a log, keep a record of the calls. This information can be invaluable in bringing your case to a prompt and successful resolution.
Notify others living with you of the problem. Avoid mentioning the calls to casual friends or in a public place, as the caller may receive gratification from your public distress. In addition, the caller may be put on guard by becoming aware that you have notified the police.
---
Are there other Precautions I can take in Advance?
As a matter of personal safety and security, it is recommended that you consider listing your first name by initial only. If yours is a common surname, you may consider listing it by both your first and middle initials. It is possible to request that your number be unlisted, but this may not be effective if others who live with you have their names listed and may inconvenience callers legitimately trying to reach you.
Electronic answering devices are available that service as a buffer, permitting you to hear the caller's voice and message in response to a tape-recorded greeting before you choose whether to override the device and answer the caller directly.
---
How do I reach the Police or the Telecommunications Office?
If you are the victim of malicious calls or would like to request additional information on personal safety and security, contact the Telephone Services Manager in the Information Technology Center at 994-5050 or the University Police Services at 994-2121. Off-campus, contact your telephone company or the local police agency.
The MSU Telephone Services office is open during regular university business hours, Monday through Friday, 8:00 am to noon and 1:00 to 5:00 p.m. except holidays, and may be reached at 994-5050. The University Police are available 24 hours a day, seven days a week.
You can avoid or end unwanted malicious calls. MSU Telephone Services Manager and the University Police Services will be pleased to help you!