MSU Sexual or Violent Offender List
The people on the following list are affiliated with MSU and are registered with the Montana Department of Justice as sexual or violent offenders. The Sexual and Violent Offender Registry can be used to search the names of offenders for sexual offender pictures and additional information.
Name
Affiliation
Offender Type
Address
City
Phillips, Ian Arthur
Student- Environmental Design
Sexual
224 1st Ave East
Three Forks
Venturini, Marcus Lee
Staff- Agriculture Department
Violent
113 S 7th St

Manhattan

Wheeler, Kyle

Staff - Residence Life / University Food Service

Sexual
1605 Durston Ave #43

Bozeman

Chyatte, Douglas Joseph

Student- Anthropology

Violent

12 E Garfield #D4

408 W Harrison

Bozeman

Solberg, Bernard

Staff- University Food Service

Violent
1450 Cherry Drive

Bozeman

Fabianski, Ronald

Staff- Sports Facilities

Violent
Transient

Bozeman
For more information on sexual and violent offenders in Montana, click the logo below to visit the Montana Department of Justice Sexual or Violent Offender Registry.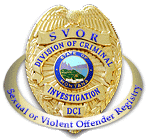 Updated: 09/08/2020