Science Math Resource Center
Interested in volunteering for STEM events?
Subscribe to our STEM Outreach Network newsletter for volunteers
Science Olympiad 2023 is in the books!
Wow, what a day! We had broken eggs (not intentional), broken bridges (intentional), and students testing in astronomy, anatomy, forestry, codebusters and everything in between. In the end, our state champions are:
Division B: Corvallis Middle School
Division C: Hamilton High School
Congratulations! Here are the rest of our team awards; individual medalists will be posted soon.
Division B (middle school)
First: Corvallis Middle School
Second: Hamilton Middle School
Third: North Middle School (Great Falls)
Small Schools Winner: Helena Area Christian Home Educators (HACHE)
Division C (high school)
First: Hamilton High School
Second: Capital High School (Helena)
Third: Corvallis High School
Small Schools Winner: Choteau High School
Thank you to Bozeman Daily Chronicle, MSU News and NBC Montana for your coverage of this event!
Montana State hosts 70 junior high and high school teams at annual Montana Science Olympiad
Montana students gather for annual Science Olympiad
MSU hosts 38th annual Montana Science Olympiad
Thanks for supporting us on Giving Day 2023!
During MSU's annual Giving Day celebration, we raised nearly $5,000 to bring Elementary Science Olympiad to Montana communities. Thanks to nearly 40 donors who supported us!
Learn more about Giving Day at: https://givingday.montana.edu/pages/home-2362
If you would like to be notified when our project begins, please subscribe to Brainstorms! The STEM Educator Network monthly newsletter.
STEM Lending Library sets spring office hours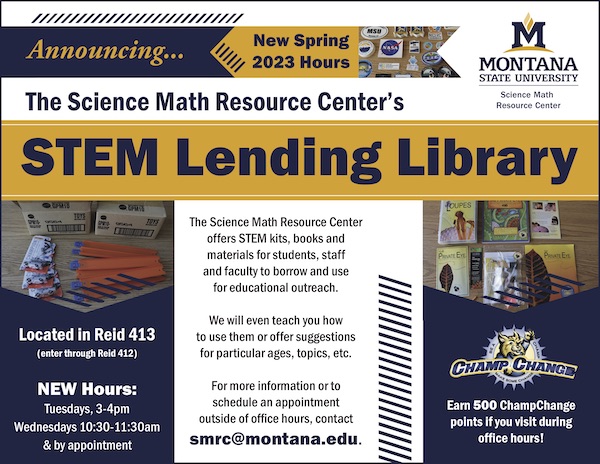 The Science Math Resource Center has a STEM Lending Library filled with STEM kits, books and materials for students, staff and faculty to borrow and use for educational outreach including student teaching, practicum, book club, tech club, etc. We will even teach you how to use the kits or offer suggestions for particular ages, topics, etc. and students can earn ChampChange for stopping by.
The lending library is located in Reid 413 and is open:
Tuesdays from 2-3pm
Wednesdays from 10:30am – 11:30am
and by appointment.
Weekly office hours begin Monday, Jan. 30, 2023 and will run through the end of the semester.
Instructors or student clubs are welcome to schedule a special time to bring a group for a short tour.
For more information or to schedule an appointment outside of office hours, contact [email protected] or Suzi Taylor at [email protected]
Learn about Diversity, Equity and Inclusion in Youth STEM outreach
We were funded by the College of Education, Health and Human Development to research exemplary practices for DEI in STEM outreach. Read our report on Diversity, Equity and Inclusion in MSU Youth STEM Outreach or watch the recording of our presentation to campus.