Competition Day Materials
NOTE: All the information below is from the 2023 tournament and has been left for your information only; 2024 Tournament information will be different and will be posted as we near the evet date.
Block schedule and room assignments v.2 - 3/1/23
This handout shows when and where teams compete. Find your team number and then look for the time slots when your team competes in each event. this version was posted on 3/1/23.
The second draft of the block schedule and room assignments is now posted. Only room locations have changed; not any of the time slots. We do our best to have this as close to final as we can, but there may be changes between now and tournament day. We will continue to post the date of any revisions so you know you are seeing the most current version.
New this year: Although time slot conflicts are typically resolved on tournament day, we will do our best to resolve them ahead of time if we can. Please submit event time conflicts on this form.
Event map
Posted 2/28/23 This event map includes locations of competitions and some Talks & Tours. We will do our very best to finalize all locations, but please know that changes may still occur. Download the event map.
AIH = American Indian Hall
NAH = Norm Asbjornsen Hall (the new engineering building, which some people call "Norm" or "Norm Hall."

Inspiration Hall is a room within Norm Asbjornsen Hall (second floor). Inspiration Hall is not a separate building.

Note that Leon Johnson Hall and AJM Johnson Hall are two different buildings.
Animal Biosciences Building and Plant Biosciences Building are right next to one another but are two different buildings.
Tournament Day overview schedule on March 8, 2023
| | |
| --- | --- |
| 7 - 8:30 am | Team Check-In SUB Ballrooms [Note that opening ceremony begins at 7:45] |
| 7:30 - 7:45 am | Assemble in SUB Ballrooms |
| 7:45 - 8:10 am | Opening Ceremony |
| 8:15 am | Impound and Event Sign-ups Open |
| 8:30 am - 12:30 pm | Competition Events |
| 12:45 - 1:00 pm | Make your way to Talks & Tours (if signed up; optional) |
| 1:00 - 2:00 pm | Talks & Tours (sign-up required) or campus time |
| 2:15 - 2:30 pm | Assemble in SUB Ballrooms |
| 2:30 - 4:00 pm | Awards Ceremony: medals, trophies, door prizes |
Parking and bus unloading - posted 3/6/23
Private vehicles
Private vehicles (including cars not labeled as school vehicles and all spectators) must follow MSU visitor parking regulations. You may want to download the Passport app ahead of time in order to streamline payment. There is no free parking on campus for more than 30 minutes.
School vans with marking/logos or exempt plates
School vans with markings or logos can park in the Stadium Lots (20 & 25) only. Please visit www.montana.edu/parking/map.pdf for the campus parking map.
Please print and put this on your dash.
Bus parking information - 2023
Download the instrtuctions as a PDF
Download the map (same as below)
In order to ensure a safe and efficient unloading and loading of all students, please follow instructions and map below as well as those given by parking attendants. Drop off and pick up locations are not for long term parking. Ensure your students are ready for pickup prior to leaving long term bus parking in order to keep curbside loading time limited to 5 minutes and minimize congestion.
Buses are encouraged to approach campus from the East on Kagy Blvd. Unless you are staying in a hotel or need to access from 19th Ave, please get on I-90 and take exit 309 into Bozeman. Head west on Main Street to the first light, Highland Blvd (approx. 1/4 mile). Turn left on Highland and go approximately 1 mile to Kagy Blvd. Turn right on Kagy Blvd for approximately 1 mile to arrive at S. 7th for drop-off at the SUB.
All buses must approach the SUB entering from Kagy turning North onto S. 7th Ave. for drop-off and pick-up. See the map for the loading/unloading and parking locations. Please do not attempt to access campus through Bobcat Lot 15 or the Service Drive behind the Fieldhouse.
After unloading, buses should proceed East on Grant St. to S. Willson Ave, then turn South. Once on S. Willson Ave. buses should turn West on Kagy and proceed to one of three following designated parking spaces.
Museum of the Rockies – First Fill
7th Ave (South of Kagy) – Second Fill
Grace Bible Church – Remote Option/Overflow
Our staff will fill Museum of the Rockies first, South 7th Ave. second, and Grace Bible Church as the overflow/last option. Please be advised that once bus parking in the first two areas fills, staff will waive you on to the next option. We do recommend that if you do not need to park on-campus as part of the event that you proceed to Grace Bible Church. A shuttle will be provided by the event for those at the Grace Bible Church location to access campus.
A credential is available for vans and small buses to park in Stadium Lot 25. Download the pass here.
Personal vehicles or vehicles of guests should utilize pay parking in the Parking Garage. More information on visitor parking can be found here. http://www.montana.edu/parking/directions.html.
Please be aware that this is all happening while MSU classes are in session and campus is at high activity. Please heighten your awareness to pedestrians, vehicle and bicycle traffic while dropping off, picking up and parking.
If the maps don't show up below, please download the PDF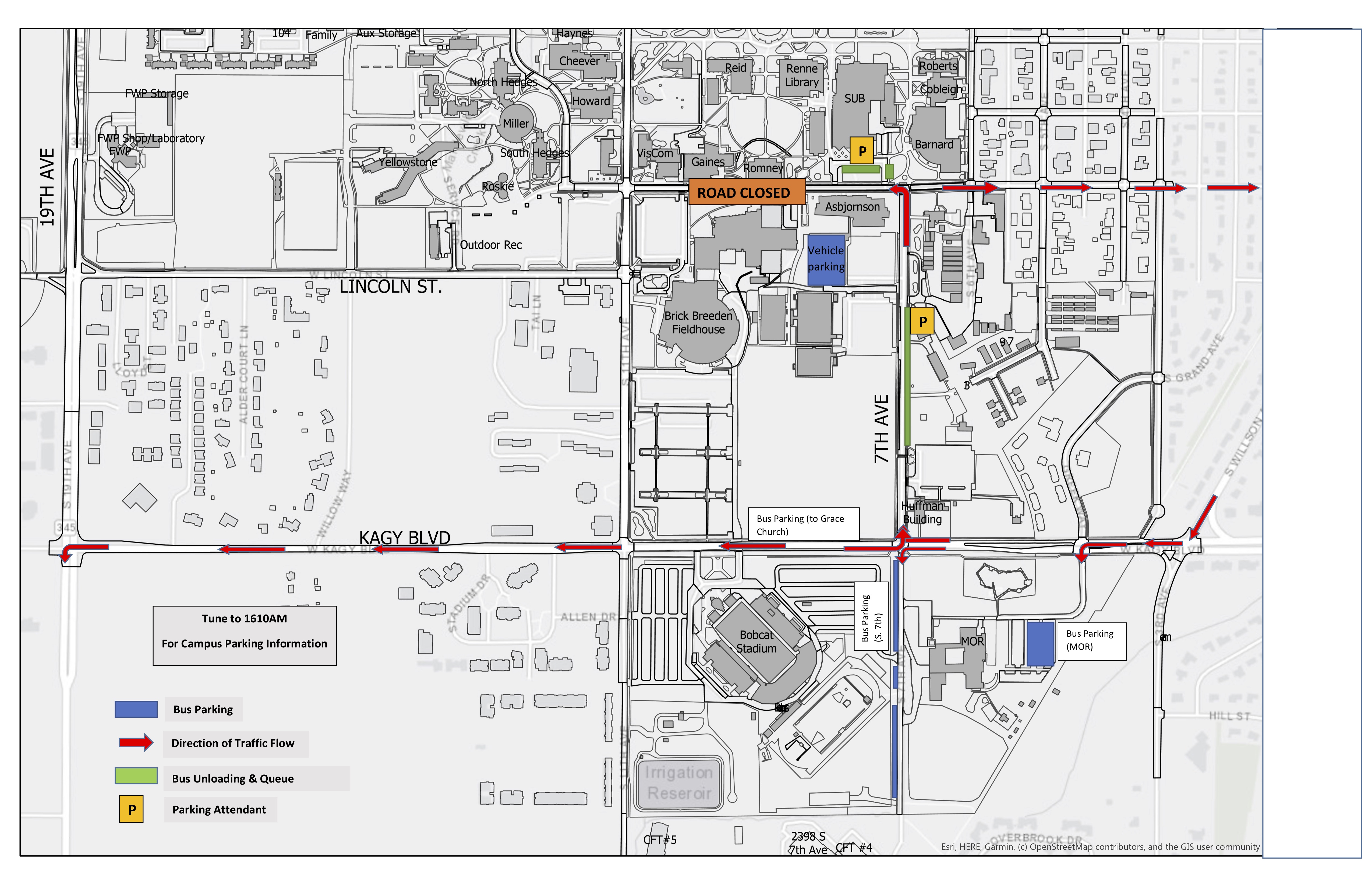 Departures
Buses, school vans and private vehicles can pick up students from the SUB or Fieldhouse.
Team Numbers 2023
Here is the list of Team Numbers for 2023. It is very important that students know their team number for each competition. Do not use a team number from a past tournament, from Scilympiad, or from any other source. Thanks!
Talks and Tours 2023
NEW: Posted 2/23/23. Teams can choose to participate in optional talks and tours, which will help you become more aware of some of the cool research going on at MSU! These take place from 1pm to 2pm on tournament day - after competitions but before the awards ceremony begins.
Use Sign-Up Genius to secure spots for your team. Please be courteous to our guest speakers and let us know if you will be unable to make the tour. You can cancel via your Sign-Up Genius confirmation, or contact us at [email protected]
Sign-ups are first-come/first-served. Register your students here.
2023 offerings include:
learn about the science of sound

create art with graphic design students

play a fun board game designed by students

learn about virtual reality and robotics.

Tour the MSU campus with the AdvoCats

.....and many more! (we may be able to add more Talks & Tours as we get closer to tournament day)
Other things to do on campus
Tours full? Here are other fun things to do on campus:
Check out the new parking garage - really! It has Public Art and more art!
Into geocaching?

There are a few on campus your students can find

http://www.geocaching.com

Extra time for lunch? Visit MSU's award-winning Rendezvous cafeteria - open to the public. $13 includes all you can eat lunch, plus a coffee bar. You can even take an ice cream treat to go!

Take a self-guided tour of the new Norm Asbjornson Engineering building - download a map here
The SUB Recreation Center is open to the public: Bowling alleys, pool tables, etc.
The MSU Duck Pond is a fun place to hang out
Tour American Indian Hall. There are self-guided pamphlets at the main entry way for any visitors who want to read more about the American Indian Hall.