MONTANA STEM SUMMER INSTITUTE
July 25 - 27, 2022
MSU - Bozeman Campus
HIGHLIGHTS from the 2022 Montana STEM Summer Institute:
This summer, we enjoyed sharing the excitement of educators from all over Montana at our annual event, hosted by School Services of Montana and the MSU Science Math Resource Center. From the hands-on STEM learning and resources to the powerful teacher panel and keynote, the summer institute was a big success!
"The 2022 Montana STEM conference was fantastic. I really learned a lot of practical ideas that I can take back to the classroom. The instructors were very knowledgeable and helpful and I found a renewed interest in Science that I had lost as a student, years ago. I look forward to attending again and letting others know about this great opportunity."
- Charlie Struna, Missoula County Public Schools Middle School Librarian & 8th grade Math teacher
"This STEM conference was top notch! There were so many great resources and activities that I will take back to the classroom this year. I highly recommend this professional learning for all K-12 teachers."
- Lynette Conrad, 1st grade teacher, Anderson School
If you would like to be notified of the 2023 event -- registration and calls for presentations, please sign up for our STEM Educators Network monthly newsletter:
http://bit.ly/smrc-news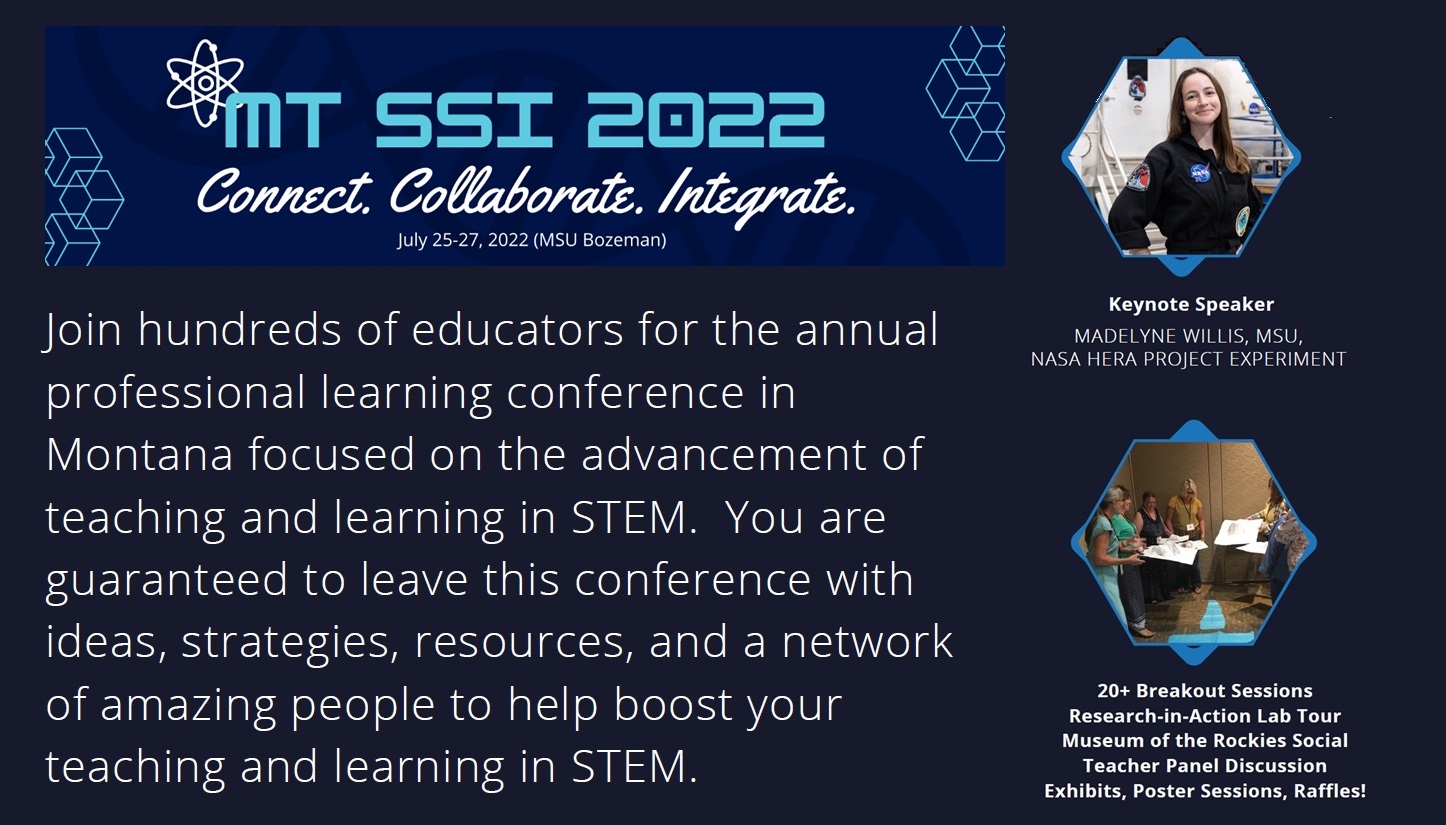 Science Math Resource Center and School Services of Montana will host the 4th annual Montana STEM Summer Institute, supporting educators with the advancement of teaching and learning in STEM! This conference will be in-person this year at MSU - Bozeman campus July 25 - 27, 2022.
Who should attend?
K-12 educators, out-of-school time providers, curriculum coordinators, or post-secondary students and others interested in boosting STEM instruction and gaining ideas and resources.
Please visit our event website, your navigation station for ALL conference details right at your fingertips. Use this "Sched" platform to navigate the schedule, get important conference information, and to access session resources during and after the conference.
The event website will be updated regularly as additional details are finalized. The website currently features a general schedule with dates and times, our keynote speakers' bio, map of the MSU - Bozeman campus, and registration options.