Orientation for Freshman Students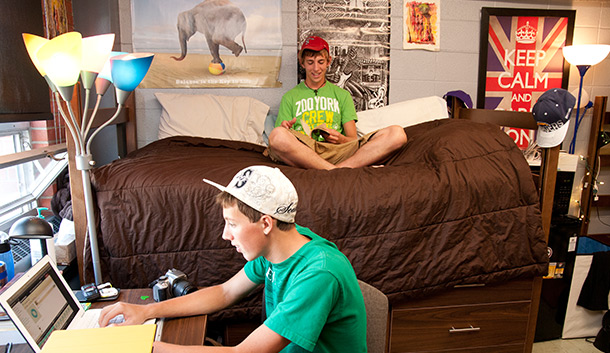 We are very excited for you to start your academic career at Montana State University! Orientation is your introduction to academic and non-academic life at Montana State University. All new students are required to attend an Orientation session.
Students accepted for admission to MSU will receive Orientation materials at the following times:
Students admitted for Fall Semester-after March 1st
Students admitted for Spring Semester-after November 1st
Students admitted for Summer Session-after March 1st
Learn more:
Orientation Registration Information
All new students are required to attend an Orientation, except for students registering for summer courses. Please see below for more information.
Starting school in the fall?
Freshmen who will be starting school fall semester will need to register for one of the three summer Orientations (June or July) or the fall Orientation (August).
Students attending the June or July Orientation are required to stay on campus and pay a $140 non-refundable meals and lodging fee.
Students attending the August Orientation will move directly into their housing accommodations for the fall semester upon arrival to campus. There is no meal and lodging fee associated with this Orientation.
You will be able to register for Orientation online through your Admissions Checklist in early March. In order to register, go to www.montana.edu/myinfo, then 'Log into MyInfo' with your Student ID number and password, then click on 'Undergraduate Admissions Checklist'.
Starting school in the spring?
Freshmen starting school in the spring semester will need to register for Orientation to be advised for spring semester classes. Information regarding spring Orientation will be sent to you in early November.
Starting school in the summer?
Freshmen that start school during a summer session will not need to attend an Orientation for summer school. Students will be mailed information on course registration. *Please note that freshmen taking summer courses will still need to register for an Orientation during June, July or August to register for fall courses.
If you have any questions, please feel free to contact the Orientation Office at (406) 994-2827, toll-free at (888) MSU-CATS or via email at orientation@montana.edu.
Specialized Orientations
Veteran Orientation
Contact the Veteran Support Center at (406) 994-3661 or vets@montana.edu for information or to register.
Non-Traditional Student Orientation
The Non-Traditional Orientation is designed to meet the needs of incoming non-traditional aged students who are attending college for the first time. This program is by invitation only. Eligible students will be notified.
Tentative Orientation Schedules