Orientation for Parents and Families
Orientation for Parents and Families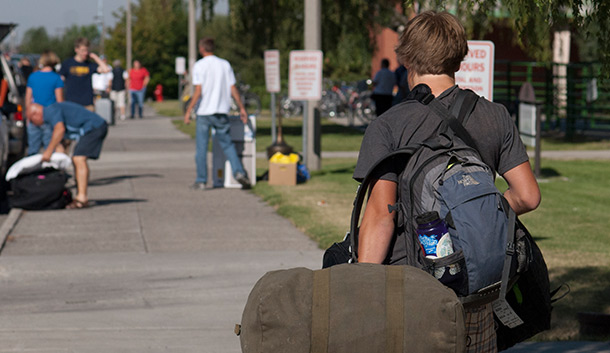 Concurrent with the Summer and Fall Freshmen Orientations is a special program for parents and families designed to acquaint you with MSU and its programs, facilities and services.
Freshman Orientation Dates 2018
Summer
June 11-13*
June 25-27*
July 16-18*
August 22-24
*Students attending these sessions are REQUIRED to stay on campus for the duration of Orientation.
Registration Information
The program includes:
A variety of sessions with University staff and faculty members
A session with the Assistant Dean of your student's academic college
Informal discussions with Student Orientation Leaders
There is a program fee per family (which does not include meals or lodging). Information about the Parent/Family program will be included with the Orientation materials your student will receive.
Schedule subject to change. A final schedule of events will be given at check-in.
Tentative Parent Orientation Schedules
June & July Parent Orientation Program Schedule
Monday

9:00-11:00am
Check-in at the Strand Union Building
9:00-10:30am
Campus Tours (departing every 30 minutes)
9:30-10:30am
Honors College Information Session
10:30-11:00am

Pre-Vet Information Session

Pre-Health Professions Advising at MSU

11:00am-2:00pm
Lunch on Your Own - Strand Union Building or Miller Dining Commons ($10)
12:15-12:30pm
Parent/Family Welcome
12:30-1:15pm
Dean of Students
1:30-2:00pm
Orientation Welcome
2:10-3:00pm
Living on Campus
3:00-3:30pm
Family Q & A with ResLife Panel
3:30-4:30pm

Majors and Academic Advising at MSU

3:45-4:45pm

Health Services Information Session

5:15pm
Parent/Family Reception - Light hour 'dourves and beverages.
6:15-7:00pm
Dinner on Your Own - Miller Dining Commons ($11)
Tuesday

7:00-8:00am
Breakfast on Your Own - Miller Dining Commons ($8)
10:15-11:30am
Parent Academics 1: Meet Your Student's College Dean Q & A
10:15-11:30am
Bobcat Kids Camp: For Siblings of Orientation Students to Have Some Fun!
11:45am-12:30pm
Parents Academics 2: Registrar's Office Introduces Tools for Academic Success
11:30am-2:00pm
Lunch on Your Own - Strand Union Building or Miller Dining Commons ($10)
1:00-2:15pm
Bobcat Kids Camp: For Siblings of Orientation Students to Have Some Fun!
1:00-4:00pm
Write a Letter to Your Student
1:00-2:00pm
Paying for School
2:05-2:25pm
MSU Bookstore
2:30-2:50pm
Cat Card: MSU Student ID
3:00-4:00pm
Campus Resources for Safety
4:00-5:30pm
Campus Information Fair
4:30-5:00pm
Inclusion at MSU
4:30-5:00pm
Disability Services
4:30-5:00pm
Veteran Services: Required for Veterans and dependents of Veterans receiving GI Bill benefits
5:00-5:45pm
Student Athletics: Required for incoming NCAA Athletes
5:00-7:00pm
Dinner on Your Own - Miller Dining Commons ($11)
After 5:00pm
Self-Guided Walking Tour of Bozeman or Open Gym Night
Wednesday

8:00-9:00am
From Orientation to Graduation: MSU Support for Your Student
9:00-9:45am
Academics: What Your Student Needs to Succeed
10:00-11:30am
Parent/Family Brunch - Included in Registration Cost
12:00pm
Financial Education Workshop
12:00-3:00pm
Residence Life Open House
August Parent Orientation Program Schedule
Wednesday

10:30am-3:00pm
Orientation Check-in at the Strand Union Building
10:15am & 1:45pm
Museum of the Rockies Tours (departing from the museum)
3:45-4:30pm
Orientation Welcome
4:45-5:30pm
Parent/Family Welcome
5:30-7:00pm
Welcome Picnic for all Students, Families and Friends: $10.00 for adults, $5.00 for children 12 and under
6:30-7:00pm
Honors College
8:30-10:00pm
Office of Student Engagement Event
Thursday

7:00-8:00am
Breakfast
8:00-9:30am
Parent Academics 1: Meet Your Student's College Dean Q&A
9:45-10:30am
Parents' Guide: Winding Road
11:05am-12:00pm
Parent Academics 2: Preview the Advising Tools Your Student Will Use Everyday
11:00am-1:00pm
Lunch on Your Own
1:00-2:00pm
Counseling and Psychological Services, Health Advancement and Health Services
2:15-3:15pm
Paying for School
3:00-3:30pm
Fee Payment
3:15-3:45pm
Cat Card: MSU Student ID
4:00-5:15pm
Campus Resources for Safety
5:15-5:45pm
Disability Services
5:15-5:45pm
Veteran Services: Required for Veterans and dependents of Veterans receiving GI Bill benefits
5:15-5:45pm
Pre-Vet Advising
5:15-5:45pm
Office of Student Engagement
5:15-5:45pm
Diversity and Inclusion
5:15-5:45pm
Pre-Health Professions Advising at MSU
5:15-5:45pm
ROTC
5:15-6:00pm
Student Athletics: Required for incoming NCAA Athletes
7:30pm
Freshman Convocation
Friday

8:00-8:45am
From Orientation to Graduation: MSU Support for Your Student
9:00-9:45am
Academics: What Your Student Needs to Succeed
10:00-11:30am
Parent/Family Brunch
12:45pm
Campus Tour
1:45-2:30pm
Financial Education: Information for Navigating Student Loan Debt and Staying Financially Sound
2:30-3:00pm
Pre-Law Advising at MSU