At Montana State University, we have countless opportunities for students to broaden their experiences and get involved on campus. Our office offers several unique opportunities to develop as invidiuals. Learn more about them and meet our students below!

AdvoCat Tour Guides
The campus tour program at Montana State University serves thousands of visitors each year. Under the supervision of the program coordinators, Mike Ouert and Elicia Palmer, and two student coordinators, MSU AdvoCats promote and personalize the University to prospective students, their families, and other guests to campus. Through guided walking tours of campus, MSU AdvoCats educate visitors about academics, campus life as well as the history, traditions, and achievements of the University. The position of an MSU AdvoCat is a volunteer student leadership position. Guided tours last approximately one hour and are offered Monday – Friday at 9am and 2pm year-round (except for University observed holidays).
The application for the 2019-2020 school year is currently closed. Please check back in the spring of 2020 for more information.

Orientation Leaders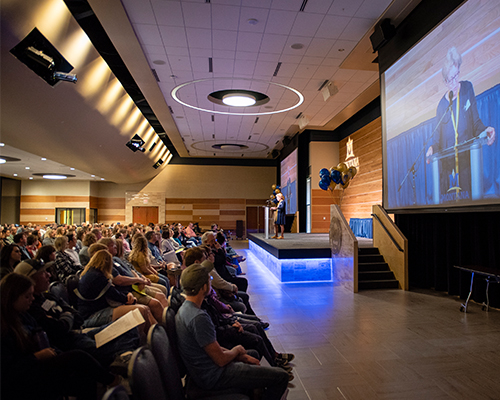 Orientation Leaders help welcome hundreds of students to campus every year.
We are very proud that the success of our Orientation program is due in large part to the quality, ability, and dedication of Student Orientation Leaders. Trained in such areas as communication skills, leadership and presentation of factual information, Orientation Leaders work closely with new freshmen, transfers, and parents. They are knowledgeable about campus activities, campus life and various services offered by the University, and develop close working relationships with MSU administrators and faculty while assisting with academic advising and the registration process.

The application for the summer 2020 Orientation sessions is now open. Apply today!
Student Representatives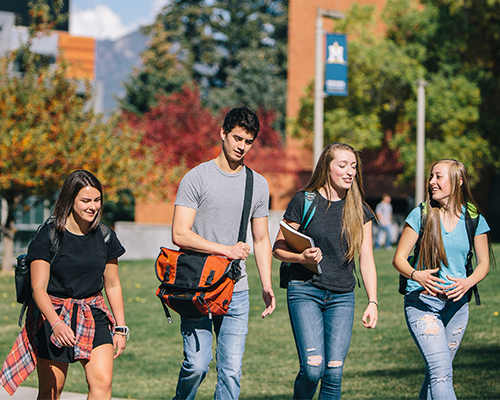 Student representatives are an important part of the campus visit experience.
Our student representatives meet with prospective students and their families as part of their campus visit experience. They cover a broad range of topics, including student life, academic options, the application process, scholarships, and more. Our student representatives are trained by our Admissiosn Counselors, and many are active in leadership positions across campus.

Allie Dixon
Major: Cell Biology and Neuroscience
Minor: Finance
Year in School: Junior
What words of wisdom do you have to offer prospective students? On the first day of class, be sure to sit by someone (even if you do not know them) and say hi! Class is much more enjoyable when you study, discuss, and interact with your classmates.
Favorite activity to do in Bozeman:
Going to Sweet Peaks for ice-cream, then The Ellen Theatre to watch western movies.
Stanley, Idaho


Becca Schnabel
Major: Cell Biology and Neuroscience
Year in School: Senior
Why did you choose to attend MSU? When I look back on my college search, of all the schools I toured, Montana State was the only university I felt I would still be valued as an individual. It gave me the amenities of a larger school like a menagerie of clubs and activities while still preserving the opportunity to get to know my professors and peers. I didn't know it at the time, but MSU would also provide me with world class research opportunities that I may not have received at another university.
Favorite MSU class or favorite things about your major: My favorite MSU class was the Neuroscience of Mental Illness which I had the opportunity to take as an elective for my major. Each week I read current scientific literature regarding topics such as: depression, Alzheimer's disease, bipolar disorder, and a wide variety of other mental ailments. This class aligned with my personal academic interests and solidified the area of study I want to pursue in graduate school.
Butte, Montana


Charlie Tadlock
Major: Photography
Year in School: Junior
What was your first impression of MSU? I really appreciated how tight knit the university is and how much it's a part of the surrounding community. As soon as I walked on campus, it felt like home.
Favorite thing about your major: I love the access that we get to top of the line and state of the art facilities and equipment!
Seattle, Washington


Colter Christian
Major: Microbiology/Pre-Veterinary Track
Year in School: Senior
Favorite MSU class: Medical Bacteriology from Dr. Voyich! I love my major and really enjoy learning about the incredible and unseen world of microbes!
What was your first impression of MSU? A beautiful space where a learning environment is combined with stunning mountain views!
Missoula, Montana


Emma Sundeen
Major: Sociology
Year in School: Junior
Favorite campus activity or MSU tradition: My favorite campus activity is Catapalooza, which is a club fair and a fall semester kick off rolled into one. I love walking around and looking at all the new clubs and activities on campus, as well as feeling of the excitement of a new semester about to begin.
What was your first impression of MSU? Since I grew up in Bozeman, my first impression of MSU wasn't necessarily of the campus, but was of the students who would come visit the surrounding elementary and high schools and would be an example of all the opportunities the university had to offer. Whether it be through showcasing the arts, sciences, or anything in between, they inspired me to get involved as a college student.
Bozeman, Montana


Lauren Saint Pierre
Major: Environmental Science
Year in School: Senior
Favorite thing about your major: My favorite things about Environmental Science is that you are constantly outside learning and applying the things you are talking about in the classroom and the variety of unique classes that I have had the opportunity to take. I have had the opportunity to take classes like Alpine Ecology, Ecological Responses to Climate Change, and Yellowstone Wildlife Ecology to name a few. There has not been a semester yet that I have not had at least one lab or recitation that has been in the field or at a site.
Favorite MSU tradition: HOMECOMING! I love seeing generations of Bobcats come together to root on the football team.
Livonia, Michigan


Megan Pepper
Major: Elementary Education
Year in School: Senior
Favorite MSU tradition: The lighting of Montana Hall every December! It puts me in the holiday mood and it brings the whole Bozeman community together.
Favorite activity to do in Bozeman: Skiing and hiking/camping
Highlands Ranch, Colorado


Rebecca Erickson
Major: Food and Nutrition - Dietetics
Year in School: Junior
What was your first impression of MSU? Walking onto campus for the first time, I found that MSU wasn't like the other schools I had toured. Students and faculty held the door open for each other and said hello. Just these small acts of kindness made a lasting impression. Along with other things, I saw that MSU valued building a community for their students and not just provide a university to earn a degree from.
Favorite activity to do in Bozeman: I love to get outside to hike or run! There are so many beautiful trails in and around Bozeman that makes these activities so accessible. In the winter, I love to hit up Bridger Bowl to ski!
Fort Collins, Colorado


Spencer Johnson
Major: Chemical Engineering, Honors College
Year in School: Senior
Favorite things about your major: Our Chemical Engineering Department Banquet. All the graduating seniors roast the professors and then the professors roast the graduating seniors. It's a great way to end the semester and is always filled with laughs!
What words of wisdom do you have to offer prospective students? I would tell all prospective students to spend a day on campus, attend classes, and talk to current students about their perspective. I think this is the best way to see if you fit at the school.
Kalispell, Montana


Thomas Maggiore
Major: Mechanical Engineering
Year in School: Junior
Favorite activity to do in Bozeman: Shredding gnarly lines at Bridger Bowl
What words of wisdom do you have to offer prospective students? Get involved on campus! Great way to meet new people and find new things you enjoy doing!
Los Alamos, New Mexico


Diversity Ambassadors
Diversity Ambassadors are student volunteers within Montana State University's Office of Admissions that provide guidance and insight for prospective students who are considering making MSU their next home. Diversity Ambassadors serve as a vital resource for underrepresented students throughout every stage of the admissions process.
Thinking of visiting campus? You meet with a Diversity Ambassador when you schedule your visit.
If you'd like to connect with one of MSU's Diversity Ambassador, please email Mike Ouert at mrouert@montana.edu with the name of the Ambassador you'd like to contact.


Brianna "Bri" Fields
Major: Agriculture Business and Agricultural Education
Year: Senior (Transfer)
Hometown: Spokane, WA
Campus Involvement: Outreach Director for the Office of Student Engagement, Black Student Union member, Orientation Leader, Agricultural Education club member, Livestock Judging Experience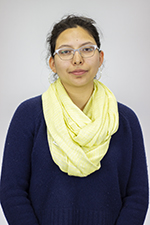 Jacqueline Burgara
Major: Psychology
Minors: Latin American Studies, Statistics, Global Health
Year: Junior
Hometown: Lakewood, CO
Campus Involvement: Fuerza Latinx member, Humanitarian Club member, Danza Latina member, Moyce Lab employee, Barnes Lab employee, Heirs of Love member, F-Word member
Lyla Brown
Major: Psychology and Sociology - Criminology option
Year: Junior
Hometown: Salem, CT
Campus Involvement: Black Student Union President, Director of the Latenight Streamline Service, Queer Straight Alliance member, Diversity and Inclusion Student Commons Volunteer, Pre-law club member, Previous Resident Advisor
Juan Pablo Du-Pond
Major: Agricultural Business

Year: Sophomore

Hometown: Queretaro, Queretaro, Mexico

Campus Involvement: Founder and President of the Gallatin College Student Council, Office of International Programs student employee, Fuerza Latinx member, Collegiate FFA member

Annie Ferguson
Major: Pre-Med

Year: Freshman

Hometown: Snohomish, WA
Campus Involvement: American Indian Council Member, CAP Mentor, Backcountry Squatters member, Alpha Omicron Pi member, Befrienders member


Christen Falcon
Major: Business Management


Year: Senior


Hometown: Flathead, MT

Campus Involvement: Member of Saiges, Ambassador for the American Indian College Fund, Return to Learn Student Associate, Indigenous Student Committee member.



Tristan Harris-Pearce
Major: Film
Year: Freshman
Hometown: Topeka, KS
Campus Involvement: Black Student Union member, Queer Straight Alliance member, Hilleman Scholar, Residence Hall Council member, Fraternity member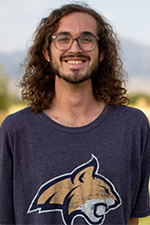 Mitchell Douglas
Major: Psychology
Year: Senior
Hometown: Billings, MT
Campus Involvement: Queer Straight Alliance Representative, LGBTQIA+ Mentor, AdvoCat, Orientation Leader