To be sold by variety name only as a class of certified seed. Montana State University Research Fees due on seed sold. PVP, Title V has been issued (Certificate #202000202).
Pedigree

(ND7293/Bearpaw, Hockett)*4//(LK644, Lewis/Karl)

Synonyms/Experimental #s

MT124112

Release year

2019

Breeding Program

Montana State University

Description

Spring two-row
Under high-yield management, including the use of growth regulators, yield and lodging improved greatly

Agronomic Characteristics:

Yield: Higher with higher test weights and percentage plump seed
Protein: lower than average, consistently lower in dry land and with higher N applications
Maturity: Earlier heading dates and later maturity than other common MT varieties
Straw Strength: Midstrong
Straw Length: Shorter and less prone to lodging under irrigations
Disease Reaction:

Since 2015, trials have not had consistent disease pressure for disease scoring, although occasional observations of rust and leaf spots occur in Sidney under irrigation. We have ongoing trials in Sidney and North Dakota evaluating fusarium infections with subsequent DON (deoxynivalenol) testing by North Dakota State University. Not surprisingly, MT124112 responds to head blight similarly to Hockett.

Malting Characteristics

The malt quality of MT124112 is suitable for both all-malt brewing as well as adjunct brewing. Generally, malting traits are either statistically equal or superior in performance according to the criteria determined by the American Malting Barley Association (AMBA). These traits stay within the acceptable ranges when grown under dryland or irrigated conditions.

Quality Strengths:

High Malt Extract

Low B-glucan

Faster hydration

More stable quality across variable growing conditions

Brewing Quality Traits

...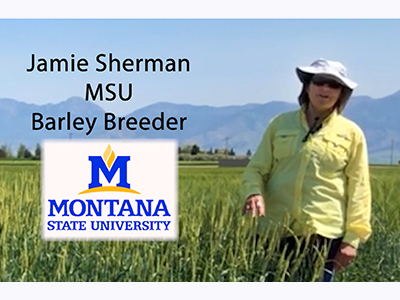 Jamie Sherman discusses current MSU Barley releases at the 2020 Field Day