Six Accounting Students Travel to Alaska as Volunteer Tax Preparers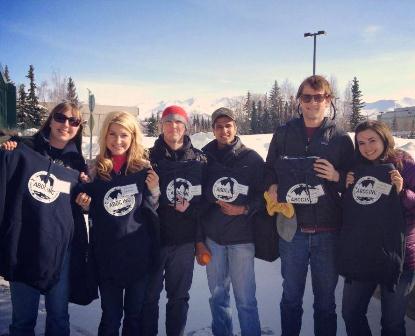 Since 2008, College of Business (CoB) accounting students have been traveling to Alaska as a part of a Volunteer Income Tax Assistance (VITA) program, a program established by the Internal Revenue Service. This year, six students, the most ever, spent spring break volunteering in rural Alaska.
Amanda Caldwell, Arianna Haines, Jodie Kunesh, Tom Langmo, Rajeev Modi and Cullen Mullany left Bozeman on March 9, 2012 for Anchorage, Alaska where they started off with a training session on tax laws and orientation. The students were split up into groups of two and sent off to different regions of the state training with the Alaska Business Development Center. Villages they visited included Alakanuk, Barrow, Eek, Kaktovik, Nightmute, Nuiqsut, Mountain Village and Tuntutuliak.
Most of the students saw this trip as an opportunity for a unique college experience, while providing an essential community service. Mullany chose to go on this trip because he thought the chance to go to a place that few people ever visit to gain some practice in the tax world, would be great. Kunesh had heard excellent things about the trip from a student who had attended the previous year and she also wanted to be exposed to different cultures and lifestyles. Langmo agreed and believed this trip would help solidify his knowledge after completing his tax class.
This opportunity allowed the students to apply what they had learned in their tax classes and VITA training, in remote areas where residents do not have easy access to tax services.
"The amount of knowledge I attained in the field of taxation and customer service was something that would be difficult to find anywhere else. I was also able to see a part of the world that many rarely see, rural Alaska. This trip is a wonderful opportunity for undergraduate accounting students. I hope that MSU participates in this program for years to come," described Langmo.
Besides preparing taxes, these CoB students were able to experience a different culture and lifestyle. Most of them found the travel and transportation both interesting and scary. From snowmobiles and dog sleds to small Cessnas and bush planes, the volunteers were able to experience many modes of transportation. "I enjoyed traveling over the bizarre and unusual landscape while cramped in a small Cessna. It felt as if I were in a documentary they were filming for some Discovery channel show…," Cullen said. Kunesh had to face her fears of flying during the dozen plane trips they took, a personal triumph for her.
Many of the students were able to watch native dances and basketball games, eat unique native foods and participate in potlatches. A Starbucks' drink, priced at $13.35 in the local store, also came as a huge shock to the students.
The travel and culture were Langmo's favorite parts of the trip. "To see that people within your own country live in such adverse and severe weather conditions is amazing. It was also very fun to see how these people travel. It was a wonderful experience to see a completely different culture than what I'm used to."
Through this program, the students gained valuable tax preparation experience and learned about another culture and lifestyle. While there, these six students were able to help more than 430 villagers and their families.
For more information about the VITA program, please see our Website: https://www.montana.edu/business/accounting/vita/index.html.