Women's Circle of Excellence Speakers
Conference Speakers
Lori Addicks, CEO of Larkspur Group, is a master facilitator, performance consultant, and executive coach specializing in leadership and organization development, team coaching & development, strategic planning, as well as cognitive and multi-generational diversity. She has more than 30 years of experience partnering with senior executives in North America, and 60 countries around the world to translate business goals into value-added people strategies across the spectrum of talent management. With expertise in selection, assessment, change management, performance management, strategic planning, diversity and inclusion, team coaching & development and leadership development, she specializes in serving as a catalyst for growth for individuals and organizations. She knows how to inspire people to get the desired results, especially during times of transition. Lori serves as a TEDx Speaker Coach and has performed as a keynote speaker for the MSU Women's Circle of Excellence, International Women's Day Summit, Business & Professional Women, 406 Creatives, Bozeman Business & Professional Women, and Prospera.

Jillian Deitle is an Enterprise Account Executive for AceUp, a coaching and leadership development software solution matched with technology and analytics. Jillian has been working remotely in Helena, MT as an Enterprise Software Sales professional for the past eight years and has extensive experience working with coaches on topics such as leadership development, well-being and the power of positivity and gratitude. Previously, she has worked on large and complex sales processes for Oracle Healthcare, Acumatica, Epicor, and Insight Software. In 2019, she signed up with a life and career coach to bring more fulfillment and purpose to her everyday work. She holds a Master of Business Administration from Boise State University. Jillian will be sharing real-life techniques and processes that you can start using today to feel inspired, motivated, and empowered in both your professional and personal life. She will also shared ideas for how you can be leader in all areas of life.

Susan Bennett Fisher is a Co-Founder and Teacher of

Body of 9

, alongside her husband. Body of 9 is an innovative, body-based personality assessment that, through your posture, body type, and how you physically express yourself, identifies your Natural Number.

Since 2012, Susan and her husband have been working together to identify over 8000 people from around the world and to build and share the understanding of how the Body of 9 shows up in so many aspects of human experience.




Brandy Lawson is a catalyst for discovering insights and simplifying them into clear positioning and messaging. Her experience and genius is finding opportunities and more effective approaches so businesses can work smarter, not harder. Clients and partners have described her as incredibly insightful, upbeat and completely authentic. She would describe herself as a tech fan, ridiculous shoe lover, clarifier, and recovering know-it-all. Brandy is an MSU alumni and leads FieryFX, a systems agency helping entrepreneurs and leaders maximize their use of technology to scale. You'll also find her on the weekly podcast Leverage Your Spark delivering snackable knowledge bombs to simplify, systematize & innovate in business & life.



Nissa Liesz is a Success & Fulfillment Coach on a mission to help high-performing women unlock their full potential and live their most authentic, aligned, and fulfilling lives. With a diverse range of skills and knowledge in business development, reiki, meditation, mindfulness, and manifestation, as well as training from the world-renowned iPEC, Nissa creates a holistic approach to personal and professional development for clients around the world. When she's not working with her incredible clients, you'll find Nissa chasing after her son's busy soccer schedule, traveling, cooking, bingeing a good show, reading too many books at once, or simply enjoying the beautiful Missoula area she calls home.



Karen Lum supports individuals who are elevating their businesses and teams, through her unique approach to coaching, training and consulting. Her career of 25 years, has spanned many industries including, luxury travel, software, non-profits, manufacturing and retail. Karen's work is anchored in understanding the human experience and mapping it to business culture, leadership, and service.

Karen is a certified Co-active Coach and trainer to many solopreneurs and business leaders throughout greater Montana and beyond. Her training programs receive consistently high praise for being interactive, practical, and energizing. Her coaching programs carve out critical time that leaders need to get thoughtful and strategic about the areas in their businesses and their own skill sets, that need attention.

Carmen McSpadden has been the director of the MSU Leadership Institute, focused on leadership development for MSU students. She worked five years as director of the academic Leadership Fellows Program and five years as an instructor for the Jabs College. She brings her experience as a certified trainer for Leadership Challenge™, Leadership Challenge Coaching™, Gracious Space™, Myers-Briggs Type Indicator™ (MBTI), Facilitating Intercultural Dialogue™, Thomas-Kilmann Conflict Mode Instrument™, Real Colors Personality Test™, Sustained Dialogue & Diversity™, Equity and Inclusion™, Brain Mapping™ and Ki ThoughtBridge™. In 2023, Carmen received her 8th Chamber of Commerce/MSU Alumni Association's Award for Excellence. In addition, she was chosen as one of MSU's 125 Extraordinary Ordinary Women throughout MSU's 125-year history. She was honored with the Community Mediation Center's Peacemaker Award, Bozeman Daily Chronicle's Woman of the Year, Prospera & WCOE Mentor of the Year, Leadership Montana's Service Award and The ATHENA Leadership Award.

Deb Penner is a life coach, speaker, author, retreat organizer, and unfailingly passionate guide for women based in Butte, Montana. She believes when women come home to themselves, they open the door to magic, and her mission is to offer her sisters permission, provocation, and powerful tools to do just that. Deb helps women find their authentic center so they can begin living joyfully from that space, creating the lives they long to be living and the path to honoring the world with their unique gifts. When she's not alongside women creating authentic alignment, you'll find Deb in nature with her two dogs, falling deeper in love with food in her kitchen, curled up with a book, or immersed in music on the dance floor.




Amber Raile is an Associate Professor of Management in the Jake Jabs College of Business & Entrepreneurship. As an organizational communication scholar, Amber sees communication as the force that develops, maintains, and changes our sense of ourselves, our relationships with others, the organizations in which we work, and even the countries in which we live. Her scholarship cultivates applied solutions around the complex social issues related to gender inequity across local, state, national, and international communities. As a professor and trainer, Amber focuses on developing communication skills to improve the relationships that shape our personal and professional lives.




Stacey Scott is the Director of Manufacturing for West Paw in Bozeman. She has held a number of other positions at the company including Accounting & Business Analyst, Product Innovation Leader, and National Sales Manager.

Originally from Billings, Stacey graduated with her Master of Professional Accountancy (MPAc) degree from MSU. Stacey is also very involved in the community and at MSU. She served on the Board of Directors for the Verge Theater, was a CAP Mentor through Thrive for over 14 years and has volunteered with the Special Olympics. Stacey also serves on the Jabs College's Accounting Advisory Council.



Lorca Smetana is an expert in the human capacity to recover and sustain life and health from crisis, change and burnout. At the age of 16 she was a survivor of the 1986 school mountaineering tragedy on Mount Hood and has been a vibrant explorer of designing human resilience since. She founded a medical aviation non-profit and holds an MA in international diplomacy. Today, she is a speaker and educator, a regenerative farmer and writer, also serving on the Leadership Development faculty at Montana State University. She is an architect of resilience and wholeness in education, teams, communities, and our world.
Panelists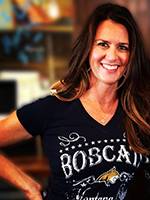 Mary Pat Harris (or MP as most call her) co-founded Bozeman Spirits Distillery with her husband Jim in 2014. Mary Pat hails from Miles City,MT and moved to Bozeman in 1990 to attend Montana State University. She has a passion for building Montana business, hoping to grow more Montana jobs by supporting agriculture, manufacturing and tourism. She heads up all sales and marketing throughout Montana, helps with production, and tasting room management and also helps with their small farm operations. When off the road, she can be found enjoying time with their sons on the river or the golf course and in the winter enjoying the snowy slopes. She is constantly working with community non-profits throughout the valley, and always loves to find ways to help in unique ways.


Sarah MacDonald is a Canadian-born adventurer who has explored the world, founded the successful family-owned Mountains Walking Brewery in Bozeman, and raised three amazing children. Her role as the brewery founder involved managing the taproom, kitchen, payroll, HR, bookkeeping, website, local events, and social media. Alongside their entrepreneurial pursuits, Sarah is a dedicated volunteer within the school her children attend as well as Haven, a nonprofit organization providing support to those affected by stalking, sex trafficking, and abuse. Her love for adventure, photography, and travel fuels her vibrant spirit. Sarah has as extremely hard work ethic and is dedicated to both her family and her team. Sarah embodies the essence of a compassionate explorer, blending her passion for business and helping others to make a difference in the world.
Beth Stohlmann and her husband Andy opened Bunkhouse Brewery in 2015. She was born and raised in Western Colorado and graduated from the U.S. Air Force Academy in 1998. After serving in the Air Force for several years, Beth and Andy relocated to Bozeman to put down roots and raise their four kids. Beth is passionate about education and enjoys teaching entrepreneurship, economics and rhetoric to high schoolers. Bunkhouse opened a second location in 2022 where they are actively working to forge partnerships with the businesses and non-profits in Four Corners. Beth's favorite part of the craft brewing world has been cultivating a space where community can grow and thrive - the beer is great, but the people are even better!
Keynote Speaker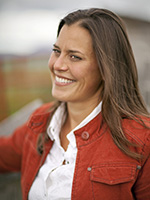 Sarah Calhoun
has decades of leadership experience in both the non-profit and small business sectors, working in the outdoor education industry before founding Red Ants Pants in 2006.


Raised on a farm in rural Connecticut, Calhoun was inspired to move toMontana by Ivan Doig's This House of Sky. From her home in the smalltown of White Sulphur Springs, she has become an inspiration toentrepreneurs nationwide and is known for her dedication to supporting rural communities.
Tired of wearing men's work pants that didn't fit, Calhoun designedpants that would fit, function and flatter working women. Red AntsPants are made in the USA and that will not change. Red Ants Pants is ased out of White Sulphur Springs, Montana where the storefront, distribution center, and internationalheadquarters all reside in an historic saddle shop. Known for their grass roots marketing efforts, including 'Tourde Pants,' the direct sales business model is proving effective.
To show support for the hard-working side of Montana and beyond, the Red Ants Pants Foundation was bornin 2011. The Foundation supports women's leadership, working family farms and ranches, and ruralcommunities - the three things most important to Calhoun and the Red Ants Pants Community. That sameyear the Foundation launched its first program - the Red Ants Pants Music Festival. In 2011, over 6,000 fanscame to celebrate rural Montana in a cow pasture. Over the years, attendees have enjoyed headliners includingMerle Haggard, Emmylou Harris, Dwight Yoakam, Wynonna Judd, and Keb' Mo. The festival continues itssuccess into its twelfth year on July 27-30, 2023 aiming to improve upon the authentic, rich community culturethe 15,000 attendees enjoyed during the 2022 festival.
Calhoun's grit has brought her enterprises national recognition over the years - in 2018 she was named to the Montana Business Hall of Fame and the Festival received the prestigious Event of the Year award from the Montana Office of Tourism and Business Development. In 2016, featured in The New York Times and The Huffington Post. In 2015, selected as one of only 100 businesses nationwide to participate in the Small Business Majority's Small Business Leadership Summit in Washington, DC. In 2012, named the National Women in Business Champion for the Small Business Administration. In 2011, invited by President Obama to attend a White House forum on jobs and economic development after serving as a US Delegate to the APEC Women in Business Summit in San Francisco. Closer to home, she was honored when Governor Schweitzer named her the 2011 Entrepreneur of the Year for the State of Montana. Calhoun and her company have been featured in many national publications including Entrepreneur, National Geographic, Delta Sky, Country Woman, and Sunset.
Calhoun has been called a "revolutionary figure in rural business today" and a "powerhouse of inspiration for women in business." Her dynamic style and inspiring experiences as an entrepreneur make her a highly sought-after keynote speaker. She has given two TEDx talks, dozens of keynote addresses, and has been featured on national television programs such as CNBC, CNN, and Bloomberg.
As Calhoun has risen to the top echelons of success as a rural entrepreneur, she is paying it forward by actively encouraging and mentoring other women starting their own businesses.