Location and Surroundings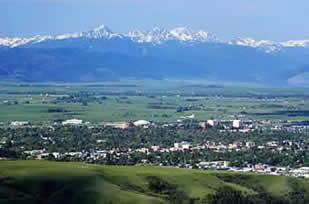 Bozeman is a safe, friendly community of approximately 35,000 located in the northern Rocky Mountains. Bozeman boasts the conveniences of much larger cities, including a major airport and excellent health care. A variety of shopping centers, restaurants, and live music venues are within walking/biking distance of campus. The city sponsors numerous cultural activities throughout the year, among them musical performances, theater, and art shows.
Bozeman is a prime base from which to explore the wide-open spaces of the American West. Surrounded by mountain ranges and rivers, the Bozeman area is known for its many outdoor recreational opportunities, especially skiing, hiking, and fishing. World-famous Yellowstone National Park is a short drive south of Bozeman. Glacier National Park is a five-hour drive to the north. Montana is also home to many Native American Tribes who host many exciting events and cultural experiences that are unique to the area.
Did you know?
Summer temperatures in Bozeman typically range from 18 to 29 degrees Celsius (65 to 85 degrees Fahrenheit).
Bozeman was named after John Bozeman, a wagon master and trail guide, who viewed the valley as an opportunity to supply the gold fields of the West.
Many Hollywood movies are filmed in Montana. A River Runs Through It and The Horse Whisperer are just two of the many movies filmed on the MSU campus and around Bozeman.
The Bozeman area is an outdoor wonderland—skiing is popular in the winter; during the rest of the year, trout fishing is popular in area rivers.
Early American explorers Lewis and Clark traveled through the Bozeman area in 1805-06 on their famous Voyage of Discovery.
Montana is the fourth largest state in the United States, similar in size to Japan and New Zealand. There are less than 1 million people living in Montana, making the population density less than 5 people per square mile.