2016 McNair Scholars cohort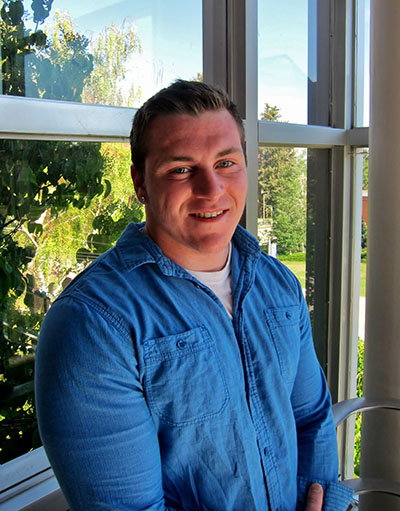 Blaine Berrington
Major: Chemistry
Mentor: Dr. Mary Cloninger
Jacob Corpron
Major: Cell Biology & Neuroscience
Mentor: Dr. Doug Kominsky
Born and raised in Kalispell, Montana, I decided to pursue a degree in Cell Biology and Neuroscience at Montana State University after serving four years in the United States Air Force. My faculty mentor Dr. Doug Kominsky and his lab works to unravel the complex dynamics of inflammatory bowel diseases and identify possible avenues for treatment of the debilitating disease. My research involves looking at what regulates the apical IL-10 receptor located on intestinal epithelia cells. This receptor is important in regulating inflammatory responses in the gut as well as maintaining barrier function necessary to defend cells from foreign invaders. My goal after I graduate is to attend the University of Washington's School of Medicine to further my abilities in helping people in need of medical services.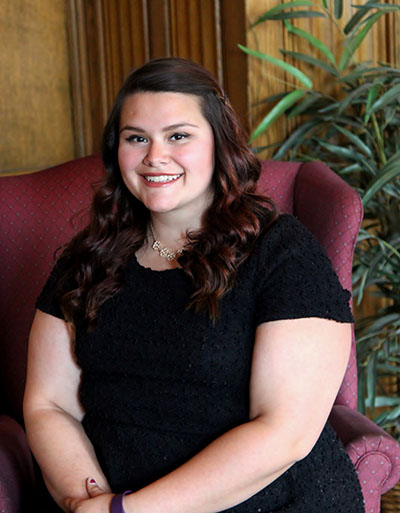 Sabrina Dinkel
Major: Microbiology
Mentor: Dr. Ron June
I am originally from Colorado Springs, CO and I'm a Microbiology and Immunology major at MSU. I am currently conducting research with my McNair mentor Dr. Ron June determining gene expression of agarose encapsulated chondrocytes under mechanical compression. In conjunction with the gene expression project, we are also working on an aging study to determine if the age of chondrocytes in human knee and hip cartilage affects their mechanical loading ability. The ultimate goal of this research is to develop novel joint therapies for osteoarthritis patients and other joint pain sufferers. After I graduate from MSU, I hope to go on to medical school and enter into an MD/PhD program with my ideal school being the University of Colorado Anschutz Medical Campus in Denver, CO.
Lauren Dupuis
Major: Chemical & Biological Engineering
Mentor: Dr. Connie Chang
I am a descendent of the Salish and Kootenai Confederated Tribes and I grew up in Polson, Montana on the Flathead Indian Reservation. I am a junior in chemistry with a minor in statistics at Montana State University. Last summer I attended a summer research program at Massachusetts Institute of Technology working with Dr. Stephen Buchwald and Dr. Stig Friis on expanding the scope of copper hydride and palladium catalyzed hydroarylation. Currently I am working in my McNair mentor's research laboratory, Dr. Connie Chang, in the Center for Biofilm Engineering. My project is synthesizing a surfactant for microfluidic devices that is biologically compatible and then to modify the surfactant to have different properties. Outside of research, I am also the president of the American Indian Science and Engineering Society where I help to inspire Native youth to enter STEM majors and support those Native students that are at MSU.
Phillip Eaton
Major: Nursing
Mentor: Dr. Elizabeth Rink
I am originally from North Carolina. I will be receiving dual degrees in Nursing and Psychology. I am currently working with Dr. Elizabeth Rink on the Fort Peck Sexual Health Project as part of my McNair research project. I am study the relationship between spirituality, either traditional Native American, contemporary Christian, or none at all, on the sexual perceptions of Native American adolescents on the reservation. My goal is to attend graduate school to earn a PhD in psychology.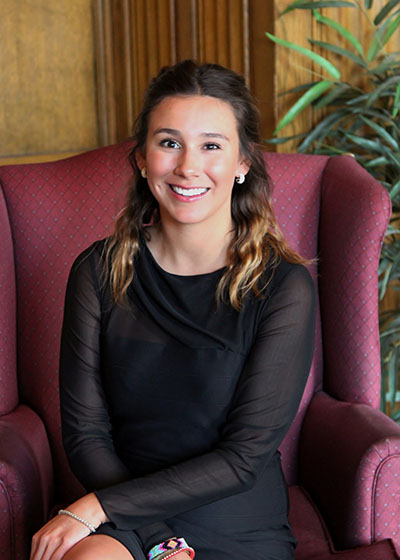 Kayla Keepseagle
Major: Chemical Engineering
Mentor: Dr. Joseph Seymour
I am a senior in chemical engineering with a minor in mathematics. I am currently working on developing a non-invasive oximetry method for Staphylococcus aureus biofilms with my mentor Dr. Joseph Seymour and Jeffery Simkins. During the summer of 2016 I attended the Nisbre National IDeA Symposium in Washington DC to present this research. I am originally from Bismarck North Dakota and my Native American roots in Standing Rock reservation where our family ranch is. My goal is to attend graduate school and be a role model for all Native American children.
Oscar Machado
Major: Cell Biology & Neuroscience
Mentor: Dr. Christa Merzdorf
Originally from Tehachapi, California, I am a junior majoring in Cell Biology and Neuroscience at Montana State University. For the past two years I have been working under the guidance of Dr. Jennifer Forecki and Dr. Christa Merzdorf where I initially began to distinguish whether Zic1 mutants would be upregulated or downregulated in Xenopus Laevis embryos. Now I am working on determining whether aquaporin 3b plays an important role in the noncanonical Wnt/Ca2+ signal cascade, which allows for proper neural tube closure. Apart from the research that I have conducted and being a McNair Scholar, I have been appointed Vice President of the Health Professions Club, and I am a TRIO SSS scholar. My academic and career goal is to pursue an MD degree in surgery or pediatrics, or to pursue an MD/PhD degree program.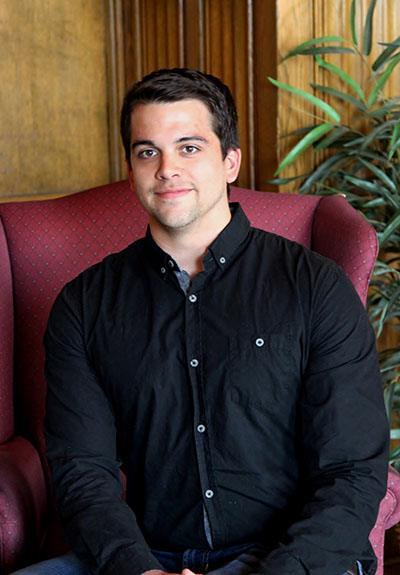 Justin O'Dea
Major: Computer Science
Mentors: Dr. Brittnay Terese Fasy and Dr. David Millman
I am from Columbia Falls, Montana. I am currently a senior majoring in computer science with a minor in political science at Montana State University. I am conducting research with a focus in neuroscience that tests the covariance between brainwaves using an electroencephalogram (EEG) while volunteers are participating in a shared activity. I am conducting my research under my McNair mentor Dr. Brittany Terese Fasy. This research is part of a larger project that involves art, neuroscience, and computer science in a collaborative and multidisciplinary effort. As well as being a McNair Scholar, I am on the board of directors of the bookstore on campus. I have been an employee at residence life for three years as a weekend student custodian working my way through college. My goal is to continue my education in graduate school in the computer science field.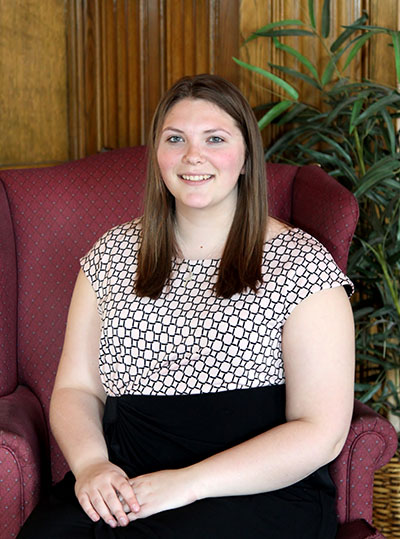 Megan Peterson
Major: Family Consumer Science
Mentor: Dr. Kallie Decker
I was raised in Joliet, MT. I am currently a senior at Montana State University majoring in Family and Consumer Sciences. My future goal is to attend graduate school and receive my master's degree in social work with an emphasis in child welfare. Currently I am assisting Dr. Kalli Decker with research to investigate parent-child interactions during play when children are 12, 18, 24, and 30 months of age, and how this influences children's language development throughout infancy and toddlerhood.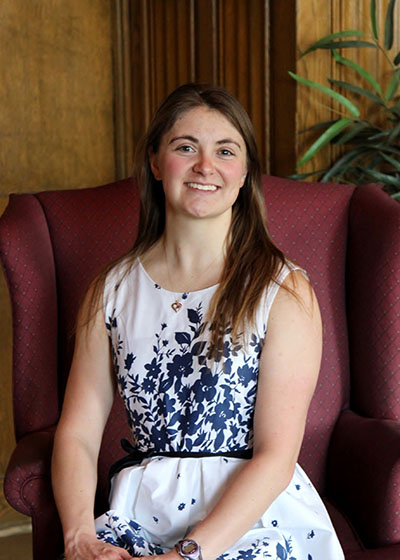 Jamie Ritter
Majora: Cell Biology & Neuroscience AND Exercise Science
Mentor: Dr. Mary Miles
I am a Senior pursuing dual degrees in Cell Biology and Neuroscience and Exercise Science. With those two degrees I am applying to medical school in hopes of one day become a rural physician. I hope to education and help individuals to improve their overall health and wellbeing. I am conducting research with my McNair mentor, Dr. Mary Miles, on inflammation and the Microbiome. Currently in the project we are analyzing the change in levels of inflammatory cytokines in a four hour period after consuming a high fat meal in individuals with higher BMI and increased fat levels. We hope to determine if being overweight leads to a higher sensitivity to high fat food and as a result causes higher inflammation levels. In my free time I enjoy being part of the Triathlon Club of MSU and volunteering with Eagle Mount.
Kristie Russette
Major: Art
Mentor: Dr. Melissa Ragain
I am originally from the Rocky Boy's reservation in north-central Montana. Currently I am in my final year at MSU studying Art and English Writing. This past summer of 2016, I researched the rhetorical function of institutional spaces in Montana and how they shape public conceptions of Native American identity through visual means. This project drew from three disciplines including art history, rhetoric, and Native American studies. Throughout this project I was assisted by my mentor, Dr. Melissa Ragain from the Art History department. For graduate study, I am interested in pursuing an interdisciplinary degree blending the arts and Native American Studies which I hope to translate into a career in arts advocacy and non-profit administration.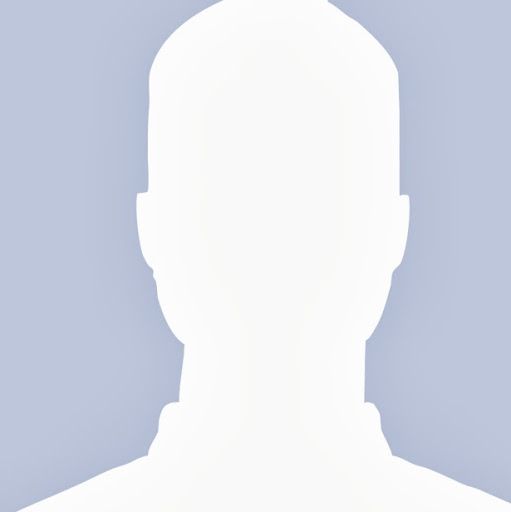 Erin Steorts
Major: Elementary Education
Mentor: Dr. Funqjen Luo
I am originally form a small town in Maine and moved to Montana to finish my education. Currently, I am a Senior at Montana State University, studying Elementary Education. My goal is to be a middle school math teacher and then pursue graduate school to become a family counselor. My mentor, Dr. Fenqjen Luo is working with me to discover more about the order of operations and the level of understanding between middle school students and that of pre-service teachers. It will require working with middle school students as well as my peer pre-service teachers. Our hope is to find new methods in teaching pre-service teachers to be better suited and bring a level of comfort to teaching mathematics. In addition, we will look at how important the understanding of the order of operations is for students to comprehend and move forward in mathematics through middle to high school. When I'm not at school I act as the president of Student Montana Education Association (SMEA) and care for my two-year-old son who is the joy of my life.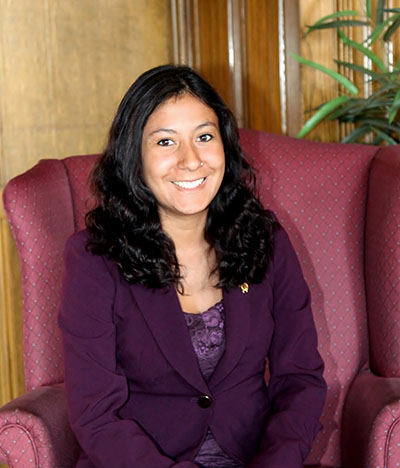 Daniela Weber
Major: Microbiology
Mentor:Dr. Raina Plowright
Originally from Minnesota, I am a senior in Microbiology with a minor in Hispanic Studies at Montana State University. This past summer, 2016, under the guidance of Dr. Raina Plowright and Dr. Jovanka Voyich, I have worked to develop hypotheses for the difference in the pathogenic expression of Mycoplasma ovipneumoniae in the upper and lower respiratory tracts of bighorn sheep in North America. In addition to participating in the McNair Scholars Program, I am a proud member of Alpha Omicron Pi, holding many leadership positions throughout my time in the organization such as House Manager and Collegiate Chapter President. I also work with the Montana State University Alumni Foundation to raise support for the University through the Annul Giving Phonathon. After my graduation in spring 2017, I hope to enter in the Montana Medical Laboratory Science program that will lead to a Master's and/or Ph. D in Immunology and Infectious Disease.