Dear Bobcat parent and family members,
The school year is off to a great start! We had an incredible first week of classes and fun MSU Debut events. I particularly enjoyed hanging out with the students at the Food Truck Rodeo. The actual MSU Rodeo team showed up and offered roping lessons, and quite a few students were surprised to find out how hard it is to rope even a stationary target.
There are two more MSU Debut events yet to come, and they're big ones! First, on Saturday, Sept. 3, we'll have our first home football game of the season when the Cats take on McNeese State. This is the annual Gold Rush game, where fans are encouraged to wear a gold T-shirt. (In fact, the first 4,000 students at the game will get a T-shirt for free.) Now in its 15th year, this MSU tradition is designed to inspire fans to showcase their Bobcat spirit by filling the stadium with a sea of gold.
Rockin the M, the final MSU Debut event of the fall, is scheduled for Sept. 10. At this annual event, MSU students put new rocks and fresh paint on the College "M" on Mount Baldy in the foothills of the Bridger Mountains. For over 100 years, the College "M" has been loved and cared for by MSU students, faculty and staff, and it has long been a symbol not only of Montana State but of the Bozeman community.
In addition to fun events and activities, there are also some upcoming deadlines if your student intends to add or drop a course. The deadline to self-add a course online has already passed (Aug. 30), but here are some other deadlines for students to keep in mind:
Wednesday, Sept. 7, is the last day to add a course with the permission of the instructor.
Wednesday, Sept. 7, is also the last day to self-drop a course online.
Wednesday, Sept. 14, is the last day to drop a course

without

a "W" grade (with permission from their advisor).
Thursday, Nov. 17, is the last day to drop a course

with

a "W" grade (with permission from their advisor).
Students can find step-by-step instructions for adding and dropping courses here. We recommend that students always consult with their academic advisor about adding or dropping classes. Especially if this action takes them below a full-time credit load of 15 credits. Dropping below full-time could negatively impact a student's ability to graduate in four years and could have financial aid implications. Please visit the Office of the Registrar website for more information about adding/dropping classes and the associated refund schedule.
Switching topics now to the long Labor Day weekend, when many students will venture into the community for social gatherings and into the backcountry for outdoor adventures. The health and well-being of students both on- and off-campus is my highest priority. If you talk or text with your student, please remind them to take the following safety precautions:
Download

Safe Cats, our safety app that includes emergency procedures and a means of contacting University Police. It also features Friend Walk, which lets users send their location in real-time to a friend who can ensure they arrive at their destination safely. When a friend isn't available, users can also employ the app's Safety Escort feature to call UPD and request a ride on campus. Safe Cats is available on the Google Play Store and Apple App Store.
Stay in groups of two to three known and trusted friends, especially in the evenings or while exploring the backcountry.
If heading into the mountains, there may be little or no cell service. Students should designate a "safety contact" in town who knows their exact trip itinerary and when they're expected back in town. I always remind students to carry bear spray and learn how to use it. The ASMSU Outdoor Recreation Program offers free bear safety clinics throughout September. The clinics cover the basics of bear behavior, what you need to do to respect this powerful animal, and how to stay safe in bear country.
Thanks to all of you who have been responding with questions, suggestions and notes of appreciation. We continually strive to improve and provide students with the very best college experience. And your feedback is invaluable in this effort. Now that we are settled into the semester, you'll note that the frequency of my emails will drop off a little, but please know that you can contact my office at any time with questions or concerns.
Warm regards,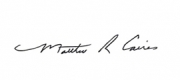 Matthew R. Caires
Dean of Students