Montana Science Olympiad Sponsorship
Thank you 2023 MTSO Sponsors!
From Montana State University
Academic Technology & Outreach
College of Education, Health & Human Development
College of Letters & Science
Department of Education
Jake Jabs College of Business & Entrepreneurship
Mark & Robyn Jones College of Nursing
Master's of Science in Science Education
Norm Asbjornsen College of Engineering
Office of the Executive Vice President for Academic Affairs and Provost
Office of the President
Office of Research, Economic Development and Graduate Education
MONT: The Montana Nanotechnology Facility
Montana Manufacturing Extension Center (MMEC)
Museum of the Rockies
Beyond MSU
Montana Learning Center at Canyon Ferry Lake
Montana NSF EPSCoR
Thank you Science Olympiad partners!
Museum of the Rockies STEM Fun Night
Thank you Museum of the Rockies for always hosting STEM Fun Night on the evening before the tournament. The MoR always rolls out the red carpet for the students with planetarium shows, presentations, exhibits and demonstrations by STEM partners from MSU and the community, and of course, every amazing exhibit the Museum has to offer!
We are pretty sure the kids, coaches and chaperones have just as much enjoyment from MoR STEM Night as they do at the competition!
Thank you to the 2023 MSU and community partners:
Montana Outdoor Science School
MSU Electrical and Computer Engineering Department
MSU Technology Education
Montana Learning Center
Space Public Outreach Team
MSU Society of Physics Students
MSU Undergraduate Chemistry Society

Scales and Tales

American Computer and Robotics Museum
Montana Science Center
MSU Gianforte School of Computing
Montana Robotics Alliance
Thank you to event supervisors from the community:
Many of our event supuervisors come from MSU, but we want to especially thank these community members who also helped out!
Montana Afterschool Alliance
NOAA
School Services of Montana
USGS
GEAR UP gathering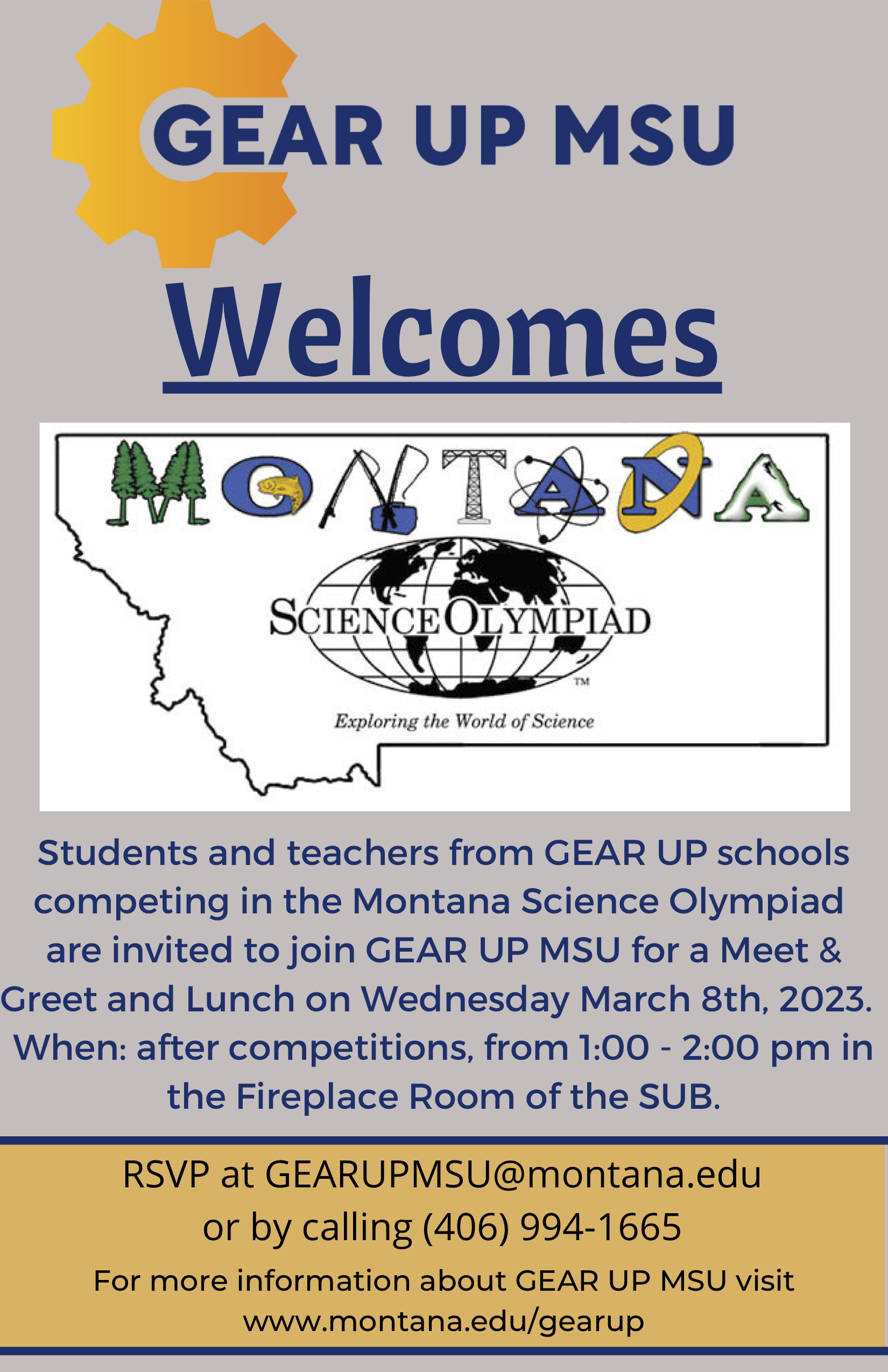 Students and teachers from GEAR UP schools competing in the 2023 Science Olympiad were treated to a GEAR UP MSU Meet & Greet and Lunch on Wednesday, March 8, 2023 after competitions from 1-2pm in the Fireplace Room in the SUB.
GEAR UP is an awesome program that helps middle and high school students gain early awareness and readiness for college. We are proud to be their partner!
Learn more about GEAR UP at MSU
Give to Montana Science Olympiad
Designating Your Gift to Montana Science Olympiad - There are many marvelous opportunities for you to help Montana Science Olympiad with your gift. You can specify the purpose of your gift and the activity that will benefit from it. We can help you merge your vision of science with the objectives of the National and State Science Olympiad by working with you to identify potential ways for you to be a generous donor. Our goal is to guide you to a gift that is not only personally satisfying, but also beneficial to you and to Montana's Science Olympiad Middle School and High School Teams.
All gifts are important to Montana Science Olympiad. Your gift can memorialize or honor a loved one or others, by providing Montana's students the opportunity to train and compete in the Science Olympiad through your donation.
If you have further questions, the staff of the Science Math Resource Center will be happy to work with you. Please contact our Center by e-mail or you may also call us at 406-994-7476.