Classic Open Benefit for the College of Business Golf Tournament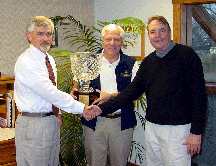 Steve Wheeler, Norm Millikin and Rich Semenik.
The MSU-Bozeman College of Business hosted a new golf tournament in September. The 2002 Classic Open Benefit for the College of Business was held Sept. 16 at Valley View Golf Club in Bozeman. Sixty-four friends of the College, many of them alumni, participated in the afternoon of golf and networking.
The winning foursome included retired marketing professor Norm Millikin, Les Mahon, (business - 1973 and master of business education - 1977), Steve Wheeler, (business marketing - 1978) and Doug Lanphear. The crystal traveling trophy is currently on display at First Interstate Bank on west Main Street in Bozeman. The trophy will also be displayed in the businesses of the other teammates at a later date. Each year, the names of the winning team will be etched on the trophy and displayed in the business of each of the winning teammate.
The tournament was sponsored in part by First Security Bank of Bozeman and the hole in one contest was sponsored by Dick Walter Auto Center. TechRanch, where the College's Center for Entrepreneurship for the New West is housed, was also a sponsor of the event.
Many prizes and auction items were donated, including airline tickets by Wingate Inn and Montana Travel. Over all, more than 22 businesses sponsored tee boxes, carts, auction items and prizes. Dean Folkvord of Wheat Montana Farms was the auctioneer for the live auction.
"The tournament was very successful and we are excited about the positive feedback we have received," said tournament director, Jackie Sather. "The success was largely due to the generosity of our sponsors and prize donations and enthusiasm and spirit of the of the golfers."
A tentative date for next year's Classic Open Benefit Golf Tournament is scheduled for Sept. 19 at Valley View.
WIne Tasting Event Scheduled for March 22 You are also encouraged to save the date of March 22, 2003 for an evening of wine tasting. The MSU-Bozeman College of Business and Libraries will co-host the evening of wine, good food and entertainment. Last year's premier of this fundraiser and social was a great success.
For more information on either of these events call Jackie Sather, Director of Communications and Public Relations for the MSU-Bozeman College of Business, 406-994-6766 or jsather@montana.edu