Johnson honored by Beta Gamma Sigma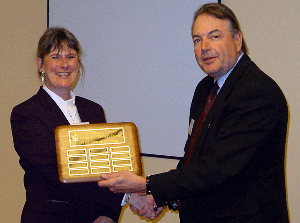 Christie Johnson is congratulated by Rich Semenik, Dean of the College.
Christie Johnson, associate professor of accounting at Montana State University-Bozeman College of Business was honored as the Professor of the Year during the awards ceremony of Beta Gamma Sigma (BGS), a national scholastic honor society for business students.
Current members of Montana State University BGS chose Johnson. Criteria for the vote includes that the professor shows outstanding teaching qualities and follows the mission and objectives of BGS. Recipients of the award are also chosen based on their ability to install the philosophies of encouraging the pursuit of wisdom and earnestness and to support the advancement of business thought and to lifelong learning.
Christie encourages high achievement of her students, says Angela Behrent, current president of the MSU chapter of BGS, not only academically but also in career opportunities and personal growth. Behrent, of Columbus, MT, is a senior in accounting at the college.
BGS was founded in 1913 for the purposes of encouraging and rewarding scholarship and accomplishment among students of business. It supports promoting the advancement of education in the art and science of business and fostering integrity in the conduct of business. Qualifying for membership is the highest scholastic honor a student in business can attain. To be eligible, students must rank in the upper seven percent of their junior class, the upper ten percent of their senior class or the upper twenty percent of their graduate class.