Beta Gamma Sigma Inductees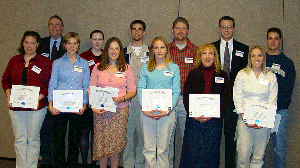 2003 Beta Gamma Sigma Inductees.
Fifteen Montana State University College of Business students were recently inducted into the Beta Gamma Sigma national honor society.
Beta Gamma Sigma (BGS) is a national scholastic honor society for business students. Qualifying for membership is the highest scholastic honor a student in business can attain. To be eligible, students must rank in the upper seven percent of their junior class, the upper ten percent of their senior class or the upper twenty percent of their graduate class.
The society was founded in 1913 for the purposes of encouraging and rewarding scholarship and accomplishment among students of business, for promoting the advancement of education in the art and science of business and for fostering integrity in the conduct of business. Students who receive this BGS award must attend schools that are accredited by Association to Advance Collegiate Schools of Business.
Masters: MaryEllen Dietz-Holmes - Bozeman
Seniors:
Rebekah C. Dupre - Helena
Matthew Simon Kenton - Beaverton, OR
Jennifer Lynn Kopec - Belgrade
Trevor Lewis Schwartz - Sheridan, WY
and Danielle Susan Smith - Bozeman
Juniors:
Herbert Walter Bartle III - Bozeman
Kerry Elizabeth Dolan - Helena
Jesse Megan Engle - Sammamish, WA
Lyra Dawn Gerace - Mount Shasta, CA
Megan Dolores LaMotte - Highwood
Kapri Adelle Malesich - Dillon
Jessica Ann Overcast - Chinook
Megan Ann Rutherford - Billings
and Michael Patrick Williams - Great Falls