Gary K. Bracken Endowment for Excellence in Undergraduate Business Education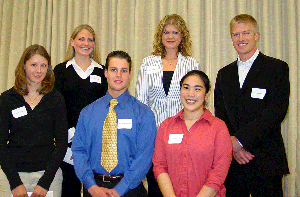 First recipients of the scholarships from the endowment.
MSU-Bozeman College of Business receives $3 million
The College of Business at Montana State University Bozeman has received a $3 million gift to begin planning for a new center for undergraduate business studies. The gift will fund the Gary K. Bracken Endowment for Excellence in Undergraduate Business Education.
The Gary K. Bracken Endowment for Excellence in Undergraduate Business Education represents the next level of achievement for the accredited and highly successful undergraduate program in the College of Business at MSU-Bozeman, said Rich Semenik, dean of the college. Gary K. Bracken, a 1961 graduate of the college, was a former Sidney, Mont., resident and a long time friend and supporter of the MSU College of Business. He passed away in April of 2001.
Bracken was known as a visionary with respect to the college's efforts to emphasize undergraduate education, excellence in teaching, and strong faculty supported learning experiences for students.
"Gary shared our vision of creating a nationally recognized undergraduate business program here at MSU-Bozeman," Semenik said. "This gift from his friends and family allows us to build on the exceptionally strong features of our undergraduate program and create a truly extra-ordinary undergraduate learning experience."
"We can now add executive mentoring programs, new scholarships, travel abroad fellowships, and career counseling services to the outstanding programs we already have in place. One of the things we are most excited about with respect to this gift is that since we have no old bills to pay or deficits to cover, every dollar will be going into student programs," Semenik added. "We are proud of our position as the premier undergraduate business program in Montana. This sort of funding allows us to build on that strength.
Semenik said the endowment ensures a lasting impact for the MSU-Bozeman College of Business student programs. "The gift will not only impact today's students and faculty, but will also continue to serve students' needs for generations to come."
Bracken graduated from MSU with a degree in accounting. After graduation, he worked for the accounting firm of KPMG in Billings. Later, he joined a small start-up company and subsequently retired as executive vice president and controller of one of the largest cable media companies in the United States. Bracken had a long-time relationship with the MSU-Bozeman College of Business and was a member of the College s National Board of Advisors.