Dana Receives President's Excellence in Teaching Award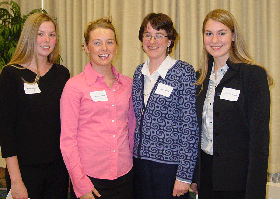 Dana, third from left, presents awards to the 2003 Bracken International Study Fellowship recipients.
Dedicated teachers and dynamic researchers are among the winners of the top MSU 2003 faculty awards. The annual awards honor achievement in faculty research, teaching and creative projects.
Sustained excellence in teaching characterize the recipients of the 2003 President's Distinguished Teacher Award. College of Business assistant professor of management, Susan Dana, was one the three professors on campus to receive this prestigious award.
Dana has been a professor of business at MSU since 1996. She is an instructor who consistently challenges students to be more intellectual and to value their own abilities and opinions by encouraging them to set their goals high. She has a genuine interest in her students and places high expectations on them in order to maximize the development of their decision-making, critical thinking and leadership skills.
"I try to create an environment in my classes where self-discovery is possible, encouraged and rewarded. My primary motivation is the reward I get from working with students, both in the classroom and in other settings. I am stimulated by the inquisitiveness of my students," Dana said.
She considers students' personality types and learning styles in her lectures, discussions, projects and exams. She has three goals regarding teaching: stimulate students intellectually, motivate students to achieve beyond their own expectations and treat each student as a valuable individual.
"It is very appropriate for Professor Dana to win this prestigious award. Not only is she an outstanding teacher, but she symbolizes the dedication of the College of Business to our students," said Rich Semenik, dean of the college.
Steven Eiger, a professor of cell biology and Michael Beehler a professor of literature analysis and interpretation were the other two award winners. Each will receive a $2, 000 honorarium. The awards will be presented at the University Honors Banquet on May 9 and recognized at MSU's commencement ceremony on May 10.