2003 Family Business Awards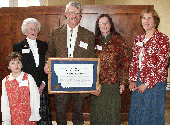 Family members from Nine Quarter Circle Ranch
Six Montana businesses have won 2003 Montana Business Awards, according to Nancy Dodd, coordinator of the Montana State University-Bozeman College of Business' Family Business Program.
The winners and their categories are: West of the Madison Clothing Company of Ennis, very small business with fewer than nine employees; Hanser Automotive and Wrecker of Billings, large sized category for businesses with more than 50 employees; Nine Quarter Circle Ranch of Big Sky, oldest family business; M.S. Molitor Trucking of Boulder, Molitor won in the medium sized business category; Hi-Line Ford Company of Glasgow, small business category for businesses with 10 - 30 employees; and Montana Community Banks.
The winners received their awards recently at ceremonies held the Gallatin Gateway Inn near Bozeman.
This was the 10th year of the program sponsored by MSU-Bozeman College of Business. The annual Family Business awards call attention to the many positive contributions made by family businesses to Montana s overall economy.
This event is important for several reasons," Dodd said. "It gives family business owners a chance to talk with others facing similar issues and provides an opportunity for individuals to gain valuable information from experts in the field. In addition, Family Business Day is a chance to celebrate pioneering and successful family businesses from all over Montana.
The 2003 Montana Family Business of the Year winners will represent the state in the national Family Business competition. Winners from Montana often have been successful in the national competition.
The 2002 award winner Ronan Telephone Company was second runner up in the small business category and Wendy s of Montana won an honorable mention in the national large business category.
MSU-Bozeman College of Business, Mass Mutual, First Interstate BancSystem, Combs Law Firm, Maierle Insurance Consultants and Hanson & McLeod Financial Group make the Montana Family Business Awards possible.