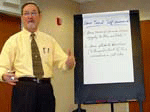 Dr. L.Dee Fink leads a discussion at recent retreat.
Faculty Retreat Features Expert in Course Re-Design
What constitutes quality in teaching and how can we assess the quality of someone's teaching? These were the two questions that MSU-Bozeman College of Business faculty members explored at a recent retreat. "The theme of the retreat was Instructional Excellence," said Renee Wachter, Associate Dean of the college.

The retreat was underwritten by The Bracken Center for Excellence in Undergraduate Business Education and entailed an all day workshop presented by Dr. L. Dee Fink, an expert in faculty development, college teaching and course design. Fink is the author of Creating Significant Learning Experiences: An Integrated Approach to Designing College Courses. He has served as director of the Instructional Development Program at Oklahoma since 1979.

"Of the many problems we face as teachers, many of them can be solved by course re-design," Fink said. "Teachers need to find ways to continue to get better." The daylong workshop gave faculty members points on what constitutes a skillful teacher and what exactly is meant by instructional excellence. Fink led the faculty on group discussions and problem solving tasks that assisted faculty members in the evaluation of teaching strategies.

Fink explained a categorization of student learning outcomes he referred to as "The Taxonomy of Significant Learning Goals." He provided the faculty with a process by which they could analyze their own classes to better the address the goals through the structure of the course and instructional activities, thereby enhancing student learning.

Wachter added, "The workshop was intended to provide reinforcement for an already talented faculty and to empower further the design of courses and curricula which result in powerful learning experiences for students." Throughout the workshop, Fink gave examples and of ways to re-design course material, featuring situational requirements that need to be considered, the necessary alignment of course goals and assignments, the importance of hands-on learning activities and how to successfully integrate those factors so that students have meaningful and lasting learning experiences.

The emphasis on better teaching and potential impact on student learning was well received by the faculty. Shannon Taylor, Associate Professor of Management said, "Most of us are willing to experiment with potentially fruitful additions and changes to our classroom procedures, but find it difficult to articulate why we think our new ideas might work. We trust our gut feelings and professional judgment when we design courses, initiate the changes in our classes, and evaluate their effect at the end of the class. Dr. Fink provided a framework that I can use to better understand my own teaching and guide future changes to my syllabi."